What Makes Golfers Love a Golf Course
By: Golfshake Editor | Fri 17 Feb 2023 |
Comments
---
What draws golfers back to play a golf course and what makes those same golfers recommend that course to others? This is a topic that we have covered in the past on several occasions, but following the 2022 Golfshake Survey we wanted to take another look and highlight the most important factors.
One thing is clear, golfers love a challenge. And for those courses that are able to use the topography of the land and surrounding landscape to their advantage, presenting a golf course in a testing, entertaining and ever changing manner certainly goes a long way in making a golf course stand out and resonate as being memorable.
What Makes a Golf Course Great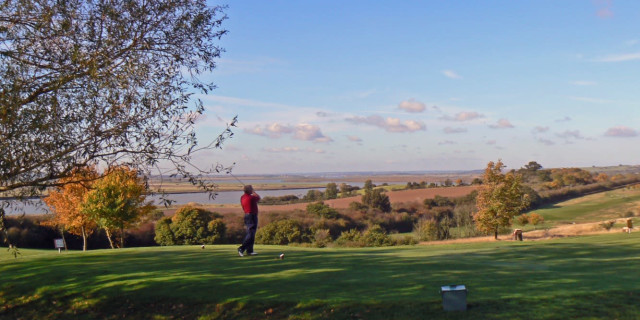 In our 2022 survey, we asked golfers to share with us the best course they had played that year and why. Analysis of those comments highlighted the following primary reasons:
29% mentioned the condition
17% mentioned greens
17% mentioned challenge or test
15% mentioned the staff, hospitality and welcome
11% highlighted the views and scenery
7% mentioned variety, hole difference, quirkiness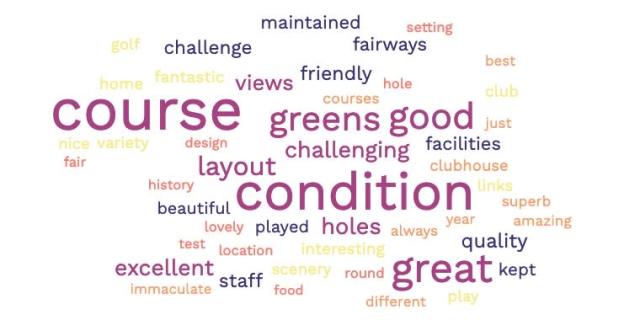 The above word cloud provides a great 'at a glance' overview of the key topics, superlatives and themes when stating why the course stood out for them, which perfectly sums up the six key points.
In the survey, we also asked golfers to identify the most important features in determining a course's quality and the analysis, from the comments above, is further backed up from the results of this question.

We also recently conducted a poll on Twitter that underlined the importance of conditioning in the minds of golfers.
What quality do you most appreciate from a golf course?

— golfshake (@golfshake) February 2, 2023
However, comparing the data to the results of the 2019 Survey, there was an increasing emphasis around quality. Those marking 'very or extremely' in relation to the 'course maintenance' and 'greens' saw a notable increase of around 10%. Additionally, the 'food & dining' saw an increase of 7% and more notably was 'hospitality & service" which saw a 13% increase. These are not overwhelming shifts in the last three years, but the evidence would suggest that it is becoming more important for golfers to feel they are getting value and quality when they spend money playing golf.
Clearly, not all golf courses have the luxury of the landscape and surrounding land to take advantage of, but one key aspect under their control is how the course is presented and the welcome that golfers receive; and as we know this can go a long way in establishing a lasting, positive memory for visiting golfers.
How Golfers Plan a Round
Finally, we asked golfers: When Planning a Round at a New Course How Important Are The Following? - and once again compared the results to 2019.
With an increasing trend towards online services and having the internet at your fingertips, it was no surprise to see a shift in those responding 'very of extremely' to the majority of options. The notable changes to 2019 were the following areas:
Golf Club website or images - importance increased from 2019 by 6%
Online feature reviews - increased by 5%
Online reviews - 5%
Word of mouth feedback - 8%
As you can see from the above results, having a strong digital presence is extremely important for all golf clubs and especially those looking to attract visiting golfers, societies, or potentially new members. Only 6% of golfers said they didn't really use golf club websites when planning rounds at a new course and only 10% didn't care about online features or reviews from services such as Golfshake.
It is clear that providing as much information online as possible to golfers, such as videos, scorecards and having online independent reviews accessible is of high importance and certainly helps golfers choose where they wish to play. And as we have highlighted earlier in this article, there is strong evidence that presentation either through the course or customer service is the standout expectation for golfers, helping to secure positive 'word of mouth' feedback that other golfers will massively value.
---
Related Articles
Golfers Officially LOVE to Play Challenging Courses
What Stops Golfers Wanting to Play a Golf Course Again
What Makes a Golf Course Memorable?
Strong Websites Are Now Essential For Golf Clubs
---
What do you think? leave your comments below (Comments)
---
Tags: industry insider GOLFERS Golf daily picks
---
comments powered by

Disqus