Why Championship Golf Courses Are Worth The Price
---
THE 150th Open Championship will be played at the Old Course at St Andrews in 2022. If you fancy playing arguably the most famous golf course on the planet it will cost you nearly £200 in high season, although you can forget about it before The Open takes place.
Fancy 18 holes at Pebble Beach? That will set you back a cool $550. If you fancy tackling the course with a local caddie on your bag, you can add a further $95 to the cost. But just imagine standing on the 18th tee, Pacific Ocean to your left, waves crashing, with that magnificent par five stretching out in front of you.
You may want to follow in the footsteps of Collin Morikawa by teeing it up at Royal St George's, and that will cost you £250.
So the bottom line is that playing golf on true championship courses is not cheap. But you knew that already.
However, here's the thing….
If you are a football fan you will never have the opportunity to step out onto the hallowed turf at Wembley. Club tennis players can only play on the Centre Court at Wimbledon in their dreams.
Cricketers can pay to watch England play Test matches at Lord's but they will never hit a century in the middle or take a match-winning five-for. No amateur boxer will ever climb into the ring at the MGM Grand.
You get the point.
I once played at The K Club near Dublin. I played pretty well too. Shot a 79 from the championship tees on the Palmer North Course. A few weeks later the same course hosted the European Open. I watched pretty intently on TV and could not quite believe where these guys were hitting their second shots from. We had played the same course but had played entirely different games. But I was able to measure myself against Europe's finest on the same course, from the same tees.
Golf is a truly unique sport in that it gives its participants the chance to step out and play on the very same golf courses where the world's best professionals compete for the sport's most treasured prizes - the majors. The only exception is Augusta National, home of The Masters, where it is a case of who you know rather than how good you might be.
At most of them you will have to produce a handicap certificate but these courses and the people who run them only want to be convinced that you understand the etiquette of the game.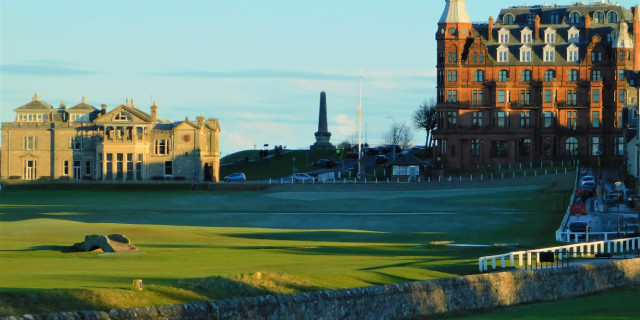 I have played at every Open Championship venue. I am in the extremely fortunate position that, because of my profession, I had been able to do so at most of them at no cost. In fact, back in the day my family owned a holiday home in a place called Lundin Links, which is not far from St Andrews, and this entitled us to what was then known as "out of town membership' at the home of golf. I can't remember how much it cost; suffice to say that it was a pittance.
I have also played at Torrey Pines. It is described as a public course but in America that means something rather different to the definition applied in the UK. If I wanted to play Torrey Pines then I would have to pay for the privilege - a cool $200. And I was happy to do so.
And I would happily fork out £200 to play the Old Course again. Let's be clear about something - the Old Course may not even be the best golf course in St Andrews. But playing there is all about following in the footsteps of legends. Many of the holes are instantly forgettable, but the first, 17th and 18th are iconic and have been the scene of so much drama over the years.
When you stand on the 18th tee on the Old Course, you cannot help but let your mind wander as you consider the names of the giants of golf who have been there before you - Jones, Hagen, Vardon, Thomson, Locke, Palmer, Player, Nicklaus, Watson, Faldo, Ballesteros. There are always people milling around the 18th green and if you are fortunate enough to hit a good approach or hole a decent putt they will applaud you.
OK, so it's not winning The Open but it gives you a small taste of what it must be like.
So yes, playing championship golf courses is expensive. Some would say the green fees are extortionate. Is it worth it? Yes it is. Every single penny.
---
Related Content
The Best Golf Course You Have Played
5 Must Play Bucket List Golf Courses in The UK
The Experience of Playing The Old Course at St Andrews
---
What do you think? leave your comments below (Comments)
---
Tags: Golf Courses daily picks Courses
---
PLAY MORE PLAY BETTER - LATEST TUITION TIPS
---
Leave your comments below
comments powered by

Disqus