What Makes The Perfect Golf Playing Partner
---
Golf is a beguiling game of inconsistencies and contradictions where both good and bad shots can have the same result, but perhaps the most striking example of that nature is that this most individualistic of sports also surpasses any other when it comes to companionship.
When you're on a course with another golfer, it's a shared experience. You are navigating the unfortunate luck, those rare moments of glory, and the elements, together, akin to a pair of mountaineers climbing a peak or fishermen waiting patiently on the riverbank.
Legendary author P.G. Wodehouse famously stated: "To find a man's true character, play golf with him."
And it's undoubtedly true - four hours hitting a golf ball around will offer rich insight into the person you are walking alongside.
Everyone is different, and all golfers will have horror stories of being paired with someone whose behaviour cast a shadow over the round, but there are key traits which stand out and make even the least successful days a rewarding one.
Ultimately, a realisation for all is becoming aware that your actions and attitude will directly impact the enjoyment of those around you. Taking stock of that and being conscious of others is the first vital step to becoming the perfect playing partner.
But what are the specific attributes needed to be the best possible fellow golfer? Here are some long-standing observations.
Even Temper
Many of you will recall the hilarious 'angry golfer' video released by the European Tour and starring the likes of Tommy Fleetwood, Tyrrell Hatton and Henrik Stenson, but while there was humour to that, for the average person, there's nothing worse than having to put up with a temperamental personality who is losing the rag during a bounce game.
Now, there is little wrong with someone expressing frustration, or even uttering the odd swear after hitting a bad shot; it adds flavour to the air. But when that becomes the prevailing demeanour of the round, then there is a problem. The angry golfer will toss clubs, berate himself loudly, and generally stalk the course in a raging mood, creating an atmosphere that can be off-putting to others.
Hit a bad shot, curse yourself, and move on, don't let it dwell, as that will ruin the leisure time of your playing partners. Those pathologically angry golfers are the ones we should all be determined to avoid.
Good Humour
Even the greatest golfers in history can be made to look fairly silly during a round, never mind the rest of us - millions in number - who just aren't very good. So, the overwhelming majority of players will routinely make stupid mistakes and hit unforgivably bad shots - but it doesn't mean anything, it doesn't really matter.
Sharing the undoubted ridiculousness that this game provides can be a joy with the right person, who will relish in the good moments, but also laugh when things go wrong. Being able to poke fun at that shank, duffed chip or missed putt is another key step to be the perfect playing partner.
Consequently, there's a lot of humour to my rounds.
Pace of Play
There are three categories of pace on the course - slow, fast, relaxed. Now, everyone will have their own perspective on what is most suitable to them, but while there is little more frustrating than having to wait around on every hole, a round of golf shouldn't feel rushed either. It's there to be appreciated and enjoyed - so why skip through that without taking a moment to take it all in.
So, in the mind of this golfer, the ideal playing partner is one who makes time on the course, someone who plays to a reasonable pace but who leaves room for immersion and enjoying the surroundings.
A round of golf should marinate.
Doesn't Just Talk About Themselves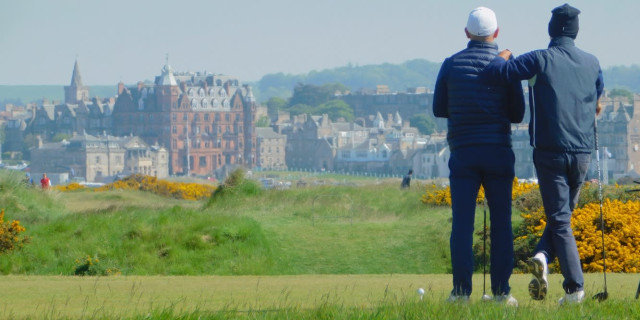 While there is nothing wrong with mentioning your new set of clubs or that swing thought from the range, it's important for all golfers to show an equal interest in those they are playing with, learning about their own unique story in the game. In these days of social media driven self-absorption, it's nice to take a step back from that environment, with the golf course being the ideal sanctuary.
Have a mutual conversation when playing - and certainly don't be one of those tiresome know-it-alls who believes they have all the answers!
Understands Basic Rules & Etiquette
Now, most golfers can't be expected to have ingested and memorised the entire Rules of Golf, but some basics should be customary, like penalty drops and when you can take relief. Knowing those lessons will keep the round moving and enjoyable for the entire group, instead of requiring detailed discussions of what can and can't be done after every wayward shot.
Additionally, the simplest etiquette is essential. You would be amazed by some of the behaviour I have seen on the links at St Andrews. Don't talk during someone's swing, and know where to place your bag off the green before heading to the next tee!
Can Add Up Scores
If you're playing for a score, then please work on the ability to add them up! There's little more tiring than having to stand at the edge of the green trying to work out what someone made on the just completed hole. It's something that can stall the progressive momentum of a round - especially if it happens 18 times. Keep track of what you've scored and let's keep going!
---
So, there are just some qualities that your correspondent searches for in another golfer. Ultimately, the key for everyone is understanding that your behaviour can make or break the experience for your playing partners. It's having the awareness of someone else, respecting their round and being mindful of their day. Being the best possible companion. When walking off the final green, your performance as a fellow golfer is even more important than what you shot.
When you find others with that perspective - a shared round of golf can be uniquely rewarding.
---
Related Content
8 Characters You Will Likely Meet at Your Golf Club
The Types of Golfer You See at the Driving Range
15 Types of Golfer You Can Be Partnered With In The Monthly Medal
---
What do you think? leave your comments below (Comments)
---
Tags: GOLFERS Golf daily picks
---
comments powered by

Disqus