Meet Ryan Campbell - Insights From a Rising Star on the EuroPro Tour
---
We're all aware of the glitz and the glamour of the PGA and European Tour; the best golfers competing against one another, for multi-million prize funds, is, in fact, the definition of the ultimate dream for many of us. Once you're there and producing consistent performances, you've made it. However, that journey to stardom is seldom discussed – or even explored. It's not solely about the sacrifices made during childhood, it's the relentless physical and mental battering that the professional circuit demands. I'd like you to meet Ryan Campbell.
Below the prominent worldwide tours are mini tours, and believe me, there are thousands scattered across the globe. These tours act as an access point; they hold the potential to make you, but, unfortunately, they can also shatter dreams. Ryan is someone who has experienced both. "It's not as glamorous as people think," he tells me.
Ryan plays on the EuroPro Tour, which, if successful, warrants access to the Challenge Tour – one step below the European Tour. "The EuroPro Tour doesn't allow for luxury hotels or travel, it's a lot of time spent in your car or on budget airlines. That being said, it's a lot of fun to travel with my friends and compete at the game I love."
Of course, we are all envious of Ryan's sublime talent and career. But, unlike many of us who find golf a little later in life, Ryan's love for the sport was discovered as a 10-year-old, when his grandad took him to Grangemouth Golf Club. "My grandad was a keen golfer and would take me and my older brothers to Grangemouth, which is the municipal course where he played."
It wasn't long before Ryan joined him as a member and became the latest addition to a healthy junior set-up. "I loved golf from a young age and we had a great junior section at Grangemouth. The atmosphere was great and, while we continued to act mischievously as teenagers, the golf was always at the forefront."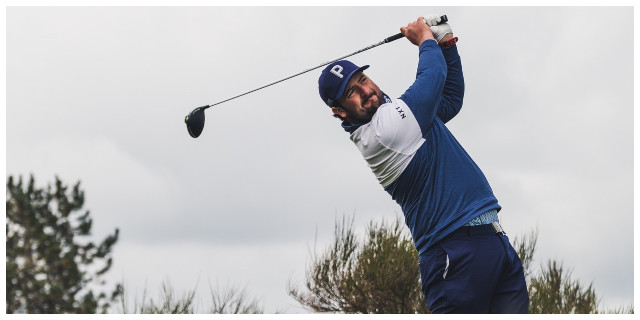 (Image Credit: Tartan Pro Tour + Club Golf Photography)
While he enjoyed success as a junior, turning professional didn't originally seem like the destined career path. That was, however, until he started to improve drastically. "Over time, I started to get better and better. I actually held a job working in the tax office when I was 19, I was there until I was 23. I started to compete in numerous national amateur events – including final Open qualifying. When optional redundancy was offered, I snapped it up. I've been playing full-time since then and I had progressed through the national/international amateur golf to then transition into professional golf."
Ryan has enjoyed several years as a professional player now, and, naturally, has played an array of splendid golf courses. "The best? I think Royal Portrush is definitely the most special. I played the Home Internationals there in 2015 and it was the first time I'd represented Scotland, which was incredible. The quality of the course is just superb and it truly is an excellent test of golf."
We can only imagine the luxury of being paid to compete at golf. Although, having noted that, I don't think the professional circuit is in the market for a mid-handicapper, so that's my dream swiftly over.
Back to someone who can actually play golf as it's intended, and Ryan is looking beyond the EuroPro Tour. "The strength and depth on this tour is absolutely unbelievable. It's becoming more difficult to gain European Tour access and that feeds down through the mini tours. You've got guys that can mix it on both the Challenge Tour and the European Tour who are playing on the EuroPro Tour, it's tough."
Ryan's been part of this tour for a while now and he believes it's time to push on further. "I've been here long enough and I know my game is definitely good enough to compete at a higher level. It's now a case of playing well, winning some tournaments and continuing to progress."
The next step? The Challenge Tour, which is a direct feeder for Europe's premium tour – yes, he's that close to realising his dreams. "I really want to be a competitive European Tour player," he exclaims. "Maybe one day, once I've achieved goals on the European Tour, I may consider 'breaking America', but that's never been the dream. I want to compete and win European Tour titles."
His drive, determination and passion is evident and unrelenting. But, as everyone will experience in their life, there is an age where the next step comes calling. "I'm approaching 30 now and I have other things I'd like to do in my life – get married and start a family. So, there's got to be a point where I step back if the golf isn't allowing me to make enough of a living to support that side of things."
Fear not, there's still plenty left in the tank for the 'Rhino'. Which is actually quite an amusing story, how he was given that nickname. "That came from a bizarre lack of understanding of the Scottish accent! I had an interview with the NXTLVL Academy from Cobra/Puma and I was asked what my nickname was. 'Rydo' was my response as that's what all the Scottish lads call me. A few weeks later, the interview was published on Twitter and I was introduced as 'The Rhino'! I had no choice but to embrace it – I wouldn't contemplate about changing it now though!"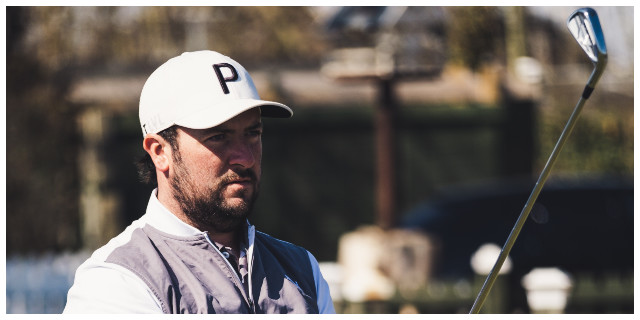 (Image Credit: Tartan Pro Tour + Club Golf Photography)
The NXTLVL Academy was established by Cobra/Puma to help encourage and sponsor the next generation of talent. The academy has an array of professionals within their ranks and they also vie off against one another in the annual Order of Merit. In 2019, Ryan topped the leaderboard and subsequently won the seasonal competition. "That feels like a lifetime ago now, with everything that's gone on since." Of course, he is referencing the global pandemic. Ryan had hoped that his victory in the OOM would help him progress and push on but a sudden halt of golf dampened that vision. Nevertheless, the triumph was welcomed, although it was a tad closer than he would have liked. "In the end, it came down to me holing a putt from about 20-feet for birdie on the Tour Championship to finish third and beat my closest competitor by an estimated £150. Which, when you think about it, is crazy considering it's a season-long event."
I'll be meeting Ryan next week when the EuroPro Tour heads to Clevedon for the Wright-Morgan Championship. The Scotsman has played there prior, matching the course record in the process. "It's quite a quirky course with some elevation changes and firm, fast fairways. The atmosphere created by the members is brilliant, so I'm looking forward to playing there again and seeing plenty of members out spectating." Hopefully, he can match the level that he has frequently displayed and continue his bid for Challenge Tour status.
In every sports career, there are supreme highs and devastating lows. For Ryan, there are a couple of standout memories that don't sit too well. He narrowly missed out on qualifying for the Scottish Open, which understandably stung. "Thanks for the reminder! That was a big disappointment but at the end of the day, I hit one more shot than was required so I didn't do enough to qualify. At our level, you're just looking for that opportunity to showcase your talent on the grandest stage. The Scottish Open is also a massive event financially, making a cut there is life changing money to a lot of guys at outback level." This wasn't his biggest setback, however. The last year had stolen a valuable year of golf from him, where he was playing at an unprecedented level. "The biggest disappointment is definitely COVID-19, it cost me five starts on the Challenge Tour at a time where I was playing well and full of confidence."
It would seem wasteful to have interviewed such a superb golfer without getting any tips for the Golfshake Community. His advice falls into two categories: skilled or journeyman. "If someone wants to get to scratch and win tournaments, then focus on putting, as you can't win if you don't putt well – trust me on that one! For a higher handicapper who is looking to shave a few shots off their score, it is pivotal that you keep the ball in play. Hit it to where you can find it and play from there."
The Rhino has also chirped in on the best method of improving: new equipment or golf lessons? Unsurprisingly, that £550 driver won't erase ten shots from your round, but a visit to the local golf pro has much more potential to do so. "Spend money on lessons with a reputable coach, as opposed to spending even more money on clubs. Putting is key to scoring well, however, so wherever you go to play, spend a bit of time on the putting green. Hit a collection of putts; some longer or shorter; uphill and downhill and make sure you've sunk lots of putts from three to four feet, it will give you endless confidence when you see the ball going into the hole before you head towards the first tee."
Ryan is ready for the next level. He's done his time on the EuroPro Tour and he has earned three starts on the Challenge Tour, although he expects to use them later into the season. The goal remains similar: obtain European Tour access. Sure, there are obstacles, but he has a fantastic reputation as one of the best on the circuit. He's only a couple rounds of golf away from making it to the big time, but the competition continues to improve around him. Who said life as a touring professional was easy?
---

Be part of the action with a selection of unique golf tournament experiences, from playing in a pro-am with the stars to watching the action at golf's most illustrious events. Whether it's the Masters or The Open, The Ryder Cup or WM Phoenix Open, build your own bespoke package with the experts at Golfbreaks.com.
---
What do you think? leave your comments below (Comments)
---
Tags: daily picks
---
PLAY MORE PLAY BETTER - LATEST TUITION TIPS
---
Leave your comments below
comments powered by

Disqus