Carnoustie - Finding Beauty in the Beast
---
A visit to Carnoustie showed writer/photographer Kevin Markham how beguiling this links can be.
---
The idea was a simple one: play every Open Championship course in the year The Open was to be played there. There were four of us and, like bees to honey, we travelled from four different parts of the world to play some of the greatest courses ever created.
After two years of trying and failing to make it happen we successfully co-ordinated calendars in 2007. It was a daunting twist of fate because we found ourselves heading to Carnoustie, the toughest course on The Open rota… and one of the toughest courses anywhere. It was the seventh time The Open would be held at this Angus links, east of Dundee, and who could forget the sixth? Close your eyes and think Carnoustie, and Jean van der Velde's collapse in 1999 is a memory ingrained on every golfer memory. Even today, when Carnoustie summons up images of Harrington's historic 2007 victory and the sensational final day in 2018, when Molinari held off all-comers to claim the Claret Jug, golfers tackle the famous 18th hoping to avoid a French tragedy.
These days, Carnoustie has a powerful appeal and a strong presence that embraces not just Carnoustie and its three links courses but the region's other courses, tourist attractions, history and highly regarded whisky and gin distilleries. Our purpose was golf and golf alone.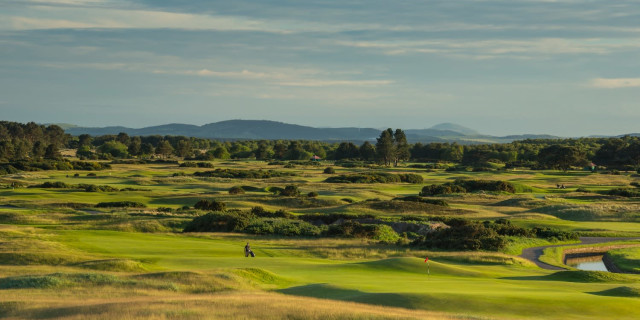 Once our different flights had arrived in Edinburgh, we collected the hire car and drove north, crossing the Forth Bridge. We arrived at our B&B in the evening and dropped off our bags. Then, we did what every golfer does: we went to get a taste of one of the most enthralling links challenges… not just on the Open rota but in the world. It may have been dark as we looked out over the 1st, 16th and 18th greens but it gave us something to sleep on.
The following morning we headed to the 1st tee and saw Carnoustie in daylight. It was clear this links promised something different. There was an air to it – an aura, perhaps – and even in March, spectators gathered around the tee as golfers formed loose groups of four waiting to tee off. It was a medley of languages, accents and fashions. We found our slot and chatted about life in the countries we'd arrived from (England, Ireland, USA x 2). We were too early in the year for the spectator stands but that actually made the tee shot even more intimidating. The famous burn influences play on the opening hole and we watched with growing unease as golfers ahead of us put tee shots in the water (a fluffed snap hook) or sent balls in search of the 16th green (a low flighted shank). Even the mile-wide fairway of the 1st at St Andrews wouldn't have helped some of these golfers.
The Starter sent us on our way with some helpful tips. He told us something important about the 3rd, in deep Scottish tones, but I suspect the rush of anxiety we all felt drowned him out. We teed off, successfully, and a few minutes later I walked off the 1st green with a par. What an incredible green to start, tucked low in a nest of dunes and almost hidden from the fairway. I fell in love with that green that day… and there were 17 more holes to come.
Carnoustie is not discussed in terms of its beautiful views. There is no sea sweeping in to greet greens or mountain backdrop but to be concerned with that is missing the majesty of the holes themselves. Carnoustie may be the crabby relative, unwilling to give up the smallest of gifts unless you work your socks off to earn it, but look deeper, peel back that layer of stubbornness and reveal the joy beneath. Yes, you have to work your bones all day to make good scores, and that demands buckets and buckets of patience, but it is also incredibly rewarding and every par is a badge of honour.
Our casual banter before teeing off on the 1st had fizzled out somewhat as we began to appreciate the challenges that lay ahead. Our group had one single figure handicapper (8) and the rest were mid to high teens. Concentration trumped conversation.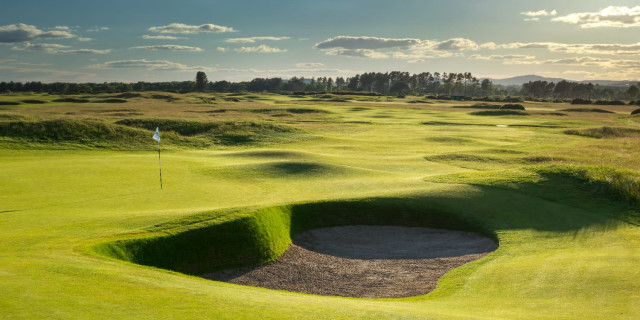 The comment above, about beauty, is misleading. The bunkers alone add a framing that clarifies the hole in your mind's eye, routing you over the fairways and into the green. The 3rd, with those central bunkers (I'm pretty sure that's what the Starter was warning us about), is a prime example but the 6th is a masterclass in design, in temptation and fear. Hogan's Alley is a par-5 and it is the most beautiful hole here. The white posts down the left separate you from the Buddon Course. It is Out of Bounds (all the way to the 7th green) and with bunkers on the right your channel of escape is as narrow as it is intimidating. Left is optimal but if you bail out and favour the right then things are little easier for your second shot.
The hole was originally named 'Long' but it was changed in 2003, in honour of Ben Hogan, the 1953 winner. The strip of land between the bunker in the middle of the fairway and Out of Bounds on the left will now forever be known as Hogan's Alley. In Curt Sampson's biography of Hogan – neatly entitled 'Hogan' – he wrote: "Most of the fairway was to the right, but Hogan noticed that the hole opened up from the left side. He could hit this green in two if he could thread a drive into a narrow haven of brown grass between the fence bordering the practice ground and a sod-faced bunker deep enough to hide a cow. He went for it and made it, in all four rounds."
Such romanticism is effortless when you consider Hogan's brilliance, but whether the American actually followed that route on all four days is the subject of some debate. But isn't that the case with all great legends.
Not knowing of the legend and unaware of the difficulty in trying to play down Hogan's Alley, two of our group snap hooked their tee shots Out of Bounds, where the Buddon course waits and passing golfers snaffle up the many errant and expensive balls that can be found far from the 6th fairway.
It is a sad truism that as amateur golfers most of us don't notice and respect a course's layout. We play the hole and move on. Carnoustie's design and layout deserve appreciation. The course is regarded as James Braid's finest piece of work (along with the King's Course at Gleneagles) and it is hard to argue with that even as you feel the terrain is deliberately taunting you. You see, after a blistering start the middle holes ease may up in their drama… but not in their intensity: the 9th is Index 6; the 10th is Index 3.
I imagine most groups, like our own, take a welcome breather at the halfway house to reflect on the holes played and wince at their score cards. It was a civilised stop and the groups maintained their order as we ate sandwiches and found ourselves chatting more freely again.
If there is such a thing as an easy stretch it is holes 11, 12 and 13. After that, though, expect a merciless finish. We all knew – as does everybody – that holes 16 to 18 are brutes but holes 14 – Spectacles – and 15 are Index 1 and 7 respectively. I'll admit that I was waiting for the final three holes to ramp up the pressure and I had a good score going as I stepped onto the 14th. But every wheel on the bus came off as I floundered my way through 14 and 15, and I felt shell-shocked as I made my way to the 16th tee. The par-3, par-4, par-4 finish is one of the best stretches in golf. The indices (13, 5 and 11, respectively) might suggest they are not as tough as they appear but when you start with a 212 yard par-3 – from the forward tees – you know indices don't tell the whole story.
On his way to winning later that year, Padraig Harrington recorded two double bogeys over the four days. Both were on the 18th. As a fourball our combined score on that same hole was 13 over par. Our best score was a double bogey but you can add that to a triple and two quadruples. And you know what? We wouldn't change a thing. Three of us visited the burn and not one of us rolled up our trousers and went after our ball. It was a rite of passage… and maybe that's how Padraig felt, holding on by the skin of his teeth on that last day to get up and down after putting his ball in the water twice.
During that 2007 Open, the average score on the 18th was 4.61… ranking it the hardest on the course.
As we sat on the terrace nursing our beers and waiting for lunch to arrive, we watched our fellow golfers tackle the 18th with varying degrees of success. We had played Carnoustie. We had been beaten up by it but what an incredible experience. If you appreciate great course design then Carnoustie promises you that in spades. And if you just want a serious test of your golf skill, then Carnoustie has that in spades, too.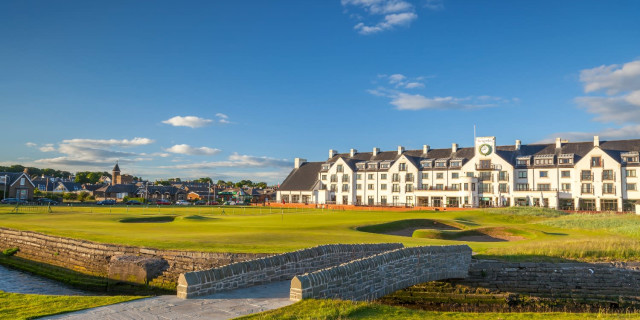 Ahead of the 2018 Open, the club added to its overall package with a striking clubhouse – appropriately named Links House – and a vast range of facilities within. Were you to feel inclined and had you the time before your starting slot, you could use the high-tech indoor performance centre to replicate the exact course and weather conditions on the links outside. It is the ultimate warm up and, no doubt, it would give you a healthy respect for the challenge that awaits. Upstairs, The Rookery restaurant offers views over the final few holes and the 1st tee.
Since my first visit in 2007, the region has ushered in an era of promotional enterprise that makes visits to Dundee, nearby golf courses and Carnoustie itself so much more wholesome. It is a golf destination that sits firmly on every bucket list and watching coverage of the 2018 Championship and the thrilling final day it produced made that abundantly clear.
Indeed, any golfer who plays here is keen to return to do battle once more but, after winning in 1953, Hogan never returned. At the age of 40, he had won his ninth and last major championship on the masterful, some might say mercurial, links of Carnoustie. It was the one and only time he contested the Open. On his arrival back in America, he told a friend that he would never return. "I'm not going back to a place where they never rake the bunkers," he said.
Well, they rake the bunkers now and Carnoustie is presented to the world as a masterpiece. You have no excuse.
---
What do you think? leave your comments below (Comments)
---
Tags: Scotland Golf Courses daily picks Courses Carnoustie
---
comments powered by

Disqus