The Birdie of Dreams at Hogan's Alley
---
Golfshake Ambassador Andrew Picken recounts his experience of making birdie on Hogan's Alley at Carnoustie
---
Golf is a rare sport that allows us to walk in the footsteps of the greatest players in the game. The night before we played the Championship Links at Carnoustie I had a dream about it. This is even more remarkable given that I had played the Old Course at St Andrews Links for the first time that day. My dream was about the opening tee shot and then my approach into the last which had the opening stands and a full gallery still in place.
I had visited Carnoustie and stayed over at the hotel two weeks before the 2018 Open and I played the 18th dismally firing my tee shot out of bounds onto the adjoining course.
Without going to the psychology of my dreams, I was trying to erase the memory of this abysmal disappoint from my memory. I became aware of the personality of Ben Hogan during this trip researching his exploits in winning the 1953 Open on this very ground having visited Hogan's Bunker at Panmure. I decided to investigate how it got its name and it led me on a fascinating journey of discovery that gave me a little insight into this wonderful golfer and his psyche.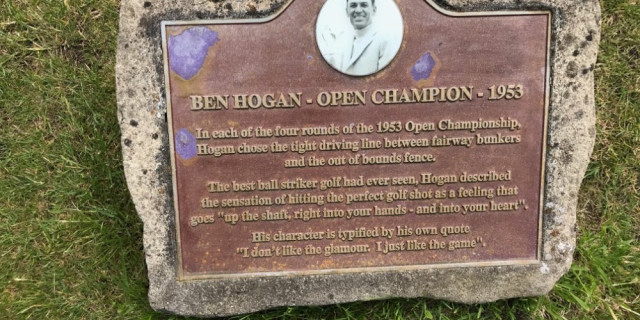 I have become a bit of a nerd when it comes to Hogan and his achievements, particularly following Tiger Woods and his Masters triumph that was trumpeted as the best comeback ever. Hogan suffered life changing injuries following a head on car crash involving a greyhound bus as he dove over his wife to protect her from the inevitable collision. He was told he would never walk again and that golf was out of the question. Through grit and sheer force of personality he retrained his body and mind. This despite requiring daily ice baths to prevent blood clots, any of which could have proved fatal.
Playing Carnoustie with my son, Alex, was adding to his golf education. At his age he isn't going to sit down and read books about golf but he can understand more about the roots of the game by having experienced the unique feel and atmosphere of these wonderful venues. They ooze tradition and history with every crunch of the foot on the hallowed turf.
TV coverage of these special places had added more to the feelings as we played our first round on the Championship Course. I could tell as we moved around the course that he could feel how important this place was to global golf and we both spent most of the round with silly grins on our faces.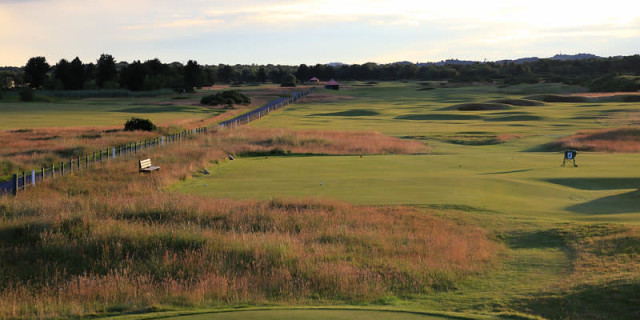 My silly grin was captured for posterity as we sat on the bench having read of Hogan and his amazing exploits during the 1953 Open.
We reached the tee on Hogan's Alley - the par five 6th - the hole that Ben Hogan had mastered all those years before. Spending a few moments drinking in the history and the ghosts of the past. I was in a very calm state of mind. Anyone who knows my game appreciates that this is not my usual mantra as I have a 1001 swing thoughts. 999 of which are debilitating!
I didn't realise the shot was being recorded as I was in my own little zone. Thankfully it went well and I nailed it down the middle rather than across the intimidating out of bounds that runs the entire length of the hole. Looking back at the video, I could hear that the soundtrack was peppered with the sound of gunfire from the MOD firing range between us and Panmure. These ballistic sounds intersperesed with bird song. Strangely, I heard nothing before I played my shot.
I then nailed a five iron to a decent lay-up point leaving me a difficult pitch over gorse, heather and bunkers into the green. This also went well and I was left with this putt for birdie.
Sheer jubilation and ecstasy!

Taking on Hogan's Alley @carnoustiegolf - a legendary par five named after the great Ben Hogan - @pickenan played the hole of his life, holing this putt for an unforgettable birdie!

The stuff of dreams. pic.twitter.com/4jp9OhrL3p

— golfshake (@golfshake) August 7, 2019
Again, I didn't appreciate that I was being recorded.
I cannot describe the feeling of elation as that putt disappeared into the hole for a four. It was a very special, magical moment that will live long in the memory of my golf exploits.
This was a unique experience, and being able to share it with a good friend and my son was a sublime golfing memory. For me, this moment will live me for the rest of my days.
Carnoustie as a whole is a very special place, but this particular golf hole will always be a place of unique resonance and wonder for me.
---
What do you think? leave your comments below (Comments)
---
Tags: st andrews Scotland Lad And Dad Trip Carnoustie
---
comments powered by

Disqus