How To Get Prescription Glasses For Golf
---
Golfers tend to have an obsession with getting the right equipment to make their best score but often overlook a vital element - the quality of their vision.
Well-known lens maker Zeiss estimates that up to 40 per cent of the population need corrective lenses in order to see everything in sharp focus.
And as a Golfshake survey revealed that more than 60 per cent of our subscribers use glasses in everyday life, it's clear that many would gain advantage from wearing them on the course.
Choosing the right pair is not easy though, as ordinary reading glasses or varifocals worn for driving the car just will not do the job properly. Fortunately there are solutions for golfers from some of the world's top lens makers.
How To Get Glasses For Golf
This guide - aimed in the main at those whose eyesight is failing gradually as they age - will cover most of the considerations golfers need to take into account to make the best choice.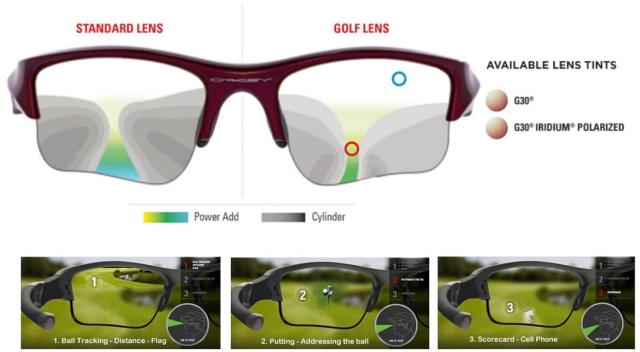 Step One: The Eye Test
The first thing to do is get your eyes tested by an optician. You can then either order a pair to suit your prescription trusting over-the-counter advice or take it away and research the options to make sure you have the right pair for golf. Repeat every two years to assess vision changes and eye health. It is also important that the optician takes additional measurements as specified by the glasses manufacturer.
Step Two: Choose a Suitable Frame
Experts agree that large frames and lenses are the best for golfers because they offer the most protection from harmful sunrays and afford the best vision enhancements without obstructions.
Advances in lens technology now allow prescription optics to be fitted to the popular full wraparound sports frames and these are generally recommended.
It helps to have lightweight frames that fit securely to your face and don't slip down your nose when you swing. Consider rubberised nose and temple pads. In addition, half frames are preferred as they minimise visual obstructions on the periphery - important when you are looking down at the ball to putt, and then at the hole out of the corner of your eye as you line up.
Coverage is important - wide and tall to encompass the range of eye movements in differing situations is best. You do not want to look down at the ball and find yourself looking under the lens, or indeed through the reading part of your prescription should you choose varifocals.
Step Three: Pick the Right Lens
Depending on your vision requirements you may be better with single vision lenses or varifocals, also known as progressives. Either way, there are golf glasses for you from the market leaders. An optician can advise.
Single vision glasses wearers usually suffer from myopia (nearsightedness) and struggle to see the pin from a distance, or hypermetropia (shortsightedness) where they have difficulties seeing the scorecard.
Players whose vision has deteriorated with age are said to be presbyopic. Symptoms often start with being unable to focus on the scorecard, gradually affecting mid distance focusing, leading to problems lining up putts, and sometimes causing headaches.
Regular varifocal, or progressive lenses, which golfers may already own for motoring or other activities are not really up to job.
Golf specific lenses and frames are preferred as they will provide sharp focus where it matters, and provide a suitable width of coverage without obstructions.
The large wraparound sports frames mentioned above, are often recommended to overcome these problems and can be bought via your optician or online. Glasses from Oakley, Zeiss and Shamir, all international high-end lens makers, offer the very best options.
They provide golf-specific lenses, high-tech variants of standard progressives, optimised for the golf course.
These concentrate on providing sharp focus on the three crucial points - the scorecard, the ball at your feet, and the green in the distance.
In addition they take account of a fourth spot that regular varifocals often do not cover - peripheral vision - allowing golfers to see out of the side of the lenses to where you want the ball to go, while at the same time looking at the ball on the ground to line up your shot.
Oakley produce Prizm Golf™ lenses and frames and these are among the most popular for golfers worldwide.
Shamir Golf™ all provide the all-important clear peripheral vision as they are designed specifically for wraparound frames.
Zeiss Golf too are golf specific and can be personalised to individual requirements to the nth degree.
Joachim Kass, of Zeiss says: "Unlike many other situations in everyday life, we strongly advise against wearing standard progressive lens for golf.
"The two distances which are most important for golf are not sufficiently taken into account by progressive lenses: the distance to the ball before tee-off and during putting – in other words, when the ball is on the ground and not in the air. In traditional progressive lenses these ranges are often blurred or distorted. The result is mis-hits that might never have happened with the right lenses.
"Even if you need high prescription lenses, the appropriate lens designs eliminate blurring in the periphery of your lenses, and you enjoy outstanding, distortion-free vision. 90 percent of our movements are initially coordinated by our eyes. Problems such as muscle ache, neck strain and the dreaded 'golfer's elbow' are often caused by poor vision.
"Listen to your gut feeling, talk to your optician and get some taylor made golf specific lenses then you will love wearing them much better than those off the shelf."
Step Four: Consider Tinted Lenses
Most prescription golf lenses come with the option of doubling as sunglasses. This is a matter of preference, and on the light levels when you are playing.
There are however certain advantages of using tinted lenses over-and-above sun and glare protection.
Some experts say the best colour for golf lenses are rose pink or amber as they give the best contrast against the grass and promote better green reading as well as tracking the flight of the ball.
Oakley Prizm Golf ™ and Prizm Dark Golf ™ are rose/amber and offer great contrast on the course. Zeiss suggests light to dark purple or yellow-orange tints to improve visual comfort; depth perception is optimised and the contours of the green are clearer. You can better identify breaks on the green and therefore also better assess the ball trajectory.
All agree that brown and grey lenses are best avoided.
You could also consider transitional, or photochromatic lenses that darken as the light get more intense.
Step Five: Take Time to Get Used to Them
Don't necessarily expect an immediate improvement to your golf score the moment you pop new glasses on your face. They will take some getting used to, especially if you are wearing glasses for golf for the first time or you have a new prescription.
Your brain will need time to adjust to the new information it is receiving from your eyes and you may find difficulty in assessing length of putts for example.
Give yourself time to adjust and try and wear your new specs as often as you can to get used to them. No going back to an old pair or pushing them to the back of your golf bag, give them a chance!
Joachim Kass at Zeiss says: "Varifocals may require a bit of a learning experience and the earlier you start with them the easier it is to get used to them."
On Test: Oakley Flak 2.0 XL PrizmGolf ™ Prescription Varifocals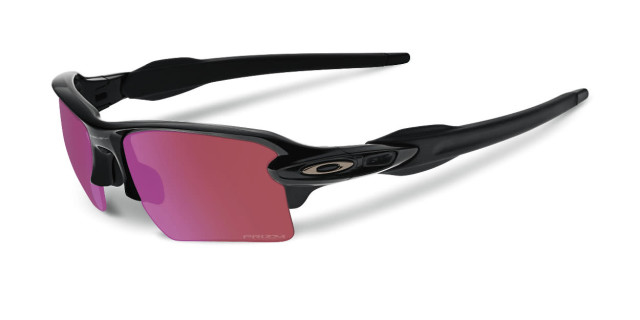 High on style and reputation Oakley are famed for their sunglasses, and also produce prescription lenses for golfers. The Prizm Golf ™ lens is designed specifically with golfers in mind.
Oakley claim the lens is "engineered to help you spot transitions between the fairway, fringe and rough, gauging distance with accuracy to help you read the course better."
They are also said to help you read the pace of greens better and make it easier to track the ball flight against the blue sky.
Two types are available, Prizm Golf™, for the mixed light conditions we are used to in the UK and Prizm Dark Golf™ for the brighter skies you might encounter on trips away.
They also sport those unique features required by golfers to optimise chances of playing well and in comfort.
Our test pair of Prizm Golf ™ came fitted in the popular Flak 2.0 XL frame which can accommodate interchangeable lenses.
Looks
There is no doubting Oakley's sense of style in both the lens finish and frames. These specs look the business, and they come in a well-designed sleek protective case which provides an immediate sense of quality.
The black frame is a distinctive wraparound sports design and looks great.
Fit
Rubberised frame inserts and nose pads ensure they fit like a glove; there is no movement throughout swing or when you look down at the ball.
Effectiveness
Featuring the innovative Prizm Golf ™ tinted lenses, they were supplied to my prescription.
As far as vision is concerned there is no doubt that these glasses work as described. All round sharpness is first rate and the claim that they work equally well in the three essential areas - scorecard, the ball at address, and pin in the distance, is accurate. They are taking some getting used to, as the difference from my natural slightly blurred vision to razor sharp is dramatic. I can once again read the scorecard and also see the logo on the ball at my feet in focus. I am impressed with the peripheral coverage - looking down the line of the putt from the corner of my eye is catered for and there is no interference from the frame.
The lens colour – amber/rose - creates a great colour contrast and is easy to get used to. Greens and browns are intensified and grass grain is much easier to see, a very useful benefit on putting surfaces where you are unaware of the nap. That's more than useful when you are lining up a tricky putt!
---
What do you think? leave your comments below (Comments)
---
---
comments powered by

Disqus