How Was Your 2020 Golf Year? Best Course | Low Score
By: Golfshake Editor | Wed 23 Dec 2020 |
Comments
---
In what has been a quite unexpected year, which saw many golfing plans, trips & targets pushed to one side, golf bizarrely had a renewed and unprecedented boom. Whilst the year may not have been what we originally planned some golfers were able to take advantage of opportunities to play more and still tick off some of their 2020 targets.
The Golfshake team of ambassadors managed to make the most of the Summer golf on various unplanned trips and reviewing courses throughout the UK. Below we round up their year but would also love to know how your 2020 golf season ended up. You can complete our short survey on 2020 and we would love to know if you played more in 2020, played any new courses, shot any notable scores, saw a handicap drop or had a golf experience you will never forget.
---
2020 Was Still A Year To Remember
Golfshake writer Derek Clements played considerably less in 2020 but still managed to hold on to his 8 handicap. The golfing highlight of his year was staying and playing at Old Thorns.
Without a shadow of a doubt, this was Old Thorns. A stunning golf course, in magnificent condition and a glorious setting. The greens were fabulous. It also helped that the hotel was truly spectacular. Amazing food, wonderful rooms and great, friendly service. The course suited my eye and I shot a 76, hitting every fairway.
His most memorable experience was the recent PNC Championship and watching Tiger and Charlie Woods playing in the Father and Son Challenge with Tiger bursting with pride as his 11-year-old son turned out to be a chip off the old block.
Whilst the year wasn't what he would have planned he did use it as an opportunity to focus on his fitness, something we covered on Golfshake. He started the year considerably higher on the scales than he would have liked but with a combination of walking every day, a bit of jogging and a complete diet change he tipped the scales at his target weight losing 2 stone along the way. This is something he plans to continue.
It has been a huge lifestyle change but I am determined to remain at this weight, and am confident that I will do so. I have eliminated potatoes, chips, crisps, chocolate and cider from my diet. And I don't miss any of them!
We also asked the Golfshake Ambassadors how their golf year stacked up and how it turned out for them in terms of performance, where they played and what were their most memorable experiences.
Matt Holbrook (MH) still managed to play an impressive 95 rounds, that's over 400 hours playing golf, and should finish the year playing the same amount of rounds as in 2019. His handicap started at 8 and finished the year with a handicap index of 5.3. Matt's best round was back in June when he shot level par for the first time - the round included 3 birdies, 1 double and 1 bogey and he had a putt on the 18th to go one under!
Andrew Picken (AP) whilst Andy played a lot less in 2019 he still managed over 70 rounds and found the time to practice more. His handicap also dropped considerably from 20 to an index of 15 after joining a new club. Andy's low score came playing Royal Lytham where he shot 1 under his handicap.
Mel Davies (MD) only played a few less than in 2019 finishing on 54 rounds. Mel's handicap dropped from an 11 back in Jan 2020 to a 6.9 handicap index in December 2020. Mel also managed a 75 (3 over par).
Rob Treanor (RT) only managed 30 rounds and considerably down on the 100 he played in 2019. This was largely due to the travel restrictions which impacted several planned trips. However, most should hopefully roll into 2021 now. His handicap remained unchanged finishing at an index of 16. His best round was at La Cala right before lockdown where everything seemed to click and he took advantage of playing in the warm sunshine compared to the winter conditions back in the UK at the time.
Robert Cross (RC) played less in 2019 and estimates his round total around 50 compared to a normal season of somewhere near to 70. On the plus side with the World Handicap System going live he saw his handicap drop from 6.5 at the start of the year to an index of 4.7.
Richard Moore (RM) managed an impressive 64 rounds but less than 2019. Rich started at 14.8 in January with a target of 12 and finished at 11.8. His low score highlight was 79 on his home course at Abbey Hotel.
Kevin Heggie (KH) only played 21 rounds this year which was 40% less than 2019 and outside of lockdown possibly due to Kevin being the only non-club golfer amongst the team. His Golfshake handicap back at the start of the year was 13.7 and despite a lack of rounds he finished with a Golfshake Index of 10.5. His best score was the last round he played in the year recording a 7 over despite some pretty awful conditions.
Ed Diambro (ED) played 64 rounds but less than 2019 due to tournament cancellations and impact to county and competitive golf. He started the year at +1.1 and impressively finished the year with an index at +2.7. Ed's round highlight was a 67 in June where he was +3 on the 12th tee but played the final 7 holes in -8 including a hole-out eagle on 18.
Best courses played in 2020
The Golfshake team managed to tick off some top class courses this year despite the challenges in playing golf. We asked what was the best course they had played in 2020:
Most memorable experiences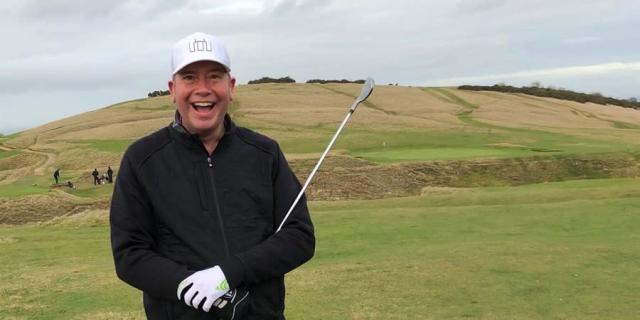 Whilst it wasn't the year anyone had planned we can all still make memories. Here are the highlights from the Golfshake ambasssadors:
MH - The trip to Scotland this year was fantastic. Playing Dundonlad Links in glorious sunshine then heading over to stay at Turnberry and playing both courses there was amazing. The company was fantastic as well.
AP - Playing the Manor Course Castle Coombe, a Peter Allis classic and discovering the reason the hole was called Dollittle and finding out about Sir Ranulph Fiennes trying to blow up the village!
MD - Driver fitting for Mavrik at Callaway HQ Chessington.
RT - I came close to hitting a hole in one four times this year, each time the ball finished within a foot of the hole. Maybe next year my luck will be in favour...
RC - First tee shot after 2 and a bit months of not being able to play! PW to about 12ft on 10th hole at The Millbrook.
RM - Hole in one at Cleeve Hill on my last round (8 iron 145 yards( just looking for a course that was open and looked what happened!
KH - Staying and playing at Burnham and Berrow. We played the main course twice, and had differing winds (and weather) on both days so got to appreciate it from all perspectives, and what a treat it was! The cherry on top was staying in the dormy, and spending the night in the clubhouse enjoying their hospitality and looking through their mightily impressive trophy cabinet.
ED - Winning my 2nd County Championship whilst suffering from food poisoning... certainly memorable!
Best product in the bag for 2020
But what about the equipment we use, the team responded with:
MH - Would be easy to say my Cobra Speedzone driver but my Odyssey V Line putter doesn't let me down.
AP - New Ping Driver. Love it.
MD - Odyssey Ten Triple Track custom fitted putter.
RT - I have loved my 3-wood since I first used it as part of a hire set three years ago. When I came home from living in the US for a couple of months one of the first things I did was add that club to my bag permanently!
RC - FJ wet gloves - a game changer for me. Used twice in torrential rain and despite not liking two gloves the benefits outweighed this. Along with Galvin Green waterproofs and Skechers Go Golf Tourque, came off the course bone dry!
RM - GolfBuddy GB LaserLite rangefinder seriously good piece of kit.
KH - Following a Callaway Driver fitting my Mavrik has behaved really well which helps massively in putting together a score
ED - Without a doubt my Titleist 716 TMB 2 iron. Got better and better with it as the year has gone on.
Reflecting on 2020 and looking ahead to 2021
But finally, in what has been a challenging year we also wanted to know what stood out and what they did differently in 2020 and how this will roll into 2021.
Matt: This year I have worked hard on my fitness and mobility. Dropping nearly 3 stone in weight and I have been working hard in the gym with my golf-specific personal trainer Ben Herbert. My range of movement and core strength has increased and I'm really seeing a benefit in my golf.
Andy: First year being a member at Kedleston Park it has been simply superb. Welcoming, friendly top quality Open qualifying venue and superb practice facilities that has led to the handicap drop.
Mel: Achieved my golfing goal of single figures (before I was 50) in March just before lockdown, have since managed to drop further. Had short game lessons to improve my chipping and pitching and it's working wonders. Also really enjoyed the fitness regime with Jon Ship and feel like I'm "fitter and stronger" because of that.
Rob: Most golf related things have taken a back seat in 2020 which is ok. Reflecting back on the year the sport is a great way to relax and provides a truly immersive experience for a few hours.
Robert: I actually practised less due to ongoing wrist injury, but in lockdown, a net was bought and along with Swing Caddie SC300 really worked on my wedge distances for different types of club, technique!
Rich: Took out a winter package of lessons. Net result a more neutral path swing – less in to out. Now can hit my fairway woods sweeter and know I have lost the damaging bad misses with the driver (big bad hooks causing 3 off the tee). Without doubt 2020 has been my best year for golfing achievements……bizarrely!
Kevin - I was fortunate enough to win a winter golf training programme with Alistair Davies, based out of the Forest of Arden. This has helped me understand my swing more and has played a big part in my on course improvements. The fitness training we did with Jon Ship was also really enjoyable, and with winter now firmly in place, I plan to dust off the programme and get back into this in a quest to gain some yards ready for the start of next season.
Ed - Currently on a winter fitness and speed training mission, results to be shown in March. The starting point for max ball speed was 178mph with driver and 135mph with a 7i.
We hope despite some testing times you have managed to have a memorably year for golf. Please comment below to let us know how you got on and take our short survey on your golf in 2020.
---
What do you think? leave your comments below (Comments)
---
Tags: daily picks
---
PLAY MORE PLAY BETTER - LATEST TUITION TIPS
---
Leave your comments below
comments powered by

Disqus