Old Thorns Stay & Play Review
By: Derek Clements | Wed 16 Sep 2020 |
Comments
---
WHAT do Frank Sinatra, Paul Newman, Robert Redford, Muhammad Ali, Hale Irwin, Calvin Peete and Seve Ballesteros all have in common? You will find magnificent black and white images of them - and many other icons - adorning the walls at Old Thorns Golf and Hotel Spa in Hampshire.
You will find plenty more besides - a giant Oscar statuette guarding the front door (wearing a face mask, obviously), an old red telephone box, magnificent throne-style chairs scattered around the hotel, chandeliers, magnificent artwork. This place is amazing and the person who designed the interior - and was obviously given a completely free hand - clearly had a ball while doing so. Every way you turn there is something else to see, and that is before you get anywhere close to your room, the restaurant, the sports bar, or the champagne bar.
During this difficult time, social distancing measures remain in place and are strictly enforced at Old Thorns, where the standards of hygiene are truly exceptional. Everywhere is spotlessly clean and the rules are easy to follow and are clearly explained.
It is something of a cliche to describe somewhere like this as a hidden gem, but it really is, albeit exceptionally popular with the Golfshake Community who have rated it Highly Recommended.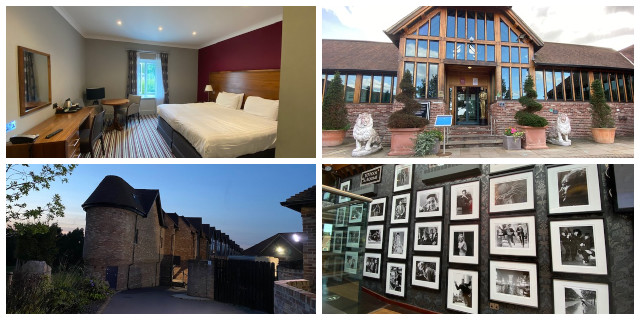 Old Thorns nestles next to the South Downs and the surrounding countryside is simply spectacular. The city of Portsmouth is just over 20 miles away and is well worth a visit - the historic Naval Dockyard houses the Mary Rose exhibition as well as Lord Nelson's flagship, HMS Victory, and HMS Warrior, the world's first iron battleship.
It also boasts a bustling waterfront area featuring bars, restaurants, a magnificent shopping centre and the Spinnaker Tower - the panoramic views from the top floor will take your breath away.
Jane Austin spent the last years of her life in this area and there is a house dedicated to her life and work less than 12 miles from Old Thorns.
But I digress…
The Hotel
Rooms are thoroughly cleaned and sealed after each guest departs. We were told not to enter our room if the seal had been broken. Old Thorns offers more than 150 spacious rooms and suites.
The choice of accommodation is impressive. Our room featured the biggest king-size bed I have ever seen, a table and chairs, a desk/dressing table, bathroom with easy-to-operate shower, soft, fluffy towels, and high-quality toiletries, along with a lovely view of the surrounding countryside. Superior rooms sleep two, deluxe rooms sleep three and family rooms can accommodate four people.
There are also self-catering apartments which sleep from four to six people, all with luxury kitchens and all offering great views across the golf course. And there are 10 eco-pods, each of which can accommodate two people. It is basic accommodation, but it is comfortable and very popular.
The Food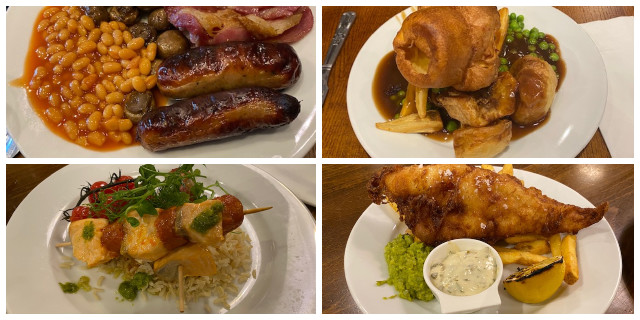 There are two dining options - the Kings Restaurant, where breakfast, lunch and dinner are served, and the Sports Bar. The Kings is a carvery and on the night, we visited turkey, gammon and pork were on the menu, accompanied by roast potatoes, crackling, Yorkshire pudding, red cabbage, carrots, peas, parsnips - all cooked to perfection. And the portions were generous, to say the very least. There is also a wide choice of desserts.
The menu in the sports bar includes beef and chicken burgers, salmon, tuna, pasta, and fish and chips, along with a variety of mouth-watering vegetarian options such as pea and mint risotto and vegan burger. I opted for haddock cooked in batter with chips and minted mushy peas. There are light bites available, including a variety of sandwiches.
Breakfast is served in the restaurant. The full English is fabulous, with the quality of the sausages, bacon, and mushrooms truly outstanding. There is also a wide selection of cereals, fruit, and yoghurt. Tea or coffee, orange juice and toast are currently served at your table.
Drinks are available in both the restaurant and sports bar, as well as in the gorgeous champagne bar, which is furnished quite beautifully. The sports bar, which is festooned in sporting memorabilia, also has two pool tables and an outdoor seating area, as well as a choice of cocktails. Oh, and a giant yellow and black Transformer! All draught beer costs £5 a pint.
If you fancy a change of scene, there is a Starbucks onsite and a delightful country pub called The Deers Hut is a five-minute walk from Old Thorns.
The Swimming Pool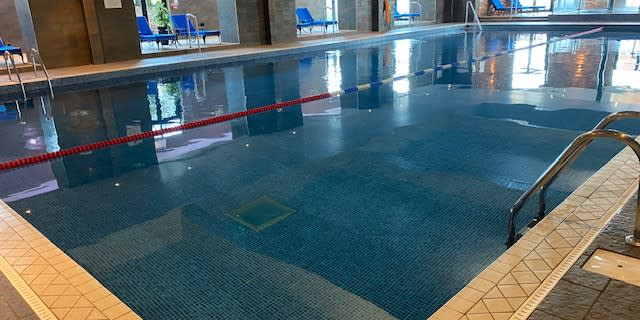 The Elevation Health Club features a gym and swimming pool. Swimming sessions in the 25m pool need to be booked in advance and are restricted to 45 minutes, with guests asked to turn up ready to swim and then return to their rooms to shower and change. There is also a jacuzzi.
The Spa
The luxurious spa offers a huge range of treatments, with tailor-made breaks. Treatments include body scrub, facial, scalp massage, manicure, pedicure, full body massage, hand and foot rituals.
The Golf Course
6,471 yards, par 72, parkland
In a word, this golf course is a jewel. It features thousands of mature trees, plenty of water, well-manicured fairways, beautifully maintained bunkers filled with "proper' sand and glorious greens. If you hit the ball straight and put your drives in the right place you will score well here, but the trees and water must be avoided.
The opening hole measures 343 yards and is a gentle left to right dogleg with a fairway bunker located at the corner of the dogleg. The fairway is quite narrow and is tree lined, as are most of the holes here, and the approach is played to a green that is guarded by three more traps. The second is a cracking par five measuring 499 yards. It is a severe dogleg from right to left. You need to avoid the bunkers to the left, leaving a straightforward second shot and a short pitch to a long green with a bunker to the left. Trees to the right are to be avoided. The third, a par four of 439 yards, calls for another well-placed tee shot - three bunkers to the right and a large tree in the fairway mean you have to go slightly left, but this is another hole with trees lining both sides. Your second shot is to a putting surface protected by three traps.
Some relief comes at the par-three fourth, measuring 156 yards, calling for a well-placed tee shot to a long green surrounded by trees. But there are no bunkers. Find the right part of the green and you will be putting for a birdie. The fifth is a great par four of 353 yards. The fairway is pretty wide but narrows close to the green - and there is water to the left of the green. The seventh is a different proposition. Another short hole, this 161-yard par three is played over water to a long green with a large bunker to the right. There is more water in play at the eighth, a par four of 366 yards - there is water all the way down the right-hand side. Take a three wood or utility club for position, leaving an approach to a green, with water to the front and right.
Reach for the three wood again at the 11th, where position is the key. Again, there is a vast expanse of water on the right and trees to the left before an approach to a green protected by three bunkers at the front and a large trap at the back. The 12th is another dogleg, this one measuring 426 yards, with trees lining both sides and a bunker on the right side waiting to collect any wayward tee shot. Trees run the full length of the hole. The approach is to a green guarded by a solitary, well-positioned bunker. More water and more trees need to be negotiated at the 14th, a 510-yard par five. It is a gentle right to left dogleg with bunkers to the right and left of the fairway. Keep the ball in play and avoid the three greenside bunkers and this is a great birdie opportunity.
The 15th is a risk-and-reward par four measuring just 264 yards. You can take an iron and trust your short game to set up another birdie, or you can pull out the big dog and hit a big draw or go over the corner of the trees - hoping to avoid the trees to the left and the bunker just short of the green. The 17th is another par five, this one running to 489 yards, with trees and water all the way down the right. And yes, there are three well-placed bunkers to the left of the fairway. Avoid all of that trouble and go for the green in two, steering clear of the two bunkers that lie in wait. Two putts, birdie four. Simple. The 18th is a magnificent finishing hole. Measuring 421 yards, there are trees to the right and left. There is water about 80 short left of the green, but it really shouldn't come into play. The approach is to a narrow sloping green protected by three bunkers and a large tree short right. Par this hole and head to the sports bar with a smile on your face.
This is a spectacular venue and one that you really should include on your must-visit list as soon as possible.
For more information and the best deals, visit https://www.oldthorns.com/golf or Golfbreaks.
---
Old Thorns also features in our Best Golf Experiences in the UK and Best Golf Accommodation in the UK articles, both features were based on survey data submitted by everyday golfers.
---
Related Content: travel Stay & Play review England Courses
What do you think? leave your comments below (Comments)
---
Leave your comments below
comments powered by

Disqus
Plan Your Next Round
Ardglass Golf Club
County Down
from £22.00
Save 50%
Castlerock Golf Club
County Londonderry
Galgorm Castle Golf Club
County Antrim
from £13.00
Save 23%
More Golf Course & Travel Features
Plan your next golf break with Golfbreaks.com