The Joy of Returning to the Golf Course Again
---
Golfshake's Derek Clements shares the final chapter of his lockdown diary.
---
I want to thank you all for your support over these past weeks, but I have now decided that, after nine long weeks, you have had enough of my keep-fit stories.
Thankfully, I have now been back out on the golf course and was thrilled to do so, all the more so because I actually played pretty well in the company of a friend whose banter I have missed. Happy days!
And here's the thing - I felt great before, during and after my first 18 holes. So much so that I wanted to go straight back out and play another 18. Sadly, I wasn't allowed to do so because the course was fully booked. It was great to see so many happy, smiling faces, even though I had to acknowledge friends from a distance with a wave and we couldn't all sit down outside the clubhouse afterwards and enjoy a drink and a sandwich together.
I am now convinced that my physical health is in a better state than it has been for years, and I will be maintaining that. I can't wait to get into a gym when it is safe to do so. I am at the stage in my life where I now know that I can no longer take my health for granted, and I have no intention of doing so.
In the past, I would have been happy to spend hours sitting on the sofa watching TV. No longer. I can't do it. I get itchy feet when I am inactive.
I have made no secret of the fact that I don't enjoy jogging. During lockdown I have regarded it as a necessary evil - as have tens of thousands of other people. I now appreciate getting out in the fresh air in a way that I have never done before.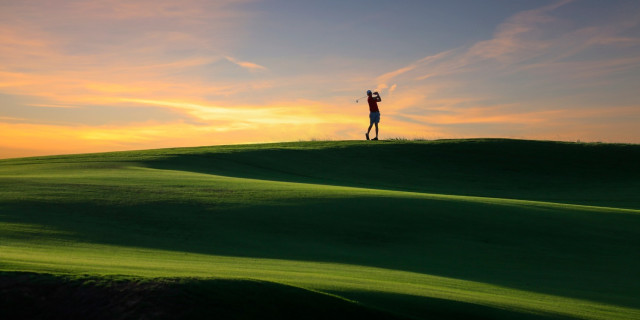 And I felt as fresh as a daisy after my first round back on the fairways. I played in a two-ball with a friend I hadn't seen since early March. Both of us have obeyed the rules, which meant that we didn't have a lot of news for one another, other than relating how we had both found our own ways of coping with lockdown.
I will never again take golf or the company of like-minded people for granted. It was pretty odd putting to an upturned hole but the beauty of it is that if your ball hits that hole then you pick it up. Job done. In reality, many of the putts that hit the hole probably wouldn't drop. But, right now, who cares.
I also have to say that I am a fan of having no rakes in bunkers and was pleasantly surprised at the fact that people do seem to be smoothing down the sand properly after they have played. My playing partner had even invested in a small rake that he was able to attach to the end of his sand wedge. Job done!
I had been concerned that the course might not be in great condition, but I could not have been more wrong. After the glorious weather we have been experiencing the fairways are baked brown, but the greens and the rough were perfect. And do you know what? People suddenly seem to have discovered how to replace divots and repair pitchmarks on greens. Wonders will never cease.
---
Why I Won't Be Joining the Rush to the First Tee
---
The pace of play was brisk - we covered the 18 holes in just under three hours and didn't once have to wait for a green or fairway to clear.
It's funny the things you notice - the wild flowers, the insects, the rabbits, that wonderful smell of freshly-mown grass, how beautiful the gorse looks when you are not in the middle of it searching for a rogue golf ball, the pond life. I didn't even mind trudging through the rough thing to find the odd wayward drive. I am not sure how long that will last though.
And I do long for that proper social contact and swapped stories at the end of the round, but I know that will return. In the meantime, I am just delighted to be back out there.
I reflect on a response I had a couple of weeks ago when I decided that I was going to wait before returning to the course.
"Golf is not just about socialising, it is fresh air, exercise and vitamin D sunshine to boost your immune system when it is sunny. Just because you can't shake hands or have a beer in the clubhouse doesn't mean you can't be sociable. Get some exercise and breathe in clean fresh air instead of being cooped up."
He was right. 100% right. Of course, it helped that on the day I made my return there wasn't a cloud in the sky, the sun was shining and it was about 27C. In other words, the sort of day golf was invented for. Or vice-versa.
---
Derek's Lockdown Diary
Week 1 Report: Am I Fit For Purpose Or Fit To Drop?
Week 2 Report: Believe It Or Not, I Think I Am Getting Fitter To Drop
Week 3 Report: A Bad Week, But There Is Light At The End Of My Tunnel
Week 4 Report: Just When It Was All Going So Well .... Catastrophe!
Week 5 Report: How My Clothes Airer Landed Me With a Visit From The Police
Week 6 Report: I Just Don't Feel Comfortable Jogging Now
Week 7 Report: Home On The Range ... The Day I Hit 200 Golf Balls
Week 8 Report: Glorious Weather Turns Us Into Fitness Fanatics
---
What do you think? leave your comments below (Comments)
---
Tags: daily picks
---
PLAY MORE PLAY BETTER - LATEST TUITION TIPS
---
Leave your comments below
comments powered by

Disqus