A Bad Week, But There Is Light At The End Of My Tunnel
---
Golfshake's Derek Clements documents his continuing health kick during lockdown
---
I have not had a good week. And I have discovered that it is all my own fault. You will not need me to tell you that we have seen some glorious weather during these past seven days as I have continued to attempt to improve my fitness levels.
I have been out there pounding more concrete and paths through my local park and on Thursday and Friday in particular I thought that I was going to expire. I now know why. I have been running at about 1-2pm every day. And on Thursday and Friday the temperature at that time was nudging 25C, with not a breath of wind. I am now told by those who know rather better about these things that I should be running before 10am or after 7pm in the evening. Doh!
---
Week 1 Report: Am I Fit For Purpose Or Fit To Drop?
Week 2 Report: Believe It Or Not, I Think I Am Getting Fitter To Drop
---
I wish I could tell you that my early progress has continued but, sadly, that just isn't the case. So I need to go back to the drawing board and reschedule my running regime.
What I have noticed is that I am not the only one who is out running at the wrong time of day. It seems to me that when this is all over, Britain may be fitter than it has ever been. People of all shapes and sizes are now out there doing their thing. And when I look at how others are struggling it makes me feel so much better about my own travails.
I don't mind sharing the paths with fellow joggers, all of whom come in different shapes and sizes - when we approach one another we are sure to give one another a wide berth.
There are different types of jogger. There are the ones who will always greet you with a cheery smile and an: "Afternoon!" These are ones I identify with.
And there are those who pointedly look the other way, or lower their eyes to the ground. Anything to avoid eye contact. Excuse me, I am not an alien. I am just somebody like you, out here doing my best to keep body and soul together.
I have also realised that there is a correct way to run and there is a wrong way. I had no idea that arm movement is important. But it is. It is not for me to tell you how to run properly but what I would say is that if you are tempted to start jogging, you really should get on t'internet and watch how "proper" runners do it. And trust me, if you get the arm movement right, everything else will gradually fall into place. And make sure that your trainers are up to the task - this is REALLY important.
But please, don't get me started on cyclists. Too late, I have started, so I will finish. I am not a fan of cyclists. I know this is a sweeping statement and I know that not all cyclists are selfish and self-centred, believing they own the road.
Let me try to explain…
Back in the real world, before lockdown, I worked in London. For years. You will know that London is a busy, bustling city, full of pedestrians. So why is it that so many people on bikes feel that it is acceptable to coming tearing down the pavement, ringing their bells to tell us to get out of the way? They are meant to be on the road. And why is it that so many choose to ignore traffic lights? And believe me, they do. And turn left and/or right without signalling? And ride their bikes while listening to music, oblivious to traffic noise?
So one of the things that has struck me since I started this fitness regime is the huge number of people who have decided to drag their bikes out of the garage and dust them down. They say that you never forget how to ride a bike, although the evidence of my own eyes suggests that might not necessarily be the case.
Cycling is good for you, of that there is no doubt. But I am growing every so slightly fed up of having to jump out of the way of cyclists in my area who steadfastly refuse to use the road. Remember that the roads are largely deserted. Remember, too, that pavements are for pedestrians - ie people who want to get from A to B by foot.
Rant over.
I am cracking on with the 30-day plank challenge and my stomach really does feel that it is not quite what it used to be.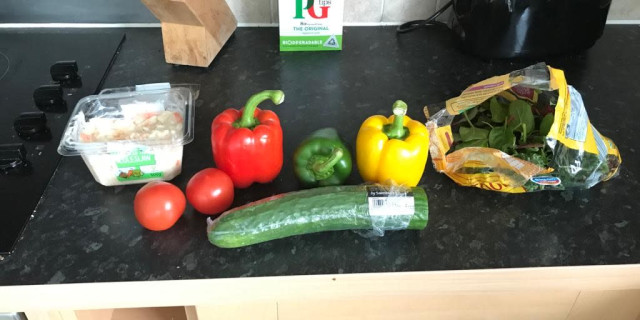 Where I have been making some real progress is with my diet. No more pies (I love pies). No more crisps (I love crisps). No more chocolate (well, plain instead of milk), no more cider. I have bought a magic frying pan that doesn't require you to use oil. How does that work?
My fridge is full of "super salad", peppers, cucumber, tomatoes - food that has rarely crossed my lips before. I am have also become obsessive about not wasting food.
I am eating chicken, prawns, fruit, eggs. I have removed potatoes and white bread from my diet.
So all I need to do in the week ahead is to get the jogging back on track...
---
Related Content
The Self Isolation Guide For Golfers
---
What do you think? leave your comments below (Comments)
---
Tags: Fitness daily picks
---
PLAY MORE PLAY BETTER - LATEST TUITION TIPS
---
Leave your comments below
comments powered by

Disqus