---
Golf is best shared with others. This game of ours is highly social by design. It's an opportunity to enjoy the mutual experience of playing a round, an activity deeply layered by triumph and tragedy, and a chance to detach yourself from reality for several hours, the world around you becoming reduced to the course and the parameters of your group.
It's a way to connect with someone in a manner not possible in your everyday Zoom call. Indeed, as the inimitable P.G. Wodehouse once wrote: "To find a man's true character, play golf with him."
However, golf is versatile. What makes this a sport appealing across demographics is that it can be whatever you want it to be. It can be the all-consuming obsession of a lifetime, it can be the gateway to intense competition, or it can merely be a simple recreation to keep active. But it can also be a solitary pastime.
During this age of social distancing, many golfers have found themselves introduced to the joys of single golf.
For many, the social element is an integral element behind the appeal of the game, but there is much to be said for stepping onto the first tee alone with your thoughts.
Playing as a single can be therapeutic. It's just you and the course, walking amongst nature, the environment, but most of all, it's just you and the game. There is something meditative about that. Like reading a book. You can play at whatever pace you find most comfortable, there is no pressure from others watching on, and the single golfer can be spontaneous. It's a freedom to play when and where you want.
Still not convinced? Well, allow me to make the case.
Not having any siblings, I grew up accustomed to making my own entertainment, but even then, I long had trepidation about playing golf alone, it felt awkward, surely this was something only for serious players, the likes of Ben Hogan and Nick Faldo, who tirelessly pursued individual perfection.
Ultimately, I took the plunge and played golf alone for the first time in my teens, and it was liberating, no longer was I limited by the availability or willingness of others.
Three years ago, that journey peaked when I played the Old Course at St Andrews as a single.
On a July evening, feeling the impulse to play golf, I ventured down to the Links in more hope than expectation, thinking the likelihood would be a round on the excellent New or Jubilee. However, I spotted the first tee of the Old Lady vacant, and saw the starter beginning to pack away for the night.
Sheepishly toddling over, I asked if the tee was still open, and it was, the last spot at 18:30 was available. It seemed too easy, this was too good to be true. I scanned my Links Ticket card and off I went. I had turned up to the bank and asked for the keys to the vault and been handed them. Remarkable.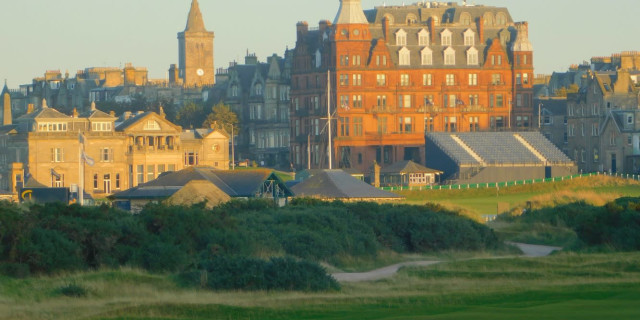 Here I was, standing alone on the first tee of the most famous links on Earth. It was exhilarating and terrifying. For that moment, it felt like the eyes of the game were on me. Such was my fear that following a poorly struck drive, I hit three identical shots in succession that all landed on the Himalayas Putting Course within a ten-foot radius.
Crossing the bridge to retrieve those wayward balls in view of the families enjoying the greatest putting layout in the world was sobering. Talk about the walk of shame. More embarrassing than anything seen outside a nightclub during the early hours of a Sunday morning.
Thankfully, once the humiliation had been shaken off, the golf improved, and I was in heaven. Not being a religious man, the concept of spirituality has failed to reach me, but this was magical, here I was in my church, the equivalent of a devout Catholic having a personal audience with the Pope.
It was a slow round – stuck behind a four-ball that decided they would navigate the Old in entirely different directions – but I've never been happier to spend hours on a golf course, walking in the footsteps of history.
Sharing it with others is always fun, but playing the Old Course tonight as a single (last golfer out) was a unique and magical experience. pic.twitter.com/HnP6BxCfe6

— Kieran Clark (@KieranClarkGolf) July 14, 2017
Playing back towards the town in the fading dusk, seeing this ancient settlement illuminated by lights, made for a dramatic setting on those closing holes, eventually standing on the 18th tee in near darkness. Ahead, my absent companions were finishing their dream rounds before an assembled gallery of lubricated Americans.
Suddenly, I felt intimidated by the hooting and hollering, surely about to become a prime target for ridicule as a sole golfer.
However, waiting on the fairway, my prospective fans instantly departed when the group ahead finished, presumably they couldn't see that there was another golfer waiting to play, such was the enveloping darkness.
So, I had it all to myself, the 18th green, the backdrop of the Royal & Ancient Clubhouse and Hamilton Grand, the very same spot where Tiger Woods, Jack Nicklaus, Nick Faldo, Seve Ballesteros, Peter Thomson, Sam Snead and Bobby Jones had been crowned the Champion Golfer of the Year. For that brief moment, it was mine.
While not every solitary round will be as special as this one, the principles remain the same. By playing golf alone, you may just learn more about yourself. If the opportunity does present itself, don't be afraid to take it.
---
Related Content
Early Mornings at The Old Course
Falling in Love With Golf Again
---
What do you think? leave your comments below (Comments)
---
Tags: daily picks
---
PLAY MORE PLAY BETTER - LATEST TUITION TIPS
---
Leave your comments below
comments powered by

Disqus