Early Mornings at The Old Course
---
The historic town of St Andrews is regarded as the spiritual home of golf, the Old Course has played an unsurpassed influence on the development of the modern game, its unique layout – one that would be deemed revolutionary today – was honed by nature and the careful hand of a select few, most notably Old Tom Morris. The R&A is the sport's governing body, and this stretch of linksland has hosted 29 Open Championships, with another to come in 2022.
Two-time Masters champion and revered architect, Ben Crenshaw described the Old as being "the most democratic course in the world."
For five-time Champion Golfer of the Year, Peter Thomson, the appeal was clearly defined. "All golf courses really are imitations of this one, and there's hardly any that measure up anywhere near it."
However, more than the strategic quality of the holes or the indelible history behind them, what makes the Old special is that it represents golf at its accessible best.
Contrasted with the gated perimeters of Augusta National or Pine Valley, the Old is available, literally becoming a public park on the majority of Sundays; dogs are walked, picnics are eaten, children roam freely. You can't realistically step onto the hallowed grounds at Wimbledon, Wembley Stadium, Lord's, or Twickenham, but you can play the Old Course at St Andrews.
This makes it the most romantic course around.
The Old Course Ballot – accounting for around half of the tee times – is drawn every day, seeing visitors and locals alike competing in a lottery for that dream spot. But a lesser known pathway is that single golfers may queue each morning and seek to be paired with a two or three-ball. Golfers have been known to line up from the previous evening, praying to those elusive golf gods for a chance to play. During summer, the numbers waiting for the starter at 6am are typically in the dozens, the rich overnight camaraderie having sustained these pilgrims throughout the wee small hours, before the sunrise illuminates the landscape. They won't all make it on, but many will.
Since living in St Andrews, I have played golf with people from the United States, Italy, Japan, South Africa, Australia, Argentina, and most exotically of them all, Renfrew in Scotland.
As a resident who loves nothing more than sharing this place with others, turning up to the first tee and discovering who could join your group adds to the experience, not knowing what nationality they are, how far they have travelled, and how long they waited in the hope that they could be paired up with someone happy to welcome a stranger. Those mysteries will be answered during the round.
Seeing the Old Course through their eyes is unfailingly magical.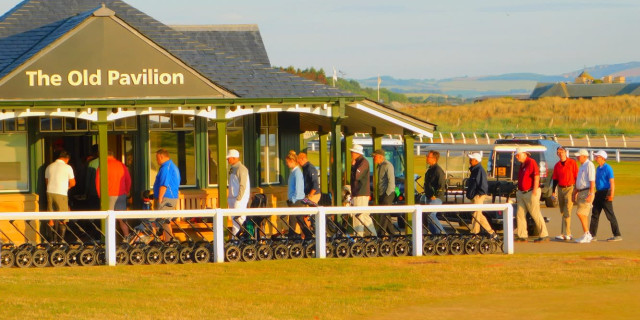 Notably, on an August evening, a pair of friends from the States joined my two-ball for a twilight round, having literally sat hoping, waiting inside the Old Pavilion (near the first tee) for over 15 hours. Weeks later, I received this message.
"I wanted to send you a note to say thank you for allowing me to play the Old Course with you. I appreciated it very much! It was a dream come true…"
Three years ago, I played with two gentlemen from Argentina who had literally stepped onto the first tee straight from the airport after arriving from Buenos Aires. 11,380 km is quite a journey for a round of golf, but it was worth it, despite the heavy thunderstorm that struck on the 16th. I fled for safety, while they continued to wade through the torrential rain and lightning, nothing was going to stop them.
These rounds were all made possible by that fabled queuing system. I had long wanted to see the early morning spectacle for myself, but as a confirmed night owl, such a concept is against my religion, but it had to be done. Venturing down on a beautiful July morning, I walked along Grannie Clark's Wynd just after 5am to be greeted by a remarkable hub of activity.
The cohort of greenkeepers were already making their daily rounds in a display coordinated like a bird flight pattern, while at the starter's hut, around 60 people stood patiently, determined to grasp their date with destiny. An enthusiastic Asian couple spent 40 minutes on the Swilcan Bridge taking photos of each other in an impressively diverse array of poses. Everything felt so wonderfully alive. And breakfast television had not even started yet.
What a joyful scene.
And, lo and behold, there were the golfers, waiting for their version of Disney World to open. This is a place for dreamers and those with an imagination.
I have been particularly mindful of that morning during the coronavirus pandemic, which has shut down the prospect of these sights for a considerable period. I have walked to the Old Course – but it was eerily quiet, the Old Lady looked sad, alone, solitary. That is when the new reality of lockdown hit me. Golf for locals has now gratefully resumed, but it's not quite the same.
The cosmopolitan nature of St Andrews is what makes the town special, bringing together the vast student population, the tourists, and international golfers. Walking the streets of the Auld Grey Toun, you will hear all languages, every accent, and sometimes you may even catch a Fife one. The vast majority of these voices are happy to be here, creating a carnival atmosphere, something contained within a picturesque settlement on the east coast of Scotland, a unique beckon for millions. It is the United Nations for golf.
Normality will only truly be restored when those early mornings at the Old Course return.
---
Related Content
The Experience of Playing the Old Course at St Andrews
Six Favourite Holes on the Old Course at St Andrews
---
What do you think? leave your comments below (Comments)
---
Tags: st andrews Scotland daily picks
---
comments powered by

Disqus