Falling in Love With Golf Again
---
Article by Golfshake Ambassador Andrew Picken
---
Since golf returned in England, I can genuinely say that I have fallen head over heels back in love with this crazy game.
For 35 years, I have always been passionate about my golf; trying to improve, always focused, statistically analysing my weaknesses and trying to work on those areas of my game. As I got older those challenges have increased, but the pleasures I derive from my involvement in the game have not. It has simply subtlety changed.
I can now cope with playing badly at an iconic venue with friends new or old. My golfing memories now extend from the swing or ball strike to the craic in the clubhouse post round.
I was a little concerned that losing this pure golf focus would turn me against our awesome sport and all the benefits it provides me from a health and well-being perspective.
For a number of reasons, I decided that I wanted to return to my golfing roots and again join a members' club. I wanted to engage and involve myself and use the golf club as a social hub and develop a new community of friends. As my son has now graduated from his US university and the golf scholarship has ended, he could also join me becoming a partner in golfing crimes and shenanigans. I paid my subscriptions at Kedleston Park the day before the lockdown was announced but have no doubts whatsoever that this decision was a great one for me going forward.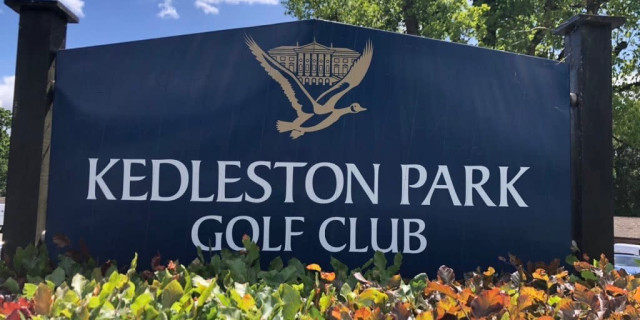 The Community of a Golf Club
Despite the virus there has been superb communication from my new club. Information about community support activities, a personal phone call to the entire membership from a member of the committee during the initial phases of the lockdown to ensure that all was well. In order to support the catering staff, they have been providing a takeaway food service at weekends via online bookings. They have even offered delivery services to those who were too vulnerable to collect. Despite not yet meeting many of my new club members I still feel part of the family feel that they have created despite the current adversity.
The best communication has been about the processes to be followed when visiting the venue to ensure everyone's safety and wellbeing. Clear signage and one-way system to get onto and off the course. Toilet doors, within changing rooms, left open to avoid any unnecessary contact etc. Great home-made videos from the professional staff giving updates on the work the grounds' team have been conducting. A new temporary point of sale to the Pro Shop. Starters being in place for every day, mainly committee members volunteering to support their club. Initially we were restricted to 9-hole games, played from two tees, to assess the level of demand to play. We have now moved to a full 18 holes per tee time.
Sanitisation Centres have been installed outside the Pro Shop and also the range. Clear instructions and the provision of disinfectant and wipes at the range make me confident that this is a very safe environment.
I have particularly enjoyed being able to play recently spending time with my son Alex. He returned early from the US, prior to his formal graduation ceremony. Plans for an epic U.S road trip by our whole family to celebrate his achievements have been shelved but we have much to be thankful for as the tribe is safe and sound. He achieved a distinction level degree in Sports Management and has also been awarded his teams Most Valuable Player award for his senior year. The timing of the global shutdown of sport isn't the best way to celebrate your graduation but we are all safe and well and that is all that matters.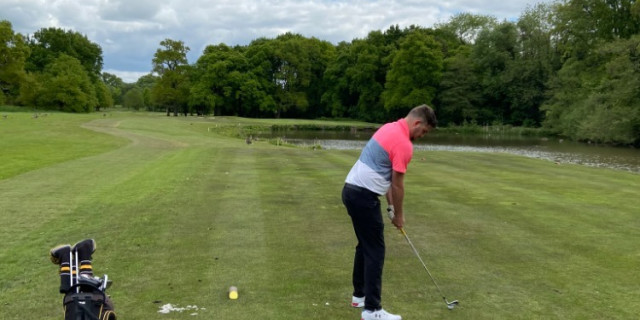 The Simple Joys of Playing Golf
My return to the game has been fully stripped back to its simplest form. And I love it.
A light carry bag, six balls only. I carry a drink, a snack, a towel and away we go.
In particular, I have loved the sociable solitude. Two of us playing together has enabled us to talk about all kinds of things that we wouldn't ordinarily have made the time to discuss. 90-minute rounds of golf are a simple, straightforward delight.
The first couple of rounds we played simply for the joy of hitting a ball with a stick. No emphasis on scoring but this has now evolved.
We have gone old school. He plays off scratch and I play off bogey. Simply speaking he gives me a shot a hole and this keeps me competitive. He finds maintaining a scratch score on a new course a challenge so we both win. The £5 wager we play for is as contested as a Ryder Cup trophy. The bragging rights attached to this ongoing event bears no limits.
There is a wonderful, joyous feeling of freedom every time that we do get onto the course. We have even been joined by our own bespoke gallery. For our early evening games, we have been joined by my wife who has simply walked with us as we play at our beautiful new golfing home. It is all part of the master plan to get her involved and also playing golf.
I have particularly enjoyed the fact that Alex is now so far ahead of me in his knowledge of the golf swing that he's actually coaching me. Having introduced him to the game only six years ago, it's a wonderful feeling for me to be able to learn from him.
There are still things that I can teach him about life in general. Attitudes to adversity and problems, but to see him have such an understanding of the game itself to be able to genuinely benefit my game has been quite a revelation and an absolute joy.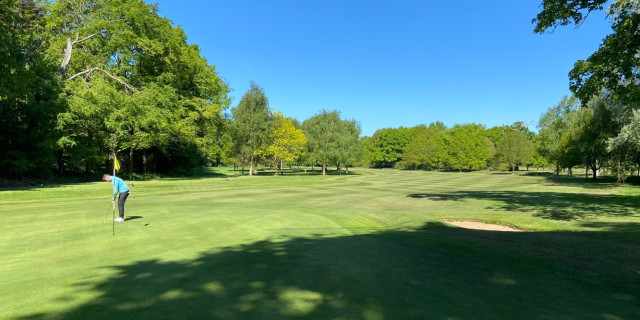 The Benefits of This Game
I found as soon as I get onto the golf course my stress levels reduce massively. It provides me with an open window to my mind, to my thoughts, worries and concerns.
Since returning to the course I am much more appreciative of the efforts of those who maintain and care for our courses. I've also become much more tuned in to my responsibilities to other golfers and users of the course.
I am always a stickler for good golf etiquette, making sure I repair pitch marks. Whenever possible if I go onto a green, I'll try and repair at least one more than mine.
Repairing a pitch mark (at my level of prowess) gives a sense of achievement. When the shot into the green has been effective it should be reinforced as a positive. I have built it into my pre-putting routine. Getting to a lower height also gives a much better view of any borrows or lines as well so that's another good reason to not leave it to someone else.
I have started to derive pleasure from the act of ensuring that I leave no trace of my prescence on the course for the benefit of players that follow behind. Tomorrow that is me!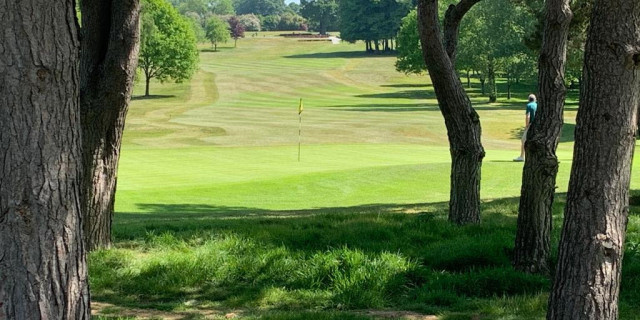 I have been reviewing a very simple, straightforward product called the Mini-Rake which is basically a little plastic rake head that you clip over the shaft of your wedge once you've used it in the bunker. It then becomes your own personal rake.
It provides me with absolutely no benefit to my own golf in any way, shape or form. However, I am getting quite a bit of pleasure from using the rake making sure that that bunker is pristine after I had left it for all those that follow behind me.
I am providing a service to people who I've not even met yet, complete strangers, they will probably not even know that this is what I've done because they will just consider that that bunker has been tended by the green staff. It has given me a real buzz taking the time to care for my fellow golfers. I think it also supports the green staff who have been absolutely immense over the time of the lockdown.
I love the fact that I've fallen in love with the game again.
I hope you can get that same feeling of excitement the next time you get out on the turf. It is such a simple, pure but utterly satisfying pleasure to hit a small ball with a stick and chase it around a field.
I hope that the whole of the UK gets to experience these re-awakenings and passion for the game. Please keep safe, stay well and take precautions that are necessary for the benefit of others. As one of the first major sports to restart we have a responsibility to ensure that we adhere to the guidelines.
---
Related Content
---
What do you think? leave your comments below (Comments)
---
Tags: daily picks
---
PLAY MORE PLAY BETTER - LATEST TUITION TIPS
---
Leave your comments below
comments powered by

Disqus