Golf Clubs Ensure Confidence With Safety Guidelines
By: Golfshake Editor | Thu 21 May 2020 |
Comments
---
Following the loosening of lockdown restrictions in England, golf clubs had a responsibility to deliver the game safely, introducing protocols and guidelines, providing confidence to their members and visitors.
Indeed, when asked in a recent Golfshake Survey, 97% of non-club golfers answered yes to the question: "As an unattached golfer is it important that a golf course advises of guidelines in advance?"
Golfers have flocked back to their courses, searching for tee times in record numbers, and even taking up memberships.
The Springs Golf Club in Oxfordshire, and Yorkshire's Kilnwick Percy Golf Club, both part of the Darwin Escapes group, sought to deliver assurance to golfers and staff by introducing a comprehensive range of procedures and safety messaging at their venues.
During this road to reopening, communication was key, featuring regular dialogue with members by email and throguh social media channels, keeping them updated on the latest guidance. This included the promotion of an engaging animated video that covers the main areas.
The team are working super hard to make sure our golf club is a safe place for everyone when you come back to play ?????‍?? Please can you all follow this guidance when you do return. Thank you. #PlaySafeStaySafe #TheSpringsGC @englandgolf pic.twitter.com/JSegVjsebi

— The Springs Golf Club (@TheSpringsGC) May 13, 2020
Once the green light was given for courses to open from Wednesday 13 May, both The Springs and Kilnwick Percy remained closed for two additional days, just so those plans could be tested and walked through, ensuring that golfers had the firm belief that everything was in place for their eventual arrival.
Additionally, to make certain that members and guests felt comfortable at the venue, easy to follow signage was placed to reinforce guidance, starting from the car park, and directing golfers on their journey throughout their round, keeping everyone informed.
Look out for these around the course... and remember to stay 2 metres apart ???? pic.twitter.com/i3yWVvQY28

— Kilnwick Percy Golf Club (@KilnwickPercyGC) May 14, 2020
Ensuring that information was visible but unobtrusive, spray on floor stencils were deployed, enabling the venues to continually deliver key messages, something that has received positive feedback, as shared below.
"I just wanted to send a note of thanks for your recent efforts during the pandemic; as a member of the KP, we communication we have received throughout has been excellent and I can appreciate there must have been a lot of effort and difficult decisions along the way."
"Just back from my first round of golf at the Springs since lockdown and wanted to say thank you and all the staff and groundsmen for the work you have put in to make it a wonderful safe place for us. The course is in superb condition and everywhere looked fabulous. THANK YOU."
"We have been very impressed with the level of preparations and attention to detail to enable us to get back to playing golf again. Everyone has been most welcoming and eager to ensure we enjoy our golf safely."
The work done by Darwin Escapes at The Springs and Kilnwick Percy is just one shining example of the effort displayed by clubs across the country, ensuring that golfers can play with the confidence that everything has been safely coordinated and planned for them.
We have some new flags out on the course today... #KilnwickPercyGC pic.twitter.com/XW0HNsWwd9

— Kilnwick Percy Golf Club (@KilnwickPercyGC) May 15, 2020
Here is a full overview of the signs that you can expect to see at The Springs or The KP.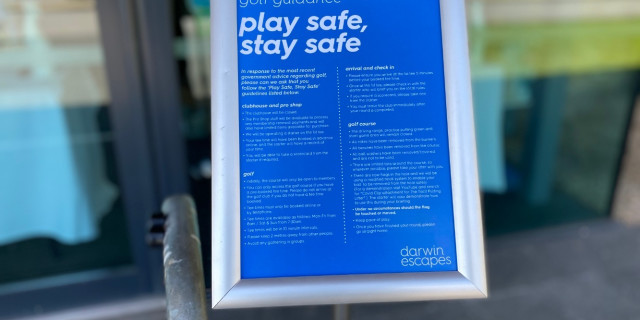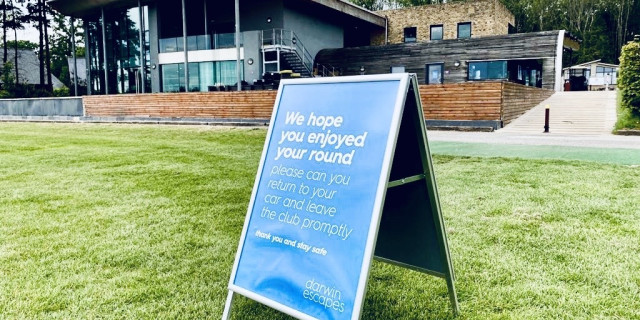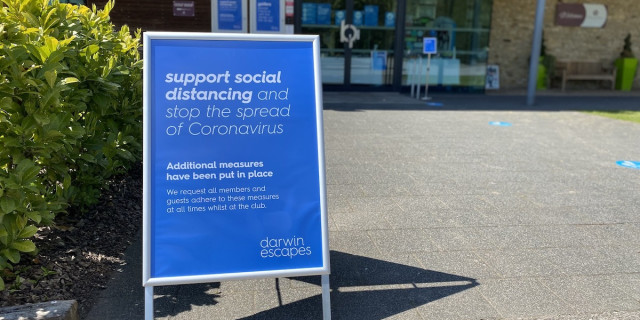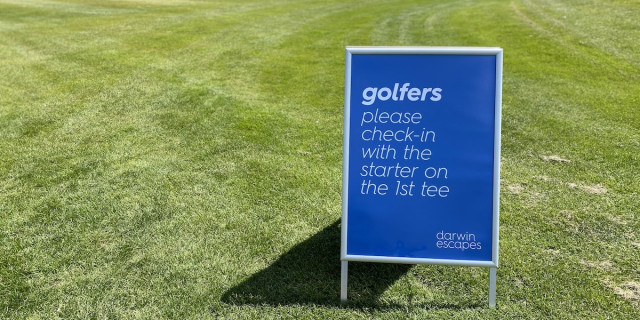 Former Open Championship host, the acclaimed Prince's Golf Club in Kent, is another that has impressed with its signage, utilising the services of ARC, an international signage company and specialist providers of health and safety collateral.
They have created a special signage solution for golf clubs to implement, something taken up by Prince's.
As an approved UK government supplier, the company has been developing guidelines and materials across several industries, including construction, designed specifically to help bring people back into a safe operational environment once lockdown measures have eased.
"We're excited to be launching our golf club and industry-specific packages," said Darren Moorhouse," Head of Sales UK and Europe for ARC. "It's imperative that, on golf's return, staff and golfers across UK clubs are kept safe, and professionally implemented signage solutions are absolutely the key to that.
"We've already had significant interest in our solutions from clubs, and as a specialist in public safety measures, we have government approval to install immediately – which means we can get a golf club ready in time for full reopening."
"It seems likely that social distancing and other measure will be around for a while. We expect it to be a fluid process, as in other industries, and once we're engaged with a club we see it as our role to help bring them back to normality, however long that takes, and without incurring significant repeat costs."
Golf is now back across England, but it's not quite as we once knew it. Clubs and venues across the country are doing their utmost to deliver a safe, comfortable and welcoming experience for all, something illustrated by the examples noted above.
Play Safe, Stay Safe
---
Related Content
Golfers in England React to First Rounds Back
---
What do you think? leave your comments below (Comments)
---
Tags: England daily picks Covid-19 Courses
---
PLAY MORE PLAY BETTER - LATEST TUITION TIPS
---
Leave your comments below
comments powered by

Disqus