My Own Dunhill Links Story
---
Golfshake's Alex Picken charts his journey from being inspired to drive up his interest in golf by attending the Dunhill Links in 2015, to returning four years later to play at St Andrews, Carnoustie and Kingsbarns.
---
In 2015, I attended the Lee Westwood Golf Academy in Cheshire, where I spent one year trying to improve my golf game alongside over 20 other aspiring young golfers, each with their own hopes and dreams for their future endeavours in the game.
As an 18 year old who had only very recently taken up golf, my experience and level of ability compared to the majority of my teammates was vastly different, but in reality that wasn't much of an issue for me, I wanted to attend the Lee Westwood Golf Academy for a truly unique experience and that is just what I got.
The Westwood Golf Academy
During my time at the Westwood Golf Academy, I interacted with expert coaches, each one offering vital tips for a beginner golfer who desperately needed the guidance. With the help of their qualified insight and exceptional practice facilities, my golf swing and overall game thankfully saw a very rapid and successful improvement.
While I was there, I also made some outstanding friendships, something I will be forever grateful for. Even though we have all moved on from the academy and gone our separate ways into the big wide world, our common love for the game of golf and all the countless memories we've derived from it help have helped to create an everlasting bond between us.
As part of the program at the Westwood academy, the students were able to go on a variety of different trips, chaperoned by the coaches and volunteers at the academy.
These included events like a 36-hole tournament at the Real Novo Sancti Petri Golf Club in the South of Spain, a tour of the PING factory in Gainsborough, and my personal favourite, a trip to volunteer at the Alfred Dunhill Links Championship.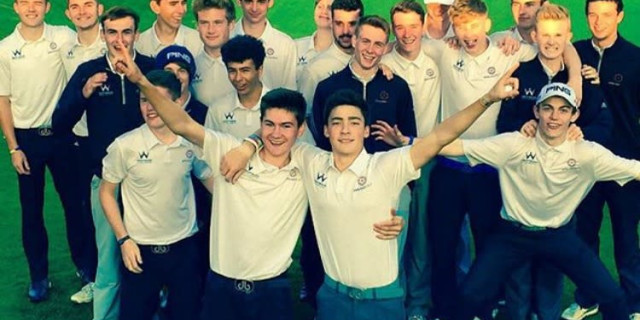 Dunhill Links Experience
The Alfred Dunhill Links Championship is hosted every year at three of the most famous golf courses in the world, the Old Course at St Andrews, the Championship Course at Carnoustie and Kingsbarns Golf Links. The event has been running annually since 2001 and incorporates both a professional tournament between the leading golfers in the world playing alongside famous celebrities and amateurs who are all competing in a team competition throughout the week.
The 2015 Alfred Dunhill Links Championship was won by Thorbjørn Oleson, who fought off a tough field of players including Brooks Koepka and Tommy Fleetwood to seal his championship title by two shots.
Prior to the tournament, we arrived at St Andrews for the practice rounds, we were given the freedom to explore the town or go follow some of the players on the course. As you can expect, the large majority of the boys all wanted to see how these flawless professionals tackled the Home of Golf, so we spent all day exploring the Old Course, searching for our heroes.
Towards the end of our long day we eventually reached the 15th at the Old Course, where we had found Lee Westwood playing the final few signature holes of the course. With all the Westwood Academy boys surrounding the ropes, we were now the biggest gallery on the course and attracting a lot of attention. Coming down the 16th, laughing to his caddie Billie Foster at the massive crowd of teenagers following him, Westwood invited almost the entire Academy at this point to come join him inside the ropes and walk the last few holes with him and his playing partners.
Being able to walk these signature finishing holes side by side with my close friends and gol hero was a truly unforgettable experience, something I thought I would never be able to do again.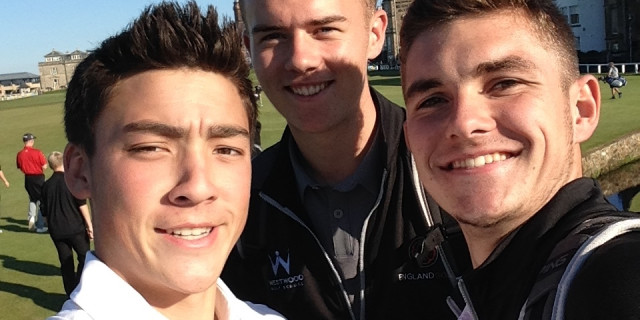 During the tournament, we had the opportunity to volunteer at the event, representing the Westwood Golf Academy supporting the other staff members by doing a variety of jobs. These jobs included maintaining the official leaderboards, carrying the scoreboards for the players during their rounds and helping the Sky Sports TV cameramen by driving them around the golf course.
As one of the only 18 year-olds at the Westwood Academy with a full driving license, I was lucky enough to spend most of my time at Kingsbarns as the chauffeur for the Sky TV cameramen who were following many of the featured groups. Driving around side-by-side with the best players on the course, completely immersed in the action and drama of the entire day is without doubt the best way to watch a professional tournament.
The experience was completely fascinating, being able to learn about the tireless work that goes into presenting a tournament to the general public as well as Sky Sports does was incredibly interesting.
While the experience of volunteering at this event was a lot of fun, what was truly amazing was the quality of these three prestigious golf courses. The remarkable scenery, stunning backdrops and incredible natural beauty that surrounds these three courses was simply breathtaking. Having the opportunity to experience these settings from inside the gallery ropes added another level of inspiration and excitement.
Having the opportunity to soak in these historic environments as a spectator and volunteer felt like a true honour and something I did not take for granted. I challenge any golf fan to visit these courses and try not to feel the addictive bug shiver down their spine, just as it did the very first time they picked up a club. Whether you are new to the game or a seasoned veteran, just walking around these hallowed arenas is all you need to restore or develop that passion and love for the sport.
Its that same bug of excitement which makes walking the course without your own bag on your back so quietly painful. Throughout the whole trip at the Dunhill Links, was the only thing that left me feeling slightly bitter, while you may be wandering in the same footsteps as the very professionals you're spectating, imagining yourself ever being in their shoes one day playing the same course feels like an unreachable reality.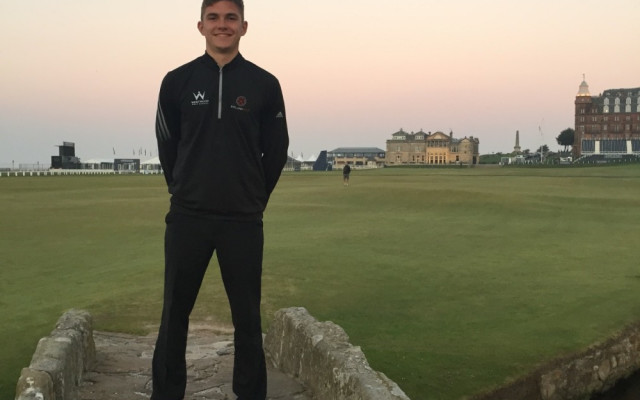 Journey Comes Full Circle
However…
Fast forward four years from my eventful volunteering trip at the Dunhill Links Championship to an image I will remember forever.
I'm sat in a car with my Dad and Golfshake colleague Kieran Clark. All three of us are currently soaking wet from a friendly Scottish hurricane that only recently passed through. We're all clinging onto our piping hot fish and chips like it's a first aid kit, each sat there shivering with a can of Irn-Bru in hand. My legs and feet are both aching aggressively and I can barely make a fist with my hands, but when I catch a glimpse of my face in the rear-view mirror, I notice I still have the worlds biggest grin on my face, just like my Dad and Kieran.
We're smiling because we have only just finished our 54th hole of the week and come off the golf course. It was 54 holes that consisted of one Home of Golf, one 'greatest test in golf' and one host of the Women's British Open. It was 54 holes of the most challenging, historic and simply stunning golf holes I have ever experienced. It was 54 holes that all three of us will remember for a lifetime. It was 54 holes at the home of the Alfred Dunhill Links Championship. It was 54 holes that consisted of the Old Course at St Andrews, the Championship Course at Carnoustie Golf Links and Kingsbarns Golf Links.
We're smiling because we have just accomplished our own Dunhill Links Story.
During this unforgettable week in Scotland I experienced many things. I witnessed four different seasons of weather in the space of two hours, I fought against gusts of wind strong enough to knock me over and enjoyed the best Scottish breakfast in the world. But the most important and truly unforgettable experience of them all was the adventure of playing these three magical venues with my Dad.
The past year or so has been incredibly tough for my Dad, the recent loss of his parents has proved to be a real test for him. But just like always, these tests continue to showcase his incredible perseverance in the face of adversity. He also works tirelessly promoting the discussion about Prostate Cancer within the golf community, continually using the game as a catalyst for challenging the bigger issues in our society.
His unwavering love for the game and enjoyment he receives from playing golf with friends and family has been a significant factor for him to combat and overcome these recent challenges. He's highlighted to me the incredible ability of sport to better the human condition against hardship and strife, revitalising my love for the game of golf and pushing me towards a future career in showcasing how sport can improve the lives of others. His reassuring pat on the back and teary-eyed smile stood on the first tee at the Old Course is a memory I will cherish forever, for me it was a moment that encapsulated everything I believe the game should be about.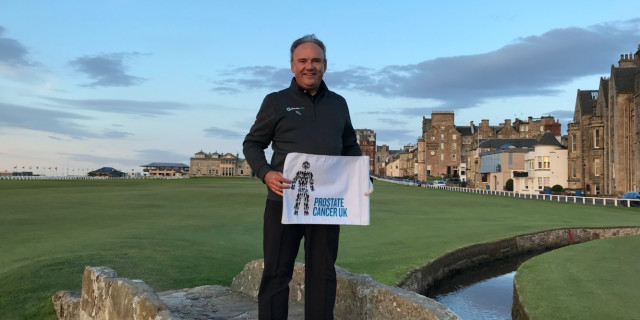 The whole trip itself was something so special for me and my Dad, it's a memory that neither of us will ever forget. But for myself, the ability to be able step foot onto these courses again with my bag on my shoulders and a golf club in my hand was a milestone that had suddenly transported itself from fantasy to reality.
Old Course at St Andrews
Our week started at the one and only, Old Course at St Andrews. After a long seven-hour drive in the early hours of the morning, we arrived in the incredible town of St Andrews. All the goosebumps and excitement I had felt four years ago arriving here came rushing back in one swift moment, only now the realisation of playing here had begun to set in and added an extra feeling of intense nervousness.
After a quick tour of the surrounding area to settle the nerves, we headed to the first tee awaiting our turn to set-off on the round. After the struggle of getting my ball on the tee, I managed to nudge something half-decent down the fairway, past the road and most importantly, in play. While the first hole may be famed for its 120-yard wide fairway, it is undoubtedly also one of the hardest fairways I've ever tried to hit.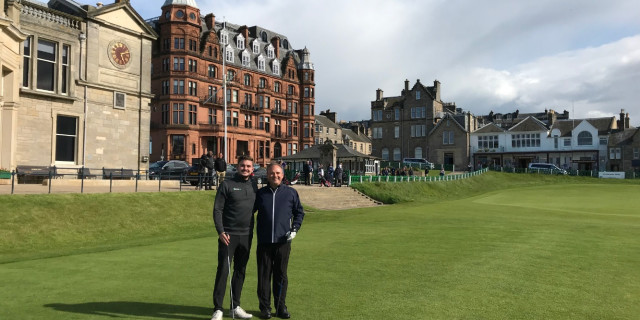 The first thing that hits you when playing the Old Course is that this is a course that demands an expert caddie or experienced member by your side. The combination of hidden bunkers and giant mounds of rough make some fairways on the course completely blind, add some powerful gusts of winds and uneven bounces to the equation and your golf ball can easily end up in some very peculiar places.
The front nine went by like a blur. Its short yet strategic layout tests every single facet of your game. While the greens may appear to be gigantic and easy to hit, if your accuracy off the tee is struggling, these greens can quickly become very difficult to find in regulation, as I found out through experience.
One thing I do feel able to brag about when I speak about my round at the Old Course is that somehow, by mostly luck rather than judgement, I did not land in a single bunker for the entire day. Watching my Dad become stranded in some hellish bunkers in the fairways I quickly understood just how treacherous they can be. Their unique and almost rustic design combined with their penalizing nature resemble a truly traditional hazard.
While I flirted with many bunkers throughout day, I firmly believe that not knowing where these bunkers are can sometimes be the help you need to avoid them. The minute you start trying to aim to avoid these deadly traps is the moment your ball starts to roll invitingly towards them.
While the back nine I believe to be more challenging, it was definitely the standout part of the course for me. The incredible contrast in the views of the estuary behind you and bustling town in-front of you make for some spectacular scenery.
As we came down the final stretch of the course, my mind immediately wandered to four years before where I had been walking these same fairways as an enthusiastic spectator surrounded by friends, following my hero, Lee Westwood. I remember thinking in those moments that it doesn't get much better than that.
Now I was here again, but this time I was strolling down the fairways next to my Dad, with a set of clubs on my shoulders and the golf ball I had hit sat safely on the 18th green. There weren't any galleries this time and not a professional golfer in sight, but that didn't matter to us one bit.
We finished under the setting sun around 9pm. Walking down the fairway all you could hear was the crashing of the waves against the beach and the constant cawing from the seagulls above. It was the most tranquil and surreal setting I have ever experienced on a golf course and the perfect end to our remarkable day.
Championship Course at Carnoustie Golf Links
Our next stop in the week was the formidable Carnoustie Golf Links. I must admit, stood on the first tee at Carnoustie I felt very intimidated by the course. Carnoustie has always had a daunting reputation as a difficult and sometimes brutal golf course, but it is only after playing the course I can honestly say that this reputation is unjust.
No-one disputes the fact that Carnoustie is a tough test of links golf, however, during my experience I found Carnoustie to be a ferociously fair golf course.
If you stray off-line or find one of the many pot bunkers on the course, it most certainly becomes a challenging adventure. The links course is also wide open to the elements, which means when the wind gets up you need to know how to fight back or suffer the consequences.
But most importantly the course is a fair contest. The greens on the course are some of the purest I have had the pleasure to play on, if you hit a good putt, you always stood a chance of making it. The course can also be played in a variety of ways, while some may think it requires strategy and precision, others can look at the same hole and think aggression and power is the key.
Links golf courses always have elements of unpredictability and chaos involved in them, it's one of the many factors that makes them so unorthodox and special. But with Carnoustie this unpredictability is combined with a sense of traditional and honest simplicity. If you hit the ball true and straight, you'll play well, hit the ball wide and off-line and the course will undoubtedly bare its teeth.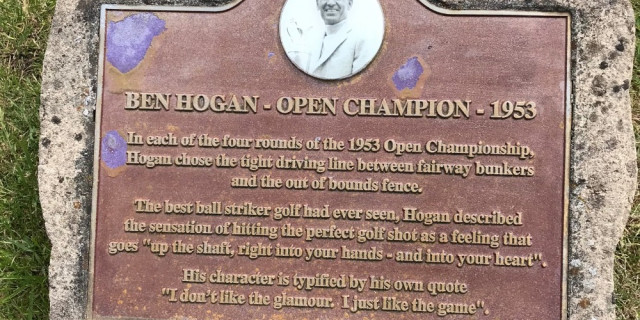 After his memorable Open win in 1953, Ben Hogan has always had a special connection with Carnoustie, his legendary presence still hovers around the grounds. Next to the tee on the iconic 6th hole, Hogan's Alley, is Hogan's plaque, its sheer residency is enough to send shivers down a nervous golfer's spine.
My Dad has always been a mad-keen golf historian, his excitement towards golf's quirkiest stories and tales has made him quite an expert of golfing antiquity. His reading of the game's legends has led him to falling in love with Ben Hogan. His research into Hogan's unconventional career and simply astonishing life quickly led to him becoming his number one fan, adding to his emotions and nerves stood over his tee shot.
With three exceptional shots, my Dad ended up on the green around 25ft from the pin, lining up an unexpected birdie attempt. His graceful putt rolled across the green and neatly died into the hole, the ball dropped in and was met with a giant smile from my Dad and a laugh of shocking disbelief from myself.
Hogan's number one fan had just birdied Hogan's Alley.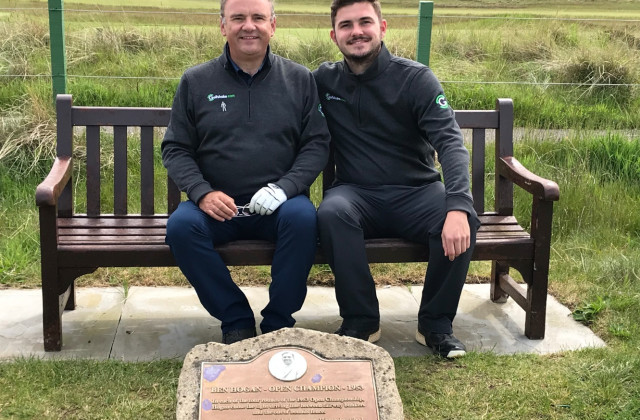 His elation and smile after this hole will stick with me forever, a heartfelt reminder of what the game is all about. Whether it's a putt to win the Open or a putt for a surprising birdie, the significance of the moment will always depend on the golfer stood over it.
That to me is how I will always remember Carnoustie Golf Links. This sensational course, seemingly designed to provide simple moments of magic and chaos, consistently offers a taste of potential danger combined with undisputed joy.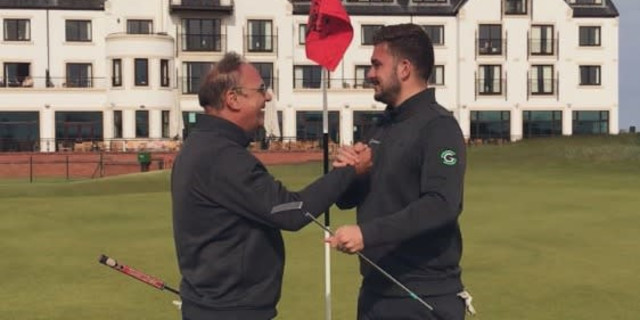 Kingsbarns Golf Links
Our final day of the week was spent at the immaculate Kingsbarns Golf Links. Compared to the ages of its Scottish links counterparts, Kingsbarns is still in its very early infancy. However, what it may lack in age and experience, it makes up for in sheer beauty and spectacular scenery.
The first thing you notice at Kingsbarns is that virtually every single tee offers a fresh and unique panoramic view. Whether it's a view of the rugged coastline of the North Sea or the image of the mountainous ridges and hollows of the course, from a scenery standpoint Kingsbarns does not disappoint.
These uncontested aesthetics are matched with a golf course that provides a complex layout perfect for challenging golfers of all levels and abilities. Off the tips, the course provides enough length and precision for it to be a serious championship quality venue, while the shorter tees still provide a course with enough intricacy and strategy for it to be both fun and difficult.
It was quite ironic that during our time spent playing this cutting-edge course, we experienced a day of weather that was traditionally Scottish. Starting on the brilliant range and short game facilities we began in shirts and in need of sun cream, however, by the time we finished on the 18th green all three of us were soaked to the bone and covered in waterproofs and wet weather gear.
The course itself played beautifully. The greens at Kingsbarns are second to none, their combination of quick pace and traditional links-style slopes demand skill and creativity throughout.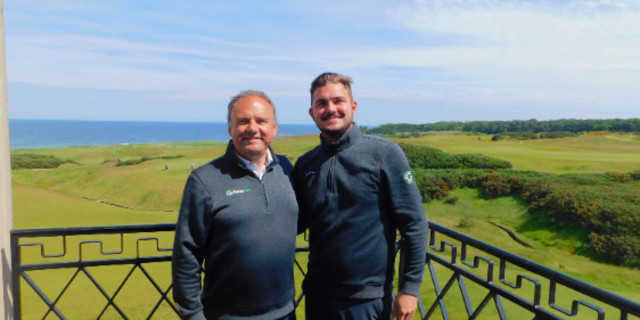 The par fives and par threes at Kingsbarns are particularly spectacular. The mammoth 12th hole carves itself around the North Sea, while the iconic par three 15th hole up lies up against the crashing waves of the coastline. These two scenic holes are just a few shining examples of Kingsbarns intricate layout.
In spite of the tough weather, my best round of the week came during our time at Kingsbarns, the previous few days of exceptional links preparation clearly helping my game. Being able to play so well at a golf course I felt I had such a personal connection towards was quite an emotional feeling.
During my time volunteering at the Dunhill in 2015, simply walking along the fairways of the golf course had created an immense fondness for this course in my mind.
Four years later, I now had the honour of playing this golf course and by the time I had sunk my final par putt on the 18th, I had fallen completely in love with every aspect of Kingsbarns.
This traditionally Scottish feel combined with its modern approach has created a contemporary links golf course that is sure to embark on creating its own unique history in the future.
Completion of a Journey
It was the end of a magical week, our Dunhill Links Story and #UltimateLadAndDadTrip was finally over. We'd experienced the history of the Old Course at St Andrews, we'd experienced the challenge of Carnoustie Golf Links, and we'd experienced the scenery of Kingsbarns Golf Links. Most importantly, we'd experienced it all together, as father and son.
In one of my Dad's many podcasts he came out with a quote about inclusivity in golf that stuck with me for a while, it was this:
"You might not play football at Wembley or step on Centre Court at Wimbledon, but playing golf you can step into the footsteps of the greats".
For my Dad, the entire week was the culmination of a lifelong dream that had always felt like an impossibility. His fantasy of walking in the footsteps of his heroes had become reality.
These historic courses highlight the pinnacle of legacy and tradition, their footprint on the game is unmatched and for my Dad to step in these footprints along-side myself I'm sure meant the world to him.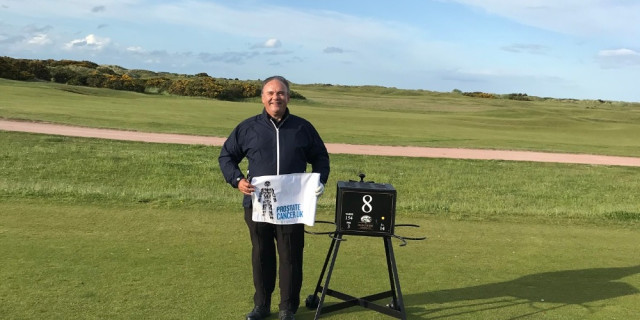 For myself, it was enjoying this memorable and unique moment with my Dad, but it was also to appreciate the full circle trip I had been on, I had gone from a volunteer to a golfer.
Inspiration
Four years ago I had come to these same three venues as a teenager with very limited experience of golf at all. I was a high handicap golfer who only recently started to take up the game with any serious consistency.
It was at these three courses where I started to really gain the bug. Watching the best in the world play the best courses in the world is all a young golfer needs to get inspired.
In the time between my two visits I was now a University student in America, studying sports management and business, while simultaneously representing the University playing golf for their school team. I had also landed a job for a company working at the heart of the golf industry, writing about my passion to a keen audience.
Since that trip four years ago, my appearance may have changed, my job status my have changed and even the continent I spend most of my time on may have changed, but one thing has consistently remained the same. My love for the game of golf.
My love for the sport began here and coming back to play at these courses was the rejuvenation it needed for me to rediscover that initial feeling of affection again.
2015...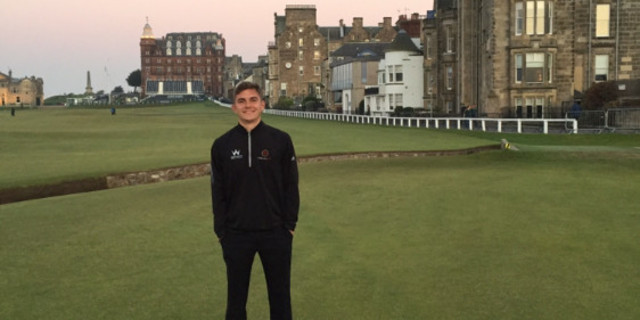 2019...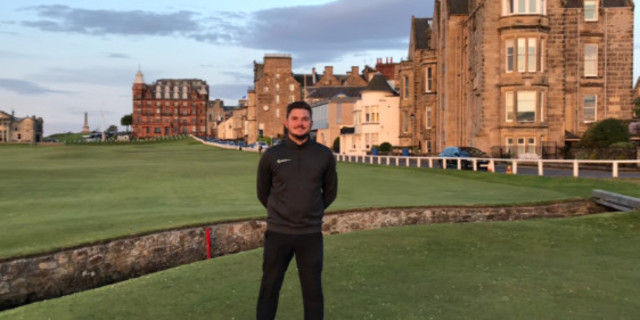 ---
Related Articles
The #UltimateLadAndDadTrip to Scotland
St Andrews & Carnoustie Are Environments for Inspiration
The Experience of Playing the Old Course
Carnoustie is Superbly Traditional, Surprisingly Modern
---
What do you think? leave your comments below (Comments)
---
Tags: st andrews Scotland Lad And Dad Trip daily picks Carnoustie
---
comments powered by

Disqus