St Andrews and Carnoustie Are Environments for Inspiration
---
There are a variety of factors that make golf one of the most unique sports in the world, but the game truly stands alone when it comes to the inspiring environments that are on offer. Golf prides itself on allowing participants the opportunity to replicate the exact settings of their admired professionals by playing on the same golf course, with similar conditions and equipment. Golf is possibly one of the only sports where no matter your wealth, ability, age or gender, if you have the access to your desired venue then there is nearly always the potential to follow in the footsteps of your heroes and play as an average golfer in world class surroundings.
Recently, I was lucky enough to have the opportunity to experience playing both the Old Course at St Andrews and the Championship Course at Carnoustie with my Dad. For any die-hard fan of the game, these venues are undoubtedly the Mecca for any golfer. I was obviously filled with a variety of emotions at this point, a stomach full of nerves, excitement and fear was just a small selection of what I was feeling. While my anxiousness was mainly due to the thought of opening tee shots and intimidating signature holes, some of it was also being pre-occupied with not wanting to be disappointed with these venues I have always held in such high esteem. I know this may seem a very pessimistic outlook, but that age old saying that "you should never meet your heroes" was most definitely in the back of my mind.
Some of the negative stereotypes that people have about courses like these is that they have gradually become less about being accessible and inclusive for everyone and instead become more about the overall wealth and status of the people wanting to play them. My experience however could not have been more different. In my eyes, venues like St Andrews and Carnoustie are a credit to the game and have made sure they maintain a strict collaboration between a respect for tradition, combined with modern inclusivity.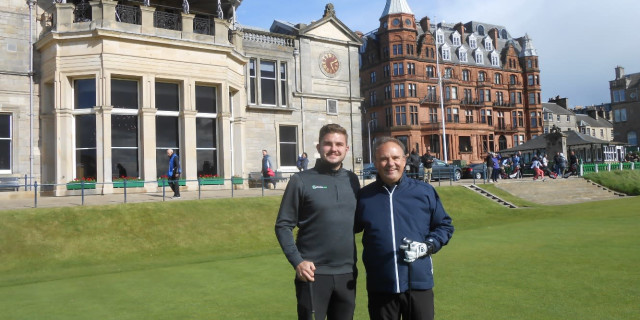 St Andrews Links
As sporting venues come, they don't get much bigger or more significant than St Andrews Links. This unique venue is the beating heart for the entire town of St Andrews, the iconic presence of the links is overwhelmingly synonymous with the area and has helped mould this beautiful town into a destination showered with a vibrant golfing history charmed with legends. When the game of golf began to encompass St Andrews all those centuries ago, its thriving popularity stemmed from the unique sense of public spirit the links has always embodied.
Its welcoming nature combined with the sudden expansion of the Victorian railway system attracted thousands of intrigued locals and visitors to the golf course to experience this distinctive and historic layouts. While the methods of transportation may have changed and the visitors now come from even further afield, the original message of open accessibility for every golfer has continued to remain the same.
For a venue that is drenched in so much illustrious golf history, one of the outstanding features about St Andrews is how open and accessible these unique facilities are for the general public. From the short nine-hole Balgove Course - which under 16s can play for just £5 - through the Strathtyrum, Eden, Jubilee, New, Castle and Old, there is an enjoyable course for everyone, of all standards and budgets.
Additionally, take the St Andrews Ladies Putting Club, better known as the brilliant Himalayas. Located between the natural beauty of West Sands and the famous 1st green of the Old Course, this amazing facility offers visitors of any age and experience the chance to test their skills on the most famous mini-golf course in the world. At just £3 for adults and £1 for children/seniors, this fantastic piece of land is one of the best ways to experience a small taste of Tom Morris' unorthodox Old Course style greens in a family fun environment. Elsewhere, there is a green yards from the first tee of the Old Course that is also open to the public, accessible for just £1 for adults and 50p for children.
Spending just a few minutes putting in the shadow of the towering Royal and Ancient clubhouse watching golfers anxiously staring down the smallest wide fairway in all of golf is a surreal experience I would recommend for any golfer.
Fun for the family- our 18 hole putting green with equipment available from the Old Pavilion. pic.twitter.com/2WxsrA9w64

— St Andrews Links (@TheHomeofGolf) May 21, 2019
Another inclusive factor of St Andrews is the tremendous accessibility that all the golf courses at the Home of Golf offer. The overwhelming popularity that the Old Course attracts means a tee time can sometimes feel like gold dust to secure, but St Andrews has this covered by offering some truly sensational alternatives. There are a total of seven different courses, all of them are open to the public for the majority of the year, each one offering guests a golfing challenge of different size and calibre. While they may not have the history or fame of the Old Course, these brilliant golf courses provide a traditionally Scottish test of golf.
The Old Course at St Andrews prides itself on upholding the honourable tradition of the impartial ballot system, allowing all golfers who come to a fair chance of entering golf's most famous lottery to play the celebrated course. While some might find the system quite complicated or frustrating, upholding this respected tradition is a fantastic nod to the founders of the game who demanded golf be accessible to all, regardless of wealth or class.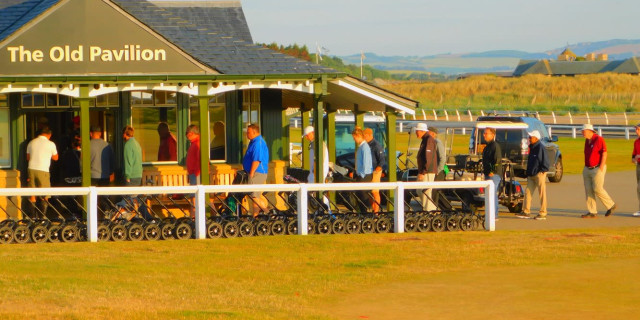 Notably, for those who been unsuccessful in the ballot or came as a single golfer, players literally queue overnight at the Old Pavillion - sometimes surpassing 50 in number by morning - just for a chance to play the famous links. These golfers are then paired up with groups throughout the day, truly the most exciting route to experiencing the Old Course.
One of the many traditions that is still upheld today at the Home of Golf is the closing of the Old Course every Sunday (apart from any tournament days). While the course itself might be closed for golf, it remains open for the public for the entire day. This mythical, lunar-shaped landscape becomes a magical panorama where visitors, tourists, students and locals can all receive unrestricted access to explore the hallowed grounds for themselves. Watching the course change from a historic sporting theatre to a family-friendly public park is a truly heart-warming transformation that embodies everything St Andrews Links stands for.
Carnoustie Golf Links
Renowned for being one of the world's greatest and most challenging links courses, Carnoustie has consistently remained at the summit of golf in Scotland. Remembered by many as the setting for some of golf's most esteemed Open Championships and over time has crowned some of the game's greatest ever champions like Ben Hogan, Gary Player and Tom Watson. While it may be revered by so many because of its illustrious legacy and incredible history, what stood out to me was Carnoustie's brilliant collaboration of the utmost respect for tradition while simultaneously moving the game forward through modern methods.
As a young golfer myself, one aspect of Carnoustie that truly blew me away was their fantastic dedication to providing young golfers the opportunity to experience the game in all its captivating glory. The state of the art performance centre in Links House includes seven foresight simulators, each equipped with GCQuad and GC2 Launch Monitors to help with custom fitting, coaching and provides a fantastic warm-up area for practicing golfers.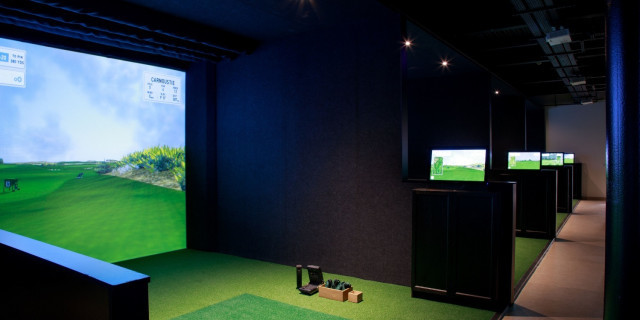 One amazing feature of this performance centre is the authentic accessibility that Carnoustie allows, especially for the local children of the town. As part of their constant venture to promote the game to the younger generations, Carnoustie offers the local school children free access to use their facility for practice purposes, coaching lessons or even to play one of the many pre-downloaded courses on the simulator like the Old Course at St Andrews or even Pebble Beach. The performance centre also offers tournaments on the simulators for golfers to take part in introductory competitions, teaching them valuables skills about the game of golf as well as offering fantastic interactive fun. As a child I could have only dreamed of being able to practice in a facility like this, but for the facility to be located at a place like Carnoustie and still offer these unique and progressive packages for young children is truly remarkable.
This passion for the advancement of the game for younger generations is embodied in the brilliant Carnoustie Craws project. Specifically targeted for the primary and high school children of the area, the project offers free group coaching sessions for children aged from 5 years old all the way to 18 years old. Using the wide range of facilities available at Carnoustie, the Craws project allows youngsters to learn the basic fundamentals of the game in a safe and comfortable environment of their friends and families. I commend any venue that offers free junior coaching sessions, speaking from my own personal experience it is the perfect environment for young golfers to learn about the game in the comfort of friends and family's company, the lack of any outside pressures and the collective talent level of the group are the ideal factors for beginner golfers to flourish. Junior golf has had a history of being overlooked at certain golf clubs, potentially scaring away a lot of the future generations who want to try their hand at the game. Carnoustie could not be more polar opposite, not only do they try to advance the game for young golfers, there is actually a sense here that they prioritise it.
This desire for the progression of junior golf at Carnoustie was encapsulated in one image for me, a brilliant metaphor for their unwavering dedication to junior golf. Whilst having a drink on the hotel patio, anxiously overlooking the first tee shot and staring at the famous 18th green of the Championship Course, my feelings of nerves turned into a sense of simple gratefulness to have the opportunity to play a course I have admired for all my golfing life. As I sat there, my mind started to wander to the image of Molinari in the 2018 Open at Carnoustie. It wasn't long ago that the impressive Italian was lifting the Claret Jug on this exact green, surrounded by grandstands of applauding fans and TV cameras. The sheer scale of this thought brought back the original nerves once again, but what I saw next got rid of them for the rest of the day.
Just next to the last green, left of the frightful out of bounds stakes is a large putting green, always open to the public and mainly used for juniors and beginners. As I looked on, a little girl and her Dad walked on to the green, the putting green flags towered above her and her clubs overwhelmed her tiny hands. The juxtaposition of these two settings illustrates everything that I believe Carnoustie embodies. It will always remain a place of sporting majesty, the intimidating challenge the golf course presents combined with its prestigious Open Championship record is truly unique. But Carnoustie is also the home to golfing beginnings like this little girl and her Dad. The inclusive facilities are consistently open to the local public, the majority of which is all free of charge. They have embraced junior golf unlike any venue I have ever seen, proudly aiming to inspire the next generation of golfers with open accessibility, insightful coaching and inspiring teaching. The image of that little girl enthusiastically running around, enjoying golf for possibly the first time, in touching distance of one of golf's most historic and memorable courses is the ideal metaphor to describe The Carnoustie Way. An environment designed to inspire the future.
#TheNewNestie has officially been opened during the Carnoustie Craws Junior Golf Academy 2019 launch night.

Thanks to juniors Ruari Carstairs and Kirsty Norris and @AliDeFoy from @wavefmlive for cutting the ribbon! pic.twitter.com/d0YmhXb1Kv

— Carnoustie Golf Links (@carnoustiegolf) April 26, 2019
Golf has always had a stereotype of being quite an elitist and snobbish sport, a negative image that the game solely belongs to grumpy old men who are waiting with eager anticipation to yell at you for some kind of trivial reason. As a teenager, I'm not afraid to say I also had this opinion of golf, it was this unjustified stereotype that actually discouraged me from wanting to play the game consistently at a young age. Now don't get me wrong, I would be naïve to say this opinion is completely false, as many golfers realise, there are unfortunately many cases of golfers and their clubs who have misused the regrettable parts of the game's history and traditions to consequently negate future progression for the sport they are trying to protect.
I also understand that many people who have not experienced playing these courses may already have a mindset that golf in this part of the world has already been tainted with those elitist views, and unless you're a very wealthy tourist, you will never be able to experience these legendary venues for yourself. Its that opinion alone which made me feel so passionate about addressing this issue of inclusivity at venues like St Andrews and Carnoustie. During my time playing these courses and experiencing the atmosphere of their surroundings it was apparent to me that golf in this part of the world has remained pure to its origins and stands proud as an inclusive setting for golfers of all genders, ages and abilities.
While both of these venues are world famous golfing locations and are consistently overwhelmed with popularity from a global audience, in my opinion, I believe that both have remained honest to the original essence of golf's initial mission statement of inclusivity and accessibility for all. Even with all their fame, admiration and illustrious history, both continue to encompass a spirit of meaningful and honest inclusivity on a scale unprecedented for a major sporting venue.
---
Championship Course at Carnoustie Review
Favourite Holes on the Old Course at St Andrews
Playing the Himalayas Putting Course
How to Secure a Tee Time on the Old Course at St Andrews
Discover the Bunkers of the Old Course
---
What do you think? leave your comments below (Comments)
---
Tags: st andrews Carnoustie
---
comments powered by

Disqus