How Do Club and Non-Club Golfers Differ?
By: Golfshake Editor | Wed 27 Feb 2019 |
Comments
---
For the past five years on Golfshake, we have conducted an annual survey to gain an insight behind the evolving habits of regular golfers. It's an exercise to understand their relationship with the game, how often they play, the time taken, and how much they spend to do so. Tapping into the large and diverse audience on Golfshake, approximately half of which are not members of a golf club, has offered us a unique opportunity to learn more about the differences between those nomadic golfers and those with memberships.
Taking a glance at the data from the 2018 Golfshake Survey – thousands participate each season – has been educational and has allowed us to pick out trends for both key groups, many of which won't come as a surprise, but others could prove intriguing as the golf industry looks to adapt to contemporary society and cater for all demands.
In the first of a series of articles, we ask; How Do Club and Non-Club Golfers Differ?
Delving into the contrasting demographics, golf club members are more likely to be older than those without memberships, and during a period when the game is working hard to attract more female players, women golfers are more likely to have memberships. When it comes to identifying why there is an age discrepancy, time is a factor noted by golfers without an affiliation to a club, who would generally like to play more often than they presently do but often find that difficult, something reported in previous research we did, whereas the club members generally play more golf and considerably more often during winter.
Additionally, members are likely to have a lower handicap, which may not come as a surprise considering they play more golf, with many nomadic golfers taking advantage of the Golfshake Score Tracker & Handicap System to keep themselves ticking over, retaining a social and playing handicap, which can help them to gain access to revered venues such as the Old Course at St Andrews and Carnoustie.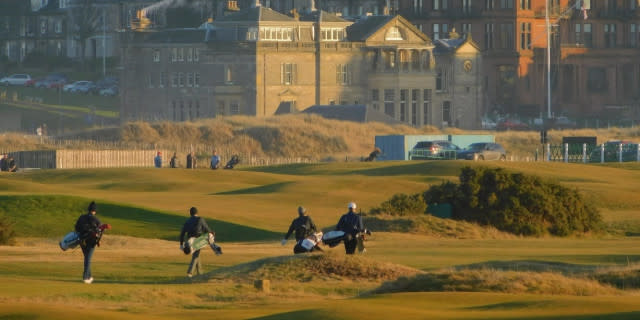 Nomadic golfers naturally spend more annually on green fees – crucially feeling that these represent better value compared with three years ago – suggesting that the game is more accommodating to visitors than before, and they are more likely to use online services, such as the Golfshake Tee Time & Search, to find courses to play. However, rather than basing themselves at just the one venue, golf club members are willing to travel further and spend more on green fees if necessary, suggesting a trend that all golfers enjoy discovering and experiencing new places.
Perhaps the most interesting contrast between these two groups are the spending habits aside from playing. Golf club members are far more likely to purchase their equipment – balls, bags, trolleys etc – online or in a traditional pro shop, supporting the facility where they're member of, whereas the non-club members will more likely buy in a retail store. Club members – suggesting an inherent keenness or greater spending power – are more likely to have been custom-fit (64% against 56%) and to have received coaching (83% - 70%), whereas the non-members are more prone to relying on online tuition to help their game, such as the Golfshake Tuition Section.
Ultimately, there are subtle differences between club and non-club members, but the positive thing is that both groups want to play more often. The services available on Golfshake are ideally facilitied for more nomadic golfers, but these are increasingly useful to members looking for new courses to play and to manage their Groups, Leagues and Societies.
---
20 Reasons to Join a Golf Club?
---
What do you think? leave your comments below (Comments)
---
Tags: Survey Memberships industry insider golfshake
---
PLAY MORE PLAY BETTER - LATEST TUITION TIPS
---
Leave your comments below
comments powered by

Disqus