Review PuttPlate by FatPlate
---
Review by Golfshake Ambassador Mel Davies (11 Handicap) in August 2018
---
PuttPlate is the latest in a great range of training aids for all levels of golfer from FatPlate. FatPlate is all about helping tour pros, teaching pros and competitive amateurs worldwide to "Practice Smarter".

A growing number of tour professionals are now using FatPlates as part of their tournament practice routines whilst PGA teaching professionals are using them as part of their daily lessons to ensure that competitive amateurs worldwide continue to Practice Smarter™. They are immensely proud that some of the world's most respected coaches and elite golf centres have chosen to become part of our story.
Review: FatPlate SandPlate Lite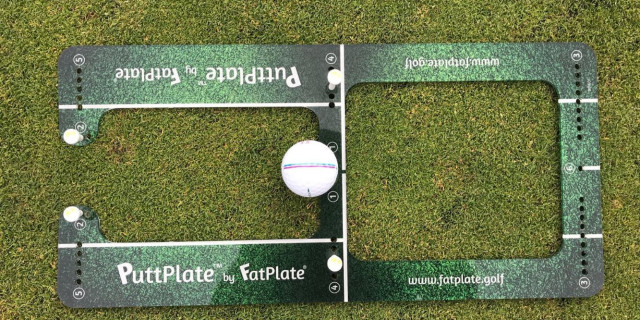 Tech Specs

PuttPlate™ allows you to work on the most important elements of the stroke through impact in the most natural way possible. And as both the ball and club sit on the putting surface, PuttPlate™ provides a truly realistic feel to your practice.

Through it's ball slot, straight edge & markings, PuttPlate's central strikebridge ensures correct positioning of the ball and club face alignment/positioning at setup. Perfect vertically centred contact on the face is also given by avoiding the strikebridge as the putter moves through impact.

The tees can be positioned to allow for any type of stroke and the variety of drills means that you can work on just one specific aspect of your technique or really test yourself with all of it at the same time!

PuttPlate™ is supplied with standard tee pegs for outdoor practice and also our own specially manufactured flat-bottomed stub-tees that allow you to practice at home on any surface!
Additional Details
• Ball and club both sit on the putting surface, providing a truly realistic feel to your practice.
• Work on impact, start line, back swing & thru-swing or any combination of them all.
• The Stub-Tees provided make PuttPlate™ suitable for use on a natural putting surface, synthetic turf putting mat or even at home on your carpet!
• The tees can be positioned to allow for any type of stroke and/or difficulty level required.
• Supplied with 24 page practice record.
• Strikebridge offers correct positioning of the ball and club face alignment/positioning at setup while also offering vertically centred contact at impact.
• White markings give effective contrast to help with visual alignment at setup.
• Used by tour professionals and elite putting coaches.
• The 3 start line gate positions offer a 1.7mm, 2.7mm or 3.7mm clearance tolerance (either side of the ball), giving a start line accuracy of 0.5, 0.75 or 1 degree respectively.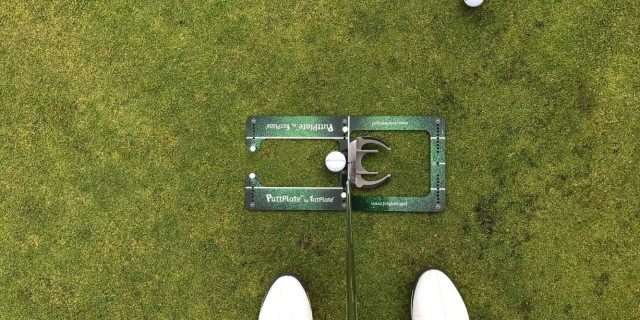 Looks

As with all the range of FatPlate products you can see that a lot of time and effort has gone into making this not only work great but look great. When I first looked at the PuttPlate I did think how on earth is this going to work but when you read the handy manual that comes with it it is soon easy to get your head round it.

Feel

The thing I like is both the ball and putter sit on the ground due to the innovative way the PuttPlate has been designed. Once you get it set up for your stroke abd drill it really is a great aid.

Performance
Upon setup and reading the manual I instantly found that its not as easy to get the ball through the "gate" as it looks but once I did I could quickly see that each putt goes down the same line each and every time (if your stroke is repeated). I have used it on the putting green and also in the house and its great for both uses.


Pros

Great and instant feedback whether inside or out means this is truly a 365 days a year product. At the price of £45 this really is a great product at a really good price.

Cons

Takes a while to read the manual to see how to properly setup but after doing that its simple (even for me).

The Bottom Line
If you are looking to improve your putting then this is a great aid to get a repetitive stroke time after time.
To quantify your practice and establish where the weaknesses (if you have any) in your putting stroke FatPlate provide a 24 page practice record free of charge with every PuttPlate™.
This record allows you to take a look back over 10 weeks or sessions to compare your scores to see how & where you've made improvements (and to establish areas that may need a little more work!).
Rated 9/10
---
What do you think? leave your comments below (Comments)
---
Tags: training aid fatplate
---
PLAY MORE PLAY BETTER - LATEST TUITION TIPS
---
Leave your comments below
comments powered by

Disqus