Review: FatPlate Sand & FatPlate Lite
REVIEW: Fat Plate Lite/Sand

---
Following on from a recent review of the Fat Plate training aid product Golfshake ambassador Mel Davies check out the latest products of the FatPlate Sand and FatPlate Lite.
---
The FatPlate Lite is suitable for tour pros, teaching pros and golfers of all abilities. The product is also widely used by PGA teaching professionals as part of their daily lessons with both low & high handicap golfers.
Additionally the FatPlate Sand provides a product which means no more drawing lines behind the ball in the sand during your bunker practice! FatPlate Sand gives visual marks to encourage you to repeatedly hit the sand up to 4 inches behind the ball.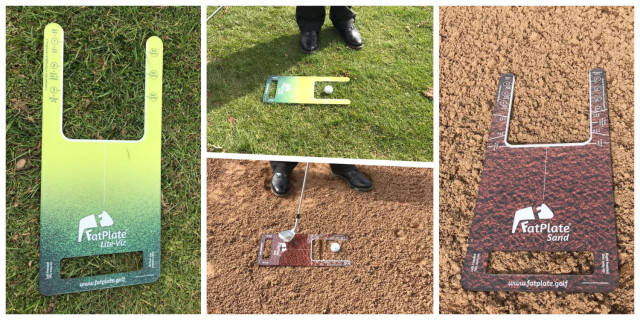 Looks & Feel
For those having seen the original Fat Plate product the Lite and Sand differ slightly in that with these you don't get the hit matt with synthetic turf. The Lite and Sand provide a very similar design but focus on hitting direct from the range matt, grass or sand.
Both products are well constructed and look great and are light enough to carry in your bag whilst still being sturdy and robust for use. For first time use and without input from a Pro the products both come with an instruction card as well as information on the actual products which are easy to follow.
Once again using these products you get instant feedback both through sound and also visually. Even if you hit the plate it doesn't cause any issues to yourself or your clubs. The feedback of hitting group before ball is the key feature and these product would aid all golfers with strike both off grass but also in the bunkers with the sand plate.
Video review Fat Plate by Ryan Metcalfe the Yorkshire Golf Coach
During testing Mel also tested the products with Noel Woodman PGA Professional from Kidderminster Golf Club who commented:
"The FatPlate is very simple to use. The task it provides is very instinctive and I can feel very quickly what I need to do to achieve a solid strike. Similarly the FatPlate Sand was also very easy to use and after just a few shots allowed me to play much better bunker shot and achieve better results. I would recommend these products to any golfer looking to improve the game."
Pros
Easy to use and light to carry. Instant feedback from every shot. Slightly cheaper than the full FatPlate product.
Cons
Initially it's harder than you think to achieve missing the plate but once you get going it helps massively. This however isn't feedback on the product but more so the user of the product!
The Bottom Line
Great product's once again from FatPlate that will aid any golfer with getting the correct strike wherever you are on the course. Well worth the investment to help any golfers ball striking and with the Lite you get a product that can be used on the driving range or practice areas.
For more information and to buy online visit: www.fatplate.golf
---
What do you think? leave your comments below (Comments)
---
---
PLAY MORE PLAY BETTER - LATEST TUITION TIPS
---
Leave your comments below
comments powered by

Disqus