The Hole in One Experience of a Lifetime
---
So how on earth was it that I found myself in Florida with my son playing the same Stadium Course at TPC Sawgrass that hosts the Players Championship every May?

My epic golfing adventure started back in December 2016 when I bought my son, Alex, membership of the Hole In One Club for the princely sum of £5. It was a stocking filler that turned out to be one of the best gifts I could have bought for either of us. I also decided to treat myself. I had a hole in one in 2012 so knew that it was not a completely impossible task. There was also the chance of a golden ticket pick out of the raffle. What a great prize for the price of a pint.

Fast forward to May 2017.

I was captaining a Team Golfshake side in a charity pro-am at one of my favourite Derbyshire courses, Kedleston Park Golf Club, a beautiful parkland facility and an Open qualifying venue.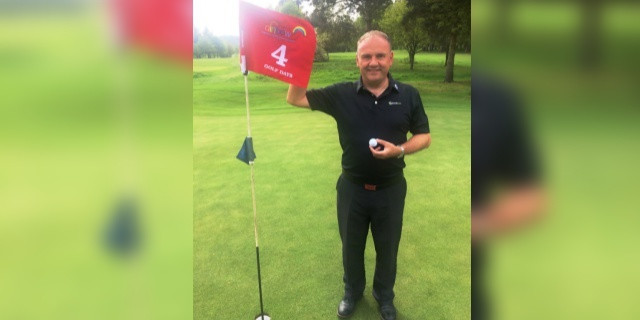 The event was supporting a wonderful charity called Rainbows Hospice. They provide support for life-limited children and teenagers and their families. My son and I were playing together for first time in six months as he is currently studying in the USA supported by a golf scholarship. We were joined by two more Golfshakers; one of whom I had never met before the day.
This is how the experience felt and how I wrote about it at the time
.
I submitted a claim and waited as the verification process is thorough and professional.
Once I was accepted into the 2017 Hole In One Roll of Honour the long wait began. I knew that only 12 players qualified to go to TPC Sawgrass and I found myself monitoring the HIO-Club website on a weekly basis.
The Hole in One Play Off Final Experience
The qualifying period runs from April 1 to September 31 and resulted in a playoff being required because of the number of people who had an ace. This qualifier was played at Gleneagles in Scotland at the PGA Ryder Cup course. This in itself was well worth a £5 entry fee.

The first tee announcers, video cameras and a substantial gallery on the first tee made this one of the most terrifying five hours I have ever spent on the golf course. We played a blended course due to the wide range of handicaps involved in the playoffs. We had amateur golfers playing off +2 ranging to mid-20 handicap golfers.

The blended tees caused me a major problem. We reached a par three and I checked the card and saw that the distance was 160 yards. I hadn't appreciated that with the tee moved forward the distance was only 130 yards. Of course this coincided with the best shot I hit all day. My ball flew the green, green surrounds, bunkers and a tree, ending up on the path to the toilet outside the halfway house.

I managed to scrape through the qualifying process in sixth place and secured one of the places to Orlando, flying from Manchester via Virgin Atlantic. In recognition of our achievement we also received a beautiful leather holdall, shirts, golf balls, towels and putter covers.
The TPC Sawgrass Experience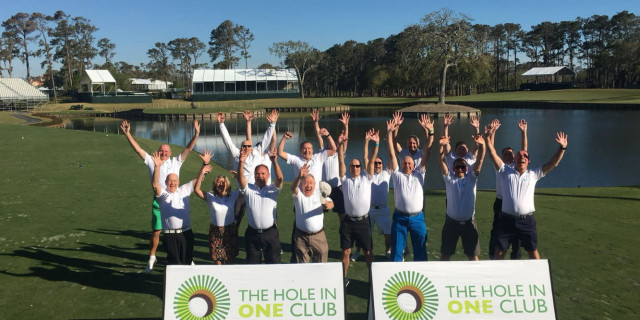 All costs were covered, including accommodation, flights, green fees and transfers between courses. This has to be one of the greatest prizes in amateur golf. We had guaranteed tee times, caddies and buggies to play the TPC Sawgrass facility on both courses (the Stadium and Valley) in a 36-hole Stableford final for the coveted HIO Trophy, with a full set of Callaway clubs on offer for the winner.

We were able to take a guest so I invited my son. Everything about TPC Sawgrass is superb and the clubhouse oozes style. It is also the home of the PGA Tour.

Our group was given a guided tour by one of the volunteer "storytellers". They detail the history and provenance of the art works and trophies on show and provide a fascinating diversion. All tips are pooled at the year's end and donated to service related charities.

Before development this area was a swamp. Pete Dye and his team were commissioned to design and construct the first purpose-built stadium course, with the needs of the watching public a key part of their work. They began by building a massive moat around the site and then drained the water levels to provide access to dry land. The best quality sand and soil was found around the area of the proposed 17th green so he excavated as much dirt as possible from that area. At his wife's suggestion, he then created the island green complex that is now one of the most instantly recognisable holes in golf. Estimates vary between 100,000 and 150,000 golf balls being lost in the lake around this green.

Our 12 finalists lost 166 golf balls in water over 36 holes, which gives you a good idea of the challenge this place represents.

Valet service ensures that all bags are labelled, cleaned and placed in the named and allocated golf buggies. Pyramids of pristine golf balls were waiting on the immaculate driving range. It is double ended and one side is reserved for the use of PGA pros such as Jim Furyk and Vijay Singh who are based at this facility.

I haven't seen many driving ranges that have an island green built into the middle of them, but this one does. The range has its own yardages featured in the course planner – another first for me. We were also provided with a beautiful engraved golfing bag tag.
We were also allocated a fore caddie who earned his money by having an intimate knowledge of the entire courses we were to play. Marlin was excellent company. His role was to stand ahead of the tee shots and spot them, ensuring a decent pace of play. He was armed with a distance device and a wicked sense of humour that only added to the overall experience.
As part of the prize we also got to play Grand Cypress Golf Club, and we played Shingle Creek, another really interesting facility. We enjoyed a fascinating trip to the World Golf Hall of Fame facility - a great way to spend a day for anybody who is interested in this great game and its history.
This entire trip was won thanks to a single shot played at Kedleston Park in Derby supporting a fantastic charity. My entry into the Hole in One club cost the princely sum of £5. This fiver took me to Gleneagles for the playoff and then across to the United States for the golfing trip of a lifetime. It was my second hole in one in an official competition in 30 years golf. My £5 investment meant it took me around the world.
It was no surprise that our eventual winner was one of the straightest, most consistent ball strikers. His course management was superb through the whole event. Take a bow Mr Bill Noone from Galway Golf Club in Northern Ireland. He is certainly not a No-one, as suggested by a valet who misread his name tag on his luggage. He is now an HIO legend and its first Irish winner.
Related Articles:
Playing the Stadium Course, TPC at Sawgrass
Dye Valley Course, TPC at Sawgrass Feature Review
---
What do you think? leave your comments below (Comments)
---
---
PLAY MORE PLAY BETTER - LATEST TUITION TIPS
---
Leave your comments below
comments powered by

Disqus