Dye Valley Course Feature Review
By: Andrew Picken | Thu 03 May 2018 |
Comments
---
As part of a trip to TPC Sawgrass Golfshake ambassador Andrew Picken took the opportunity to play and review the Dye Valley course.
The main focus at Sawgrass is on the Stadium Course that hosts the Players Championship in May every year, but the Valley Course, also designed by Pete Dye, is a treat too.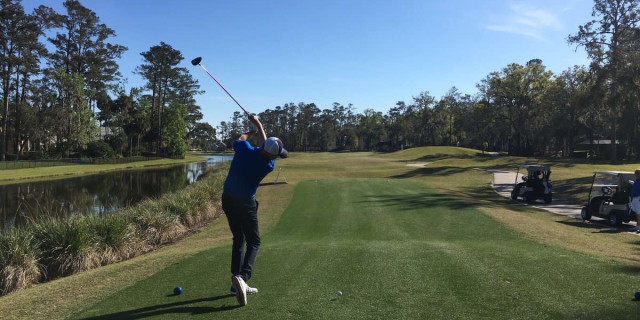 HIO Tournament Golf
We began our main 36 hole competition using the Dye Valley course. We were using blended tee boxes giving us a layout of 6272 yards from the possible 6847 yards from the championship tees.

I have to admit that I was terrified at the prospect of my 1st tee shot in the competition but felt reassured that I had completed an excellent warm up session on the range.

I walked towards the tee box and literally froze in my head. My last 30 years of golf had been forgotten in an instant. No pre shot routine, nothing. Just an overwhelming desire to get the first shot over and done with. It wasn't a golf swing it was more of a lurch as I tried to outdrive my son and simply topped the ball 4 foot forward off its tee.

Never mind reaching the ladies tee, it very nearly didn't reach the end of my own Tee. 4,500 miles to make an absolute cock of myself! I was mortified; I was embarrassed and furious all in the same breath. The ball sat defiantly on the tee as our playing partners played away successfully; I then wandered up to the ball and cracked it away with my 3 wood off the deck. It flew right of the bunker and I was away.

This was the worst possible start to the event. I found myself wondering what my blood pressure would be showing right now. It would not have been a healthy level. I hate this game!
Dye Valley course
6,864 yards, par 72

Designed by Pete Dye and Bobby Weed
The Dye valley course does not get the plaudits it deserves due to the TV coverage of The Players Championship. It is a real beauty to play. There are some holes that are simply majestic in their design and layout. Mr Dye plays visual tricks from the tee and some are slightly off set to encourage play towards hazards rather than being avoided. He uses bunkers and water together to provide a visual frame to a hole that I have not seen done as successfully elsewhere.

The fifth hole is a glorious par three, similar in design to the famous par-three island hole at the Stadium Course, with 80% of the green protected by water and calling for a pinpoint iron shot. You need to be careful when you get on the green – I nearly putted my ball off the surface and into the water.

The sixth is a 386-yard par four that proves a hole does not need to be long to be a classic. It features a crescent moon-shaped fairway, with a water hazard hugging the entire right side, from tee to green.

The 11th is a fabulous par three of 229 yards from the back tee. We played it at 177 yards. It called for a tee shot to a green protected front and right by more water, with a bunker protecting the front of the green.

This is a course that offers no let up. No easy scores. It offers a constant challenge for every shot. It is brilliant and great fun.

The back nine routing follows a basic figure 8 shape thus ensuring that any winds are likely to affect each hole differently. The final 4 holes are all dog leg left to small well protected green complexes. Water features heavily and intrusively with any errant shot punished without remorse. This is a beautifully presented and designed course that I felt privileged to play with my son.
In our HIO Championship 35 points was the overnight leader.
As I thought about my round later I realised that I had fell into every trap laid for me by the designers. This is a course that requires a strategic approach for every shot particularly off the tee. One mistake is compounded making the next shot even more difficult. I had been beaten up by this course but I still enjoyed every second of the experience.
The green complexes are superb. Some of the par 3 one shot holes are exquisite in their design and execution. It is the perfect preparation for The Stadium course which we were playing the next day. We played in flat calm but I would imagine that any wind would be affected by the massive tree's that form structures around most greens and would make this an even bigger challenge.

The greens all have multiple slopes and graduations. There are a multitude of possible pin positions, greens are slick and true and were a real challenge given our winter greens at home.

I was also astonished at the amount of wildlife on view given its position within Florida and the amount of human traffic on the course. It is also quite clear that they are there is an understanding of the environmental impact upon the local wildlife.
Related Articles:
The Hole in One Experience of a Lifetime
---
Related Content:
What do you think? leave your comments below (Comments)
---
Leave your comments below
comments powered by

Disqus
More Golf Course & Travel Features
Plan your next golf break with Golfbreaks.com
Travel Deals Newsletter
Save up to 50% on golf breaks!
Join Today »