Feature Interview: Mike Foley - FootJoy's exciting new 2017 range
---
The FootJoy ContourFIT shoe has had a "complete makeover" according to FootJoy's Director of Footwear Product Management Mike Foley, while the Pro S/L shoe provides stability and comfort.
The shoe builds on the successful heritage of the Contour Series franchise, but the designers at FootJoy have reimagined the entire category to offer Comfort That Never Quits.
New technology includes a TPU DynaFlex Outsole, a Fine-Tuned Foam 3.0 midsole, a Contour Plus Last, Extra Thick Fitbed, U-Throat Pattern and a soft Achilles Pad.
As for the Pro S/L, this shoe offers a unique blend of comfort and spikeless Tour-calibre performance, through the proprietary polymer – Fine-Tuned Foam. This is lighter than conventional EVA foams and provides enhanced cushioning and shock absorption for added comfort.
Foley talked Golfshake's Owen Davies through the new technology in both of these shoes at the 2017 PGA Merchandise Show.
Foley said: "ContourFIT, for us, is a complete makeover. DryJoy has been our best selling shoe worldwide for years. We want to make sure the contour fit matches that. Players know the comfort they desire and they're looking for something that's durable.
"We wanted to design a shoe for every golfer and we know he or she is going to be doing a lot of walking. So we start from the ground up.
"We've got an all new Dynaflex outsole. So what the designers did with this new outsole is they utilised TPU, which is on a lot of our high end performance products but it's scalped in a way so that when the shoe flexes, it's going to flex very naturally with the foot.
"From a comfort standpoint, it's good because the shoe isn't working against you like some TPU outsoles. We're also using our Fine-Tuned Foam midsole here, which is the softest midsole material that we use today.
"It's very very soft and very flexible to go with the outsole. Really, focusing in on every feature and component that touches the player's foot.
"It's really thick and has a comfortable foot bed that when you're putting your foot in there, you will feel absolute comfort. Utilising a nice woven liner as well so it's going to wick moisture away and spread it out.
"From an upper material standpoint, it is a combination upper here. So the US spec has a full-grain leather back and then we utilise performance synthetics also. The European spec is a full synthetic."
The reason behind having two different specifications is purely because "different markets want different things," Foley added.
The BOA Closure System is something that has featured on previous ContourFIT shoes, and again runs through the line this season. This closure system draws the foot down and back into the heel for secure, comfortable and consistent fit from the first tee to the 18th green.
Foley said: "We utilise the BOA system down through Energise. Energise for us, in the US, is a $99 golf suit and that's the first time we've used the BOA technology.
"It's been around the Contour for a few years now and more and more it seems like players are understanding the technology - such as the benefit of it. It really does provide a much tighter golf shoe.
"I would encourage people to use BOA. It's a great technology. It's an added feature and added technology as well, so it does cost a little bit more than traditional laces but you are getting a performance benefit out of it in the much more secure fit and locking your heel into the golf shoe.
"Without question, the ContourFIT is for golfers looking for a comfortable fit. As part of my job, I'm the liaison with out PGA tour reps. Steve Marino came through the locker room one time, looked at the catalogue and said 'what's the most comfortable shoe you got?' At the end of the day, he's looking for absolute comfort nowadays."
As for the Pro S/L shoe, this shoe will offer both comfort and performance through varies technologies that Foley explained to Golfshake.
"All the technology that went into developing this outsole, its unmatched in the golf industry from a performance and comfort standpoint," Foley added.
"From a performance standpoint we utilise our Fine-Tuned Foam and I've actually been to the factory and seen it manufactured.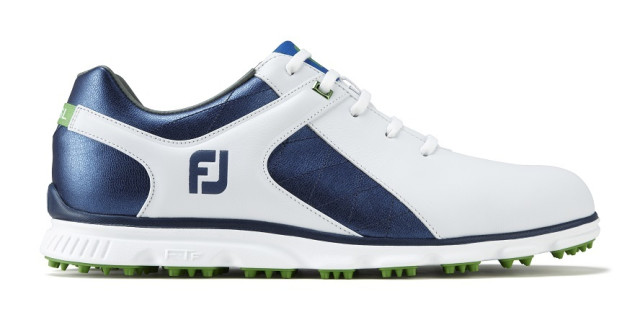 "They're moulding and bonding at the same time, a softer version of the Fine-Tuned Foam in the middle. A player's foot is actually resting on this nice soft, Fine-Tuned Foam inside the shoe.
"This white Fine-Tuned Foam being a little wider and stiffer, it's going to provide all the stability the game's best players are looking for. And then we integrated these TPU traction pods that are cone like in shape.
"When you're swinging it's almost like velcro holding your foot in place. So it's giving you great stability and great grip and all the traction that any player could look for.
"It's quite fantastic.
"Far more players are migrating into this shoe. The guys on the European Tour think this is going to be the most played product on the European Tour.
"We're excited about it in the US. It's been so good that we've launched three more styles."
To learn more about FootJoy ContourFIT and the Pro SL, visit the Golfshake website or find out more on the FootJoy website.
---
Tags: Footjoy
---