By: Golfshake Editor | Wed 15 Feb 2017 |
Comments
---
This spring FootJoy have launched their latest performance spikeless golf shoe - The Pro S/L. While the name is new, a lot of the structure and look will be familiar to fans of the hugely popular DryJoy Casual. However FootJoy are insisting that this is very much a new line in their range of products and features some significant advancements in technology.
The Pro S/L has already received a lot of tour validation and you may have seen the likes of Lee Westwood wearing it on tour for the past few months. This seems to confirm FootJoy's assertion that the Pro S/L is very much a performance shoe despite it being spikeless.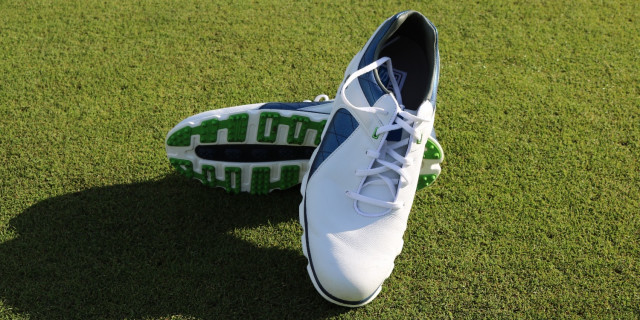 Tech Talk - What FootJoy say about the Pro S/L
The Pro/SL™ offers golfers a unique blend of comfort and spikeless Tour-calibre performance, through a proprietary polymer outsole material called Fine-Tuned Foam™ (FTF). FTF is 10% lighter than conventional EVA foams and provides enhanced cushioning and shock absorption for added comfort.
Within a three layered component, FTF is the key material to ensure that Pro/SL delivers comfort and stability:
• The top layer of FTF, which cradles the foot, is a softer durometer to provide all day comfort.
• The lower/outer portion of FTF is firmer in order to deliver perimeter stability around the foot for maximum support throughout the swing.
• Finally, TPU traction elements are strategically placed within the FTF outsole material to provide the golfer with enhanced traction, lateral stability and more points of ground contact
Cushioning, stability and traction:
• Lightweight, softer blend FTF™ (Fine Tuned Foam) for maximum cushioning and underfoot comfort.
• Lightweight, firmer blend FTF for maximum support providing optimal balance throughout the golf swing.
• Spikeless, durable TPU outsole ready for any type of shot or conditions.
FootJoy Pro S/L Review
Having been a big fan of the DryJoy Casual, I was excited to head onto the course to test the new Pro S/L and see how they performed in a range of conditions.
Looks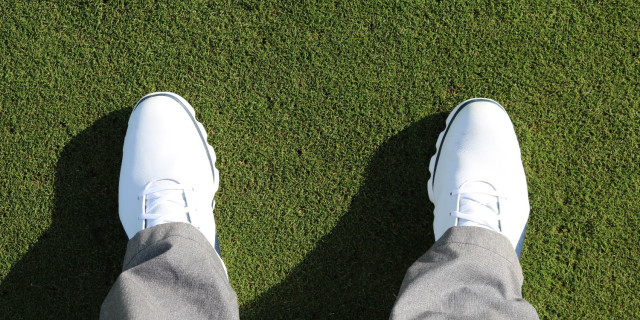 The Pro S/L carries a lot of the same looks in terms of shape of the DryJoy Casual, but has a significantly different cosmetic design, Certainly there is a large splash of colour if you want it, but this is a serious shoe and it says that with simple lines and a classy look.
Feel
Comfortable! That is the over riding sense you get from this shoe. For a performance shoe, they really are super comfortable to wear. They don't quite feel like a trainer, but you would happily wear them all day, on course and off. There was no need to break them in at all. The comfort factor is part of the reason that these shoes will prove so popular, much like the DryJoy Casual, they marry comfort with stability - a winning formula in my opinion.
Performance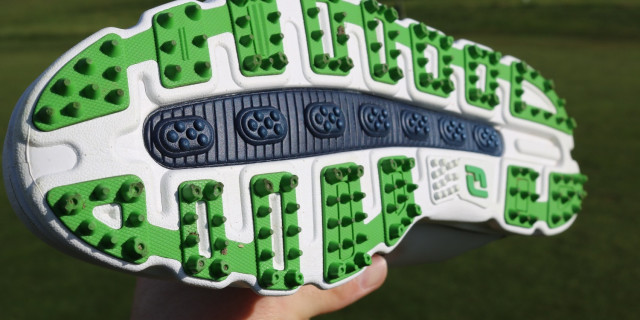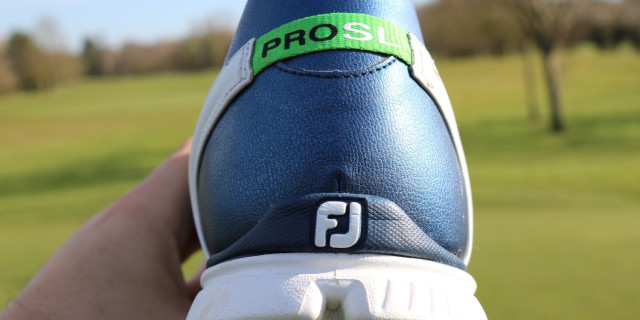 With any shoe you are always going to compromise between levels of comfort, weight and stability. While the Pro S/L is no exception to that it does seem to minimise these compromises. It is super light and the athletic fit of the upper means that it delivers comfort, both of these are readily available on the market from a range of manufacturers, but where the Pro S/L comes into it's own is the marriage of these characteristics with stability. The key to this is the Fine Tuned Foam (FTF) and TPU that form the sole of the shoe. The shoe really does deliver a great level of stability, to such a point that this shoe is now being seen regularly on tour.
The Pro S/L's other selling point is that it is spikeless. You always wonder if you will lose traction in a shoe like this, but to date I have had no issues and have worn the shoe in a mixture of conditions including on muddy wet courses in the UK.
Should you find yourself playing in the rain, the Pro S/L also comes with a one year waterproof guarantee.
Pros
A spikeless shoe that performs like a performance shoe, it is lightweight, waterproof and provides a good level of stability and traction throughout the swing. The Pro S/L comes with laces or can be purchased with BOA.
Cons
There is a small compromise to make on stability and traction if you are looking for ultimate performance.
The Bottom Line
A brilliant shoe, while not strictly a successor to the DryJoy Casual, FootJoy have taken all the best bits about that shoe, added in some extra technology in the upper and created a new line. If you are looking for an all round shoe that delivers on both comfort and stability it will be hard to beat. Very close to the perfect golf shoe in my opinion.
Ratings
Owen's rating - 9.5/10
Available in UK: February 2017 SRP £140 Laced £155 Boa Closure System.
For further information visit www.FootJoy.co.uk or follow @FootJoyEurope on Twitter and Facebook.
---
What do you think? leave your comments below (Comments)
---
Tags: lee westwood Footjoy
---
comments powered by

Disqus