10 of the Best - Courses to play in the winter
By: Golf Shake | Thu 03 Dec 2015 |
Comments
---
Post by Sports Writer, Derek Clements
---
IT'S that time of year when you turn up to play 18 holes and hope that you won't be facing 18 winter greens, that the course won't be closed because of frost and that you won't be up to your knees in mud. Some golf courses really suffer during the winter, purely and simply because of the type of land on which they are built.
If your course is constructed on sandy or chalk soil, the chances are that the fairways will run firm and true for most of the year. There's not a lot you do about snow, of course, but the chances are that if you regularly play near the coast then any snow that does fall will quickly disappear. It also means that you will be putting on regular greens 12 months of the year –is there anything worse than trying to hole a putt on what amounts to a piece of fairway with a hole stuck in it?
We know that some people lock the clubs away during the winter, but many of you like to play all year round. Here, we take a look at 10 of the best winter tracks, together with their winter green fees.
THORPENESS GOLF CLUB, SUFFOLK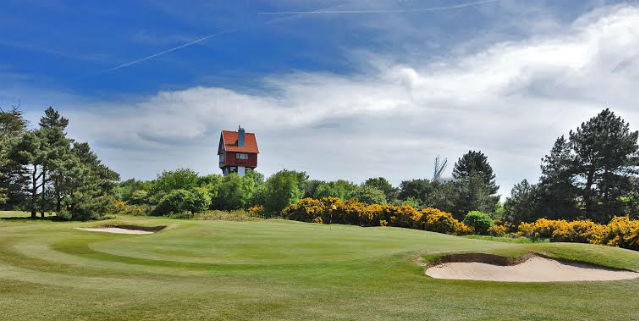 Winter green fee £35, fourball £105, plus special winter membership deals
Designed by James Braid, Thorpeness is a glorious heathland course that almost never closes, and never uses those awful winter greens. It is very close to the sea on the coast of Suffolk, an area of the country that sees little or no snow in the winter. Even better, Thorpeness, which is built on sandy soil, is located in its own microclimate and that means that not only do they rarely see snow, but the weather tends to be warmer than you would expect. A glorious folly known as The House in the Clouds sits beside the course, and there is also a windmill. Thorpeness actually offers special winter membership rates
DELAMERE FOREST, CHESHIRE
Winter green fee, £55
Delamere Forest is a tad over 100 years old and was originally designed by Herbert Fowler – don't be fooled by the name, it's a heathland course, built on sand, and that means its drains really well. The greens are amazing – they run true all year and are firm even after days of rain. It features rolling fairways, heather and gorse. This is a glorious course all year round and is testimony to the quality of the greenkeeping staff during the short days of winter. It measures 6,548 yards and is a par 72, or 6,429 yards and is a par 71. The reason for the difference? The 15th can either be played as a 308-yard par four or as a more challenging 189-yard par three.
ST ANNE'S OLD LINKS, LANCASHIRE
Winter green fee, £40
You could, of course, head to Royal Lytham and pay a great deal more than 18 holes at St Anne's Old Links would charge you, but this is a delightful links and it is playable for 12 months of the year. It is also a superb course. Snow is the only thing that stops play and while you could find yourself snowed off if you go a few miles inland, it is extremely rare for this links to be subjected to a whiteout. Even on cold, frosty mornings, the salty air quickly does its job. It is a course that remains in excellent condition throughout the winter.
LINDRICK GOLF CLUB, NOTIINGHAMSHIRE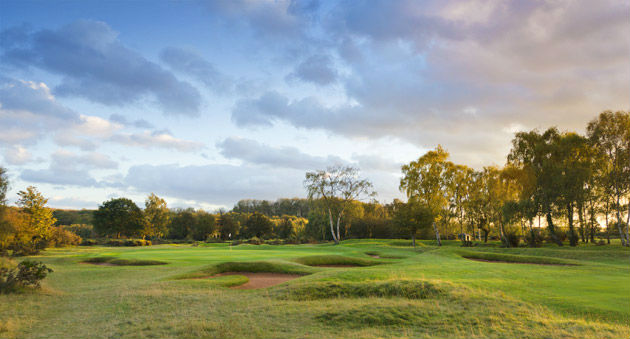 Winter green fee, £120per tee time (£30pp for a fourball)
Lindrick has hosted the Ryder Cup and several tournaments in the pre-European Tour days. It still plays host to many top amateur events but it has been a while since it has been in the limelight. Great Britain and Ireland beat the United States to win the Ryder Cup in 1957 – it would be 1985 before the United States would lose again. The course features plenty of towering birch trees, gorse, heather and tight, well-protected fairways. It is essentially a heathland course and drains very well. Lindrick's greens are sensational – and that includes during the winter
ROYAL ASHDOWN FOREST GOLF CLUB, EAST SUSSEX
Winter green fee £45
The Old Course at Royal Ashdown does not feature any bunkers. Not a single one. That means you don't have to worry about entering water-filled traps during the winter. In any event, heather, trees, narrow fairways, hollows and streams more than make up for the absence of sand, so if you think you are going to come here and have an easy ride then you had better think again. The fairways are never fertilised or watered, so in dry periods it is a bit like playing a links, where you will find tight lies and a need to play bump and run shots aplenty. And, of course, links courses tend to be playable all year. Royal Ashdown features plenty of heather and gorse. You will never find temporary tees or greens here.
WEST LANCASHIRE GOLF CLUB, MERSEYSIDE
Winter green fee, £60
West Lancs, as it is known locally, is a fantastic track – all 7,054 yards of it. It is all wispy rough and dunes. The three finishing holes are crackers. The 16th is a 530-yard par five, the 17th a 196-yard par three and the 18th a 428-yard par four. The fairway on the 16th slants from right to left, with bunkers to be avoided both from the tee and with the second shot. Miss the green at the 17th and you can forget a about a par three. Your drive on the final hole needs to be threaded between bunkers on the left and a pond on the right. Great tees, great fairways, beautifully-kept bunkers and sensational greens – a dream for lovers of winter golf
ROYAL WEST NORFOLK GOLF CLUB, NORFOLK
Winter green fee, £65
No fourball play is allowed at Royal West Norfolk. The club does this to keep play moving and to ensure that visitors get the most from their experience on this fabulous course, in Brancaster. Uniquely, you have to cross the beach to get to the first tee. There are also double fairways and sleepered bunkers – trust me, you don't want your ball to finish at the base of the sleepers. Royal West Norfolk has a charm all of its own and has good links with local hotels and bread and breakfast establishments. It is a par 71 and measures 6,457 yards. The front nine is 400 yards shorter than the inward nine, but it is the home holes that represent the biggest challenge, with the holes running alongside the sea and usually played into the wind. The proximity of the sea keeps the course clear of snow and ice.
CROWBOROUGH BEACON GOLF CLUB, SUSSEX
Winter green fee £40, £30 after midday
Crowborough Beacon is 800 feet above sea level. It measures 6,319 yards and is a par 71 and was designed by Alastair Mckenzie, who had a hand in creating the incomparable Augusta National. It is an undulating golf course and is one of the best heathland tracks in Sussex – and that also makes it a must-play during the winter. You will not find any mud or temporary greens here. Ever!
GANTON GOLF CLUB, YORKSHIRE
Winter green fee £50, fourball £180
Ganton's winter rate is almost half what you would expect to pay during the summer. Sure, the trees may not have the leaves you would find in June or July, but it is difficult to spot any other differences between playing this incredible course in high season or in winter. £180 for a fourball represents an incredible bargain – no temporary tees or winter greens, and springy turf that drains incredibly well. It has hosted the Ryder Cup, Walker Cup and Curtis Cup. The course is heathland, with a links feel, and the greens are sensational – all year. It measures 6,998 yards and is a par 73
EAST BRIGHTON, SUSSEX
Winter green fee £50, fourball £25pp
Located by the sea, East Brighton measures 6,426 yards and is a par 72. Like many courses in this part of the world, it is built on chalk subsoil, which means fantastic drainage – and no temporary greens or tees. It is a course that has been the subject of regular improvements, and you will love the putting surfaces – at £25 per head for a winter fourball, it represents terrific value for money. Salty air means no frost problems and little or no snow. On a biting cold winter's day, you will appreciate a cup of something warming at the Halway House beside the 10th tee.
---
Related Content:
What do you think? leave your comments below (Comments)
---
Leave your comments below
comments powered by

Disqus
Plan Your Next Round
Ardglass Golf Club
County Down
from £22.00
Save 50%
Castlerock Golf Club
County Londonderry
Galgorm Castle Golf Club
County Antrim
from £13.00
Save 23%
More Golf Course & Travel Features
Plan your next golf break with Golfbreaks.com