Celtic Manor a Must Play Society Stay Play Venue
By: Andrew Picken | Thu 16 Nov 2017 |
Comments
---
Stay and play feature review from Golfshake ambassador Andrew Picken who visited Celtic Manor in Sept 2017 as part of a society organisers trip.
---
I was recently invited to join a group of golf society organisers that were enjoying an event arranged by the golfing team at Celtic Manor. Having read a previous feature about 'The Resort that has it all' - I couldn't wait to visit.
This venue also enjoys an excellent rating from Golfshake members scoring 4.81/5.0 from an impressive 685 reviews at the time of writing. It has earned the Highly Recommended status from the Golfshake reviews, 98% of golfers visiting would return or recommend to a friend, and given that these reviews are by golfers for golfers this is a hard fought accolade off the back of almost 700 reviews!
Location wise Celtic Manor is not far from the M4 near Newport and is easily accessible - minutes from the Severn Bridge, half an hour from Cardiff and Bristol airports and 1hr 45 from Heathrow. So a perfect location for golfers around the country.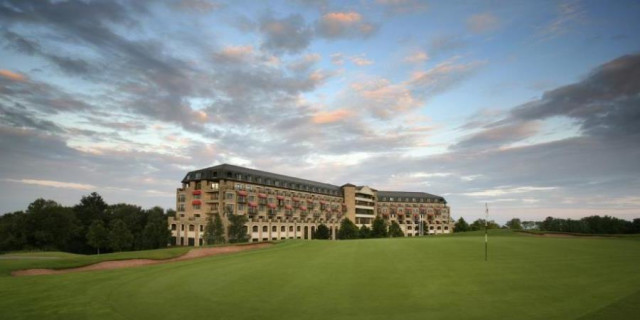 The hotel overlooks the M4 and the outer suburbs of Newport with the Severn Estuary visible in the distance. The venue is also Wales' largest hotel and will soon feature one of the largest convention centres in Europe. Once onto the hotel grounds it is difficult not to be impressed by the slick and efficient operation of all the staff. The venue has 54 holes of top quality golfing real estate and there are literally thousands of guests at any given time.

Upon arrival we pulled our car to the covered reception area of the Roman Road course and were immediately greeted by the concierge. Bags were unpacked and labelled and we were directed to our designated car park. We were to play the Roman Road course in Pairs Stableford event against society organisers from across the country.
Golfshake Travellers Tip

Underground car parking at the hotel is charged at £15 per night but such is the excellence of the internal transport by luxury minibus that there is no need to park other than in the external car parks.
We were guided to our own bespoke dining area (which doubles as the members lounge at the weekends) that overlooks the 18th green on the Roman Road course. We had a superb Welsh breakfast and were briefed on our competition.
Golfshake Travellers Tip
Please note that there are some good walks between tee boxes and greens with clear elevation changes so a buggy should be considered. At £38 per pair it is not the cheapest. However many have GPS so they can help your play. The buggies are restricted to only travelling on the tarmac cart paths with golfers walking across fairways to the ball. You still get exercise as it is rare for a group to all be on the same side of the fairway but this could be an issue for some. What this ruling does ensure is that the courses are kept open and in play when many other courses would have to close. Dispensation is provided for less mobile golfers to use buggies across the whole course but ensure that you validate this at the time of your booking.
The Roman Road
Designed by Robert Trent Jones Senior, this is a very clever layout. It was used as the venue for the Celtic Manor Wales Open in 2005 and 2007. It plays at over 6400 yards with a par of 70 with some enormous bunkers and tricky sloping greens that provide its main defence. The design snakes its way around roman burial grounds, hence its name.

There are some excellent par 3 holes that use the natural ground and slopes well. Every green is slick and true. In my opinion this is almost a perfect golf society venue. They also offer real time live scoring for all players utilising golf genius software. This adds a really exciting professional edge to any society fixture that I really enjoy.
There are some changes to the layout that I really liked. Hole 16 is now a par 3 of 141 yards over water. The proximity of the 17th tee ensures that there is always a gallery of other players waiting expectantly to see this daunting tee shot over unforgiving water. Hole 17 is now a par 4 with a difficult tee shot avoiding bunkers right and a stream that runs the whole length of the track to the left.

Hole 18 is testing off the tee and if tempted to stretch into a second shot watch out for the flower beds left.

This is an excellent course and was a fun challenge throughout. I really enjoyed this course as off the yellow tees it provided a realistic challenge for my current handicap level.
Celtic Manor First Class Treatment
Following our round we dropped our bags to the concierge and gave them our tee time for the next day. Bags were taken, labelled and cleaned, ready for tomorrow. Successful logistics' like this make for a really enjoyable overall customer experience. No lugging wet and damp golf bags through hotel corridors here.

We then adjourned to our bespoke dining room for an excellent meal and company for the presentation and prize giving. If you are in any way involved in running a golf society check out the web site and get your name down as there are some fantastic deals offered throughout the season.
The Ryder Cup Experience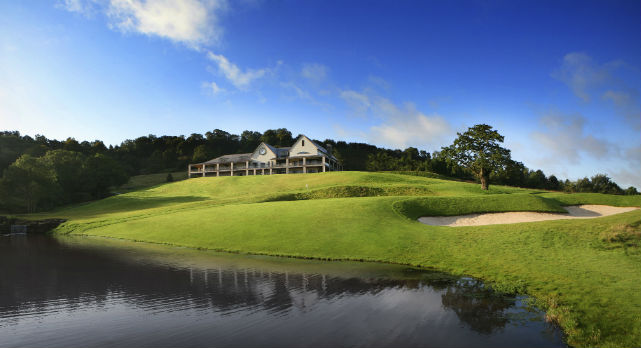 The following day we were booked into the 2010 Ryder Cup course. My preparation had included reading the Golfshake TwentyTen review and downloading the Sky TV coverage of the 2010 Ryder Cup and identifying the location of some of the most significant moments.

I have played other Ryder Cup venues but feel that Celtic Manor has the history and tradition pitched at exactly the correct level. I was genuinely excited at the prospect of facing the same trials and tribulations as my golfing hero's did back in 2010.

Our weather closely resembled that of the actual Ryder Cup event but it was still an incredibly enjoyable experience. We drove to the 2010 Clubhouse and parked outside before being given a guided tour of the locker rooms and facilities by concierge staff. The locker allocated to you individually is in the midst of those used by the teams during the tournament. Memorabilia is everywhere but it is not obtrusive just adding to the atmosphere.

There is a staging area where golfers wait for the time 40 minutes before their tee. This was an international experience in itself. There were groups and families that had travelled from Canada and the USA to play this iconic venue.

There is a real sense of excitement as you are invited to travel by minibus to the range and starters hut. The clubs had already been delivered and were cleaned and ready to go. The range is great, with pyramids of quality balls and a short game and bunker area. You are then called forward to stand in front of the actual tee used during the Ryder Cup. It is still the same advertising hoardings as used in 2010 and a professional photographer takes snaps or your group.

Playing as a pair we were allocated the chance to play with a couple of Welsh guys, one of whom was celebrating his 82nd birthday by playing and staying with his family. Andy and his Dad were superb company and we had a fantastic day despite the rain. We played from the yellow tees, giving 6,500 yards. Full length is nearer 7,000 yards.

Many of the holes have water directly in play and accurate and long driving is essential to score well. The short holes are nothing short of superb. There is no let up with the design and structure of this course. Greens are slick and true, with a host of pin options available.
In rainy conditions we all struggled to manage our way around the hazards. The overall design and layout is such that you will be tempted into shots that are not really on and once you succumb to a hazard they are difficult to extract yourself from them easily. This isn't a criticism merely a comment on the quality of the overall design. This is a course that will challenge each and every shot. It is a memorable golfing experience that I thoroughly enjoyed from start to finish.
Highly Recommended Society Golfing Venue
Would I recommend a trip to this venue for a society?
100 % yes. Roman Road and Montgomerie courses are very user friendly and well suited to this type of golf. The infrastructure supports group golf and the accommodation and food and booze are good quality.

The 2010 is a memorable golfing experience that many high handicap golfers would find intimidating and very difficult to cope with due to the length of the holes even off the yellow tee's. This doesn't diminish from the experience perhaps even adding to it but you need to pay the extra costs with your eyes wide open.

Would I play the 2010 again?

In a heartbeat. It was worth every penny for the experience alone. I would probably try a slightly different strategy as well trying to play short of hazards and trying to play bogey golf instead of trying to take it full on.
The course is hardly ever unplayable due to the buggy use and you can be almost guaranteed a fun time as a society.

Don't overlook the crazy golf near the main hotel. All the holes have been designed to copy iconic venues around the world. It would be a fantastic way to have another society competition for those souls who were slightly hung over as tends to happen in these events.
Check out the Celtic Manor web site or Golfbreaks.com as there are some amazing deals being offered.

Related Articles:
10 Reasons to visit Celtic Manor
---
Related Content:
What do you think? leave your comments below (Comments)
---
Leave your comments below
comments powered by

Disqus
More Golf Course & Travel Features
Plan your next golf break with Golfbreaks.com