5 of the Best - Video Capture Apps for Golf
By: Golfshake Editor | Wed 02 Dec 2015 |
Comments
---
To read an updated version of this feature, new for 2021, then click here!
---
Post by Golf Journalist, Joshua Carr
---
We've all been in that position on the range. Nothing is going right, you try everything such as swinging out to in, swinging in to out, cocking your wrists earlier, shortening the swing, everything. But no matter what you try you cant seem to find where the problem lies. However, with the major advances in smartphone technology there is no excuse for not taking advantage of some of the fantastic golf video capture apps that will help you identify the problems in your swing.
---
Edufii
Edufii is so much more than just a video capture app. This free app allows you to film your swing from whatever angle you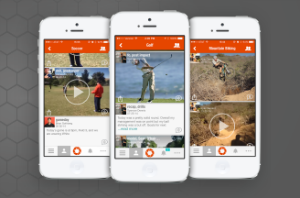 desire and combines the best elements of social media, email, cloud computing and coaching apps to allow you to collaborate simply and effortlessly with your coach. With the simple push of a button you can send the video of your swing to your coach who in turn can send tuition back.
Your coach can stop the video at any point and add a note at the bottom to give advice or compliment the great position you've got the club in. They can even add voice clips to your video to describe what you need to do. That's not all, your coach can even take a video of their own and send it back to you describing what small changes you need to make to your swing.
The best thing about this app is that you can have it at your fingertips for free from the android and app stores.
---
SwingPlane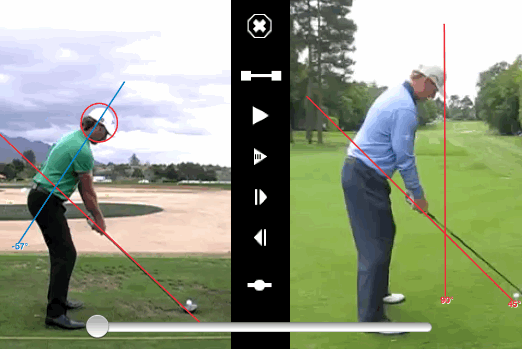 SwingPlane is a free app available in the iOS app store and uses your mobile phone or tablet camera to capture your swing. Once you have filmed your swing you can edit the video, playback in several modes and compare your swing to the pros for maximum in depth analysis.
Like all good video capture apps, you are given the opportunity to add lines and circles to the video that can help you realise any head movement, body movement and help discover your shaft angles. You can also export your video meaning you can share your swing with friends, your coach and on social media.
The app goes one step further by allowing you to send your swing golf pro who will send back a custom lesson all via the app. This is done by purchasing credits on the iGolfApps website or through the app. Then choose your best video, send it to a coach of your choice and await your custom lesson.
If you want to find out more about the SwingPlane app follow this link /improve/view/9198/SwingPlane_Free_Analysis_App.html
---
V1 Golf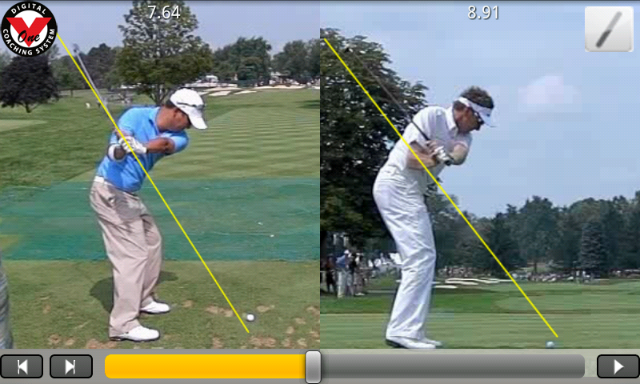 Through its partnership with the PGA of America, PGA.com and Golf Digest, V1 Golf has become the most preferred golf swing analysis system of America's top 100 golf coaches. The app allows you to capture, trim and edit videos as well as offering various playback methods that includes frame-by-frame viewing.
The app comes with a full suite of analysis tools and you can even import your new and improved swing to facebook and twitter. On top of the impressive analysis tool suite, you can compare your swing to tour professionals. Comparing your swing to the best of the best is the perfect way to improve your swing.
For just £3.17 you can purchase the premium version of this app, which unlocks all features as well as getting rid of those annoying adverts.
---
iSwing Golf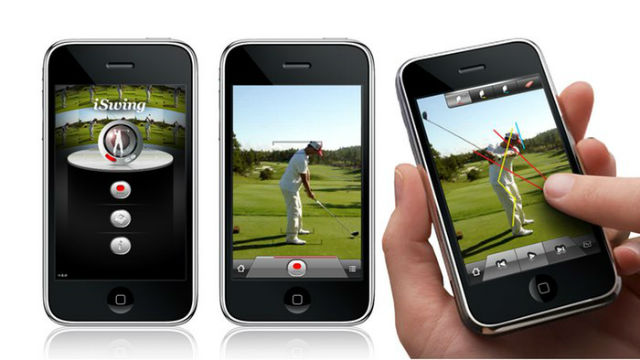 The iSwing Golf app is another app that offers golf swing analysis wherever you go. You can record your swing on their custom video recorder that records at 30 frames per second. If you're practicing alone you can set the timer on your phone meaning you won't have them added seconds of pointless footage.
There are several playback options such as frame-by-frame, slow motion, repeated playback and through the motion echo setting. The app also comes with easy to use touch-screen drawing tools that can help you determine spine angle, swing plane, shaft angle, weight shift and head position. If you purchase the £3.99 version you can also compare your swing to Adam Scott who possesses one of the best swings in golf.
---
Swing Profile Golf (iPad)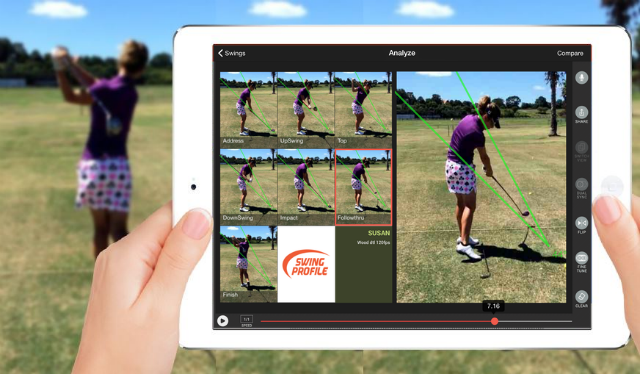 At £69.99 you're probably thinking this app is a bit much, but it most definitely is worth every single penny. There's a reason this app was awarded "Best Overall Product" and "Best Market Research" at the 2012 PGA Merchandise Show.
SwingProfile's smart swing detection technology, captures only your swing, automatically trims unnecessary footage and saves precious device storage space. Sharing and emailing your swings from the iPad has never been faster or easier. There is no need to set a timer or get a friend to film your swing as the app automatically detects when a swing has been taken. Another impressive feature is the way you can compare your swing to tour professionals and the app automatically matches up the key positions for easy comparison.
Like all the best golf apps you can use the analysis tool to draw lines on your swing, view head movement and weight shifts and find out shaft and spine angles. The app also cleverly saves storage on your phone. Most golf apps take up a lot of storage on your phone as videos are usually saved to your phone. The SwingProfile app saves videos inside the app, saving storage space. This app will most definitely help you get better every shot.
If you're wanting to improve your game by making major changes or if you just want to tweak your swing mid-season then you should definitely consider downloading one of these apps from the android and app stores. There are few apps on the market that will beat these. Not only do they serve the purpose of helping you improve your game but you can also have fun comparing your swing with your friends through the joy of social media.
---
What do you think? leave your comments below (Comments)
---
---
comments powered by

Disqus