By: Golf Shake | Tue 13 Oct 2015 |
Comments
---
Sports Writer Derek Clements recently took the time to catch up Simon Dyson who is currently recovering from surgery following a serious wrist injury to discuss all things golf.
---
We have all done it – a bad shot, followed by a club slammed into the ground. Some of us have even gone so far as to hit the ground so hard that the shaft snaps (guilty as charged). There are some serial offenders in the professional game, including Henrik Stenson, who once cut his finger while assaulting an iron and required medical attention before he could complete his round. Rory McIlroy, Tiger Woods, John Daly have all thrown clubs into lakes.
Golf is that kind of a game. It frustrates the hell out of you when things go wrong. But sometimes such actions can backfire. Just ask Simon Dyson, the European Tour player.
The affable Dyson is currently recovering from serious surgery to his left wrist, and all because, like the rest of us, he was upset after hitting a bad shot. It was at Gleneagles two-and-a-half years ago and he remembers it clearly. He hit a poor shot to the fourth hole, hit his club on the ground and the shaft snapped.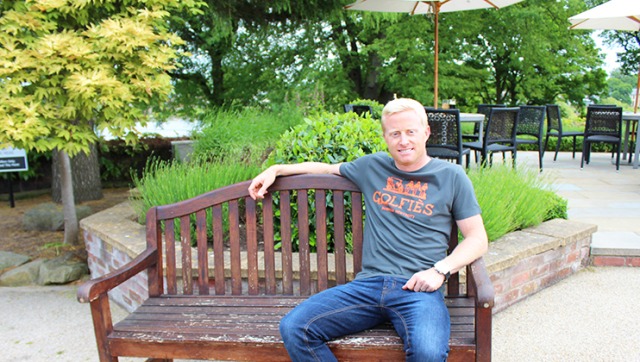 "Not only did the club break, but the impact hurt my wrist," he says. "It hurt but I had no reason to think it was anything serious, so I rested it for about a month and it settled down nicely and I never thought any more about it."
Two years later he was playing with some friends and went to hit a three wood from the fairway when he felt something snap. The pain was excruciating. For a moment, Dyson thought he had broken his wrist. He wasn't to know it then, but it turned out that the protective sheaf on the tendon of his left wrist had shattered.
"It was really painful and when I went to hit another shot I knew that it was probably pretty serious, so I had no option but to walk off the course," he says. "I then got in touch with Bupa and they referred me to Mike Hayton, whom I saw the following day. By then it didn't feel too bad, so I was told to rest it again. This time I took eight weeks off and then I played in Spain and it went again during the second round. I took the following week off, had a cortisione injection and then went to play in the Irish Open and this time I didn't even get through the first round."
Dyson went back to see Hayton, who told him that this time the only option was surgery. He was chomping at the bit to have the operation but because he'd had a cortisone injection he had to wait another month.
On June 24, the operation took place. He was in a full caste for a week and a gutter caste for six weeks. Then began the long road to recovery. Dyson was given exercises to do to strengthen his wrist and regain full mobility.
While all of this was going on, he realised something. He turned professional in 1999, had won six times on the European Tour and had what by anybody's standards is a successful career. But his love for the game had gone. Now, sitting on the sidelines, he realised that he was missing it. He has been able to spend time at home with his wife, Lyndsey, and young daughter, Isabella, but his hunger for the game has returned.
"I have started hitting golf balls again," he said. "A couple of weeks ago I started putting and chipping and now I am hitting irons at about 75%. I am not allowed to hit balls off the ground yet, so everything has to be teed up. I am now getting to the point where I am hitting my five iron. Next will be a rescue club and then I go back to see the doctor. He is really pleased with the progress I am making and says that I am about two weeks ahead of where he would expect me to be."
Determined to come back on tour fitter than ever before, Dyson is training with Sale Sharks rugby union club – and he is loving it. "I have been working with them for six weeks and it is just great," he says. "They are a great bunch of blokes and have really helped me."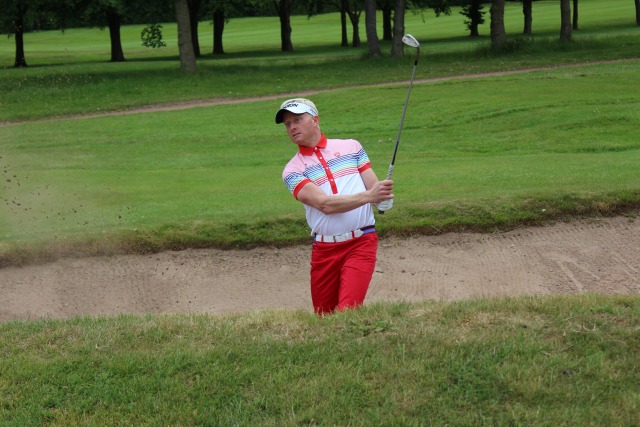 Dyson expects to make a full recovery, with his doctor predicting that his wrist will actually be stronger than it was before. So when will he be back in tournament action?
"My target is the Alfred Dunhill Championship at Leopard Creek in South Africa at the end of November, and the doctor thinks that I will breeze it. The next month is crucial for me. If I can be hitting a driver without any reaction then I will be absolutely fine.
"Because of all the work I have put in away from the course I feel really good. My swing feels great. I don't want to sound cocky, but things have always come pretty easy to me but the past two or three years I have felt that the harder I have worked at my game the less I have got back from it. This feels like a fresh start, and I am just raring to go. I can't wait to get back out there."
Dyson is a colourful character, and the game has missed him. One of his sponsors is Bunker Mentality, the clothing company, and he says that it is a really good fit for him. "I haven't been as hands on this season as perhaps I would have liked to be, but I hope that will change. I know what direction they want to go in. The designs and quality of the clothing is fantastic and I have pitched a few ideas.
"It is a real compliment that they have taken me on. I am quite a bubbly person and their clothing reflects that. When you are playing golf in warm, sunny weather and you are wearing clothes that are brightly coloured and well made, it makes you feel good."
Clearly, Dyson's season has been a complete write-off and he will be seeking a medical exemption to compete in 2015-16. It will surely be a formality, and we can all soon look forward to seeing this popular, jaunty character striding the fairways again.
Even with Dyson on the sidelines Bunker Mentality will feature on Tour this year as they sponsor the Pro-Am at the Turkish Airlines Open. All the marshalls and volunteers for the event will be wearing Bunker Mentality gear and to celebrate the brand is holding a competition to win a place in the Pro-Am event. Visit www.bunker-mentality.com for details on this fantastic prize.
---

Be part of the action with a selection of unique golf tournament experiences, from playing in a pro-am with the stars to watching the action at golf's most illustrious events. Whether it's the Masters or The Open, The Ryder Cup or WM Phoenix Open, build your own bespoke package with the experts at Golfbreaks.com.
---
What do you think? leave your comments below (Comments)
---
Tags: simon dyson interview Bunker Mentality
---
PLAY MORE PLAY BETTER - LATEST TUITION TIPS
---
Leave your comments below
comments powered by

Disqus