Srixon launch Z355 series of drivers, fairways & irons
By: Golf Shake | Tue 18 Aug 2015 |
Comments
---
SRIXON have announced the launch of it's new range of game improvement clubs - The Z355 series and Z155 irons, now with Action Mass™ technology. Equipped with a heavier head and Miyazaki Jinsoku ultra-high balance point carbon shaft, the clubs are designed to deliver enhanced swing stability and maximum distance for average golfers with mid-to-high swing speed.
The Z355 series clubs (drivers, woods and irons) and Z155 irons will be available from mid-September 2015 at authorised Custom Fit retail outlets throughout the UK and Ireland.
About Action Mass™ technology
Action Mass™ is a key technology featured in all Z355 series clubs and Z155 irons. The heavier head design delivers greater swing stability and increased ball speed on impact, to achieve maximum flight distance and improved directional stability.
The Miyazaki Jinsoku ultra-high balance point carbon shaft with increased rigidity at the grip and tip delivers higher head speed to achieve maximum flight distance and improved directional stability.

About the Miyazaki Jinsoku shaft
The ultra-high balance point carbon shaft with increased rigidity at the grip and tip plays an important role in Action Mass™ technology.
The shaft is designed with a softer mid to counteract the stiff upper point and tip, achieving a combination of flexibility and firmness that enhances directional stability and maximizes flight distance. The mid-low kick point design facilitates better ball grip.
The "jin" in the shaft's name means "fast". The Kanji character for "jin" is incorporated into the design to impart an image of sharpness and nimbleness to the golfer's swing image. The Miyazaki Jinsoku shaft is employed in all Z355 series and Z155 clubs.
Z355 Driver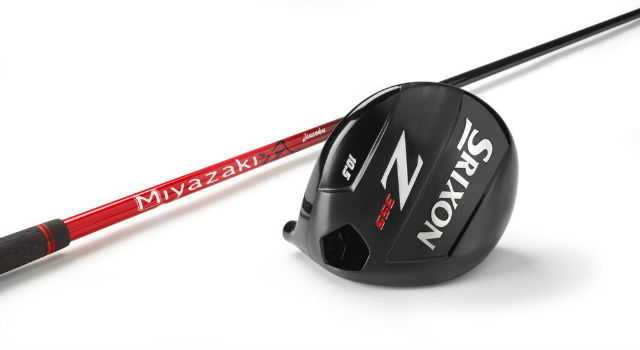 The Z355 driver features Action Mass™ technology, which was developed to combine a heavier, mass-designed head (211g) with a Miyazaki Jinsoku ultra-high balance, lightweight shaft to achieve improved swing stability and both higher ball speed and higher head speed. A variety of other design features, such as the largest head MOI in the SRIXON Z series for a more stable impact direction and a cup face that helps prevent flight distance loss on off-center shots, ensure stability and maximum flight distance for golfers.
The Z355 driver has an SRP (Suggested Retail Price) of £279 / €379.
SRIXON is working to support the golfing pleasure and improvement of each golfer with such features as a custom-shaft-compatible, 12-position shaft angle adjustment mechanism; the use of a truss rib to suppress variations in impact sound whether the ball is hit off the center, toe, or heel of the club; and SRIXON's original Z Swing Analyzer fitting system, which suggests the most appropriate SRIXON Z series club, shaft flex, loft angle, and club setting or each individual player's swing pattern.
Z355 Fairway Woods/Hybrid
In addition to Action Mass™ technology, all Z355 fairway woods and hybrid clubs feature the largest MOI design and crown size in the series, making it easy for the golfer to get more loft and greater flight distances.
The long hitting 3-wood employs a cup face to make even greater flight distances possible. An inner bar (40 g) is fitted inside the club head to achieve a lower, shallower center of gravity, to deliver a low-spin, high trajectory. The inner bar is also positioned to float above the sole so that, unlike a fixed weight, it will not interfere with face flexing so there is no sacrifice of flight distance.
Z355 fairway woods have an SRP (Suggested Retail Price) of £179 / €250.
Z355 hybrids have an SRP (Suggested Retail Price) of £159 / €225.

Z355 and Z155 Irons
Tour V.T. sole individually designed for each club number for improved follow-through
This original Z-series technology is also featured in the SRIXON 745 and 545 Players series. In the Z355, the distance between the leading edge and the sole apex is individually tailored for each club number to achieve improved follow-through and less snagging. This feature is acclaimed by the world's tour pros because it eliminates flight distance losses on iron shots.
SRIXON's unique surface heat treatment under improved heat conditions and a resin badge on the back face both contribute to a softer impact feel.
The face sports a distinctive SRIXON design that athletes prefer, with a smaller margin on the neck side of the face. At the same time, the face area has been increased and the sweet spot enlarged, for even better flight distance performance and stability.
The Z155 features a wide sole design for easier loft, Srixon also alow you a Z355 and Z155 clubs can be freely mixed and matched to meet individual players' objectives.
Srixon Z355 and Z155 UK and Ireland Pricing and Availability
The men's Z355 and Z155 series irons (5-PW) have an SRP of £549 / €780 (graphite shafts) and £499 / €705 (steel shaft). The SRP for a single club is £91.50 / €130 (graphite shaft) and £83.50 / €117.50 (steel shaft).
The ladies Z155 series irons only available with a graphite shaft option and have an SRP of £459 / €650 (6-PW) and at £91.50 / €130 for a single club.
The Z355 and Z155 series are available at all authorised Srixon Custom Fit Centre. Use the Store Locator to find your nearest Srixon retail outlet.
For more information on this release, XXIO, Cleveland Golf or Srixon please vist www.srixon.co.uk | www.clevelandgolf.com
---
What do you think? leave your comments below (Comments)
---
Tags: srixon
---
PLAY MORE PLAY BETTER - LATEST TUITION TIPS
---
Leave your comments below
comments powered by

Disqus