Vonn good for Tiger's golf - Vice versa?
By: Golf Shake | Mon 17 Feb 2014 |
Comments
---
Post by Sports Writer Derek Clements
---
DID anybody else raise an eyebrow when Lindsey Vonn, arguably the best woman skier ever produced by the United States, revealed that her boyfriend,
Tiger Woods
, had helped her to beat depression?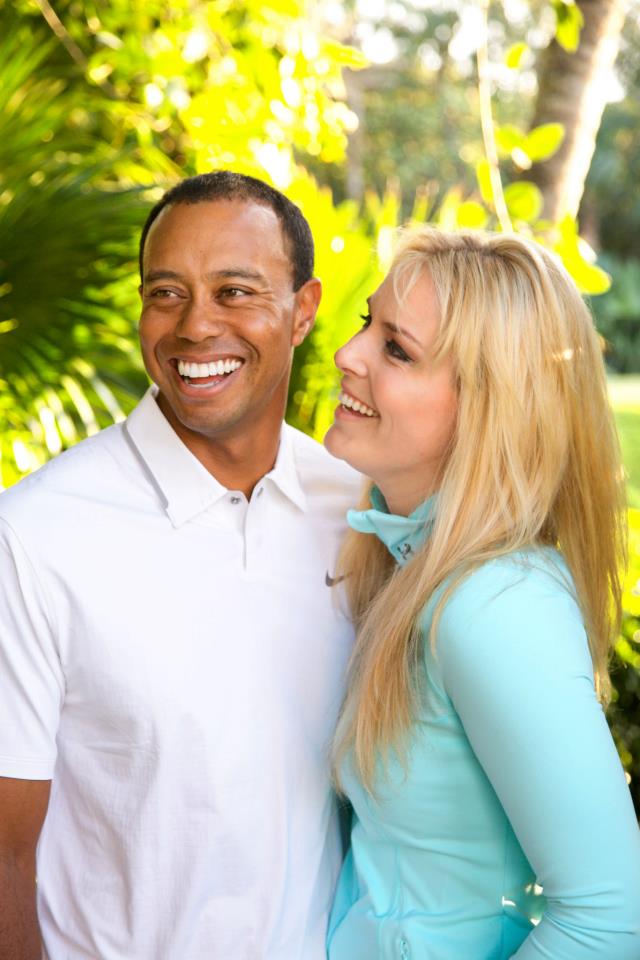 Vonn was heartbroken when she finally had to admit that she wasn't going to be able to compete at the 2014 Winter Olympics in Sochi. The American skier would surely have been a shoo-in for at least one gold medal had she been fit, and possibly as many as three.
She has suffered a series of injuries during the past 12 months, the most serious of which was when she tore her anterior cruciate ligament. This is an injury that ends careers. She underwent a make-or-break operation in November, but simply didn't have enough recovery time.
Vonn and Woods have been an item since late 2012. The golfer knows all about knee injuries, of course, have struggled throughout his recent career. He famously won the 2008 US Open while playing with a broken leg, and has had several knee operations, a result of the speed he generates during his swing and the force he puts on his left knee at impact.
Vonn admits that she has suffered from clinical depression for most of her life, but Woods seems an unlikely person to help her through it. Well, he's not exactly the most light-hearted athlete you've ever known, is he?
"Tiger's helped me stay patient through rehab," Vonn said. "He helped me take it one day at a time."
She credits Woods with boosting her mood and outlook and claims that her year with him has made her "the happiest [she's] ever been."
"We're good for each other," Vonn said. "I don't know what he's learned from me, to be honest. But we push each other and help each other when we're down."
One of the things Woods will have learnt from Vonn is how to deal with an adoring public, and how to accept that if you are in the public eye then you are going to be stared at and asked for your autograph.
Woods has never admitted it, but there are many who believe he suffers his own battles with the dark side. He seldom seems to enjoy himself on the golf course these days, even when winning tournaments. It could well be that his relationship with Vonn turns out to be the best thing that has ever happened to him.
There is one thing that troubles me, however. Woods withdrew from the Accenture World Matchplay championship, giving as his reason the fact that he would be watching Vonn compete at Sochi. Erm...didn't we just establish that Vonn isn't taking part in the Winter Olympics?
It's bad enough that Woods isn't playing, but then we learn that Adam Scott and Phil Mickelson have also pulled out. I'm sorry, but I firmly believe that if you qualify to take part in a World Golf Championship event then you should be on the first tee. Failure to do so without a very good reason should result in a loss of world rankings points - clearly, fining these guys would be a waste of time.
The public want to see the world's best golfers taking part in these tournaments; indeed they expect it. Is it because they just can't be bothered when there is a risk that they could be knocked out in the first round of a matchplay event? Is it because they don't need the money? Or is it because they are so arrogant that they believe sponsors will continue to plough in their profits?
There is a wider principle here. If you sponsor a tournament, spending millions of dollars to do so, and the players you expect to compete choose to stay at home, could anybody blame you for taking your money elsewhere?
Image credit - Tiger Woods Facebook page
---
Derek Clements is a sports journalist with a particular passion for golf with over 12 years of experience covering golf and other sports including Chief Sub-Editor on the sports desk of The Sunday Times. To contact Derek email direct via [email protected]
---
Related Articles
Chipping In - Wood's stock falling; McIlroy's rising
10 things i'm expecting to see this season
Graded - World's top ten players - 2013
---

Be part of the action with a selection of unique golf tournament experiences, from playing in a pro-am with the stars to watching the action at golf's most illustrious events. Whether it's the Masters or The Open, The Ryder Cup or WM Phoenix Open, build your own bespoke package with the experts at Golfbreaks.com.
---
What do you think? leave your comments below (Comments)
---
Tags: tiger woods PGA Tour
---
PLAY MORE PLAY BETTER - LATEST TUITION TIPS
---
Leave your comments below
comments powered by

Disqus