FootJoy introduce new HydroLite performance shoe
---
FootJoy has launched an exciting new footwear category aims to deliver excellence in ultra-lightweight waterproof performance. The eye-catching new FJ HydroLite family offers an extensive range of stable, comfortable golf shoes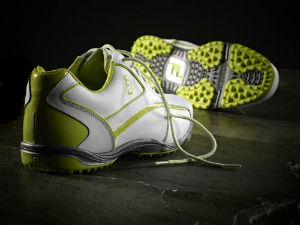 with an innovative low-profile outsole for the optimum in stability, flexibility and durability with the option of seven spiked and three spikeless models.
Designers have delivered a mix of traditional & fashion-forward sports styling across the extensive range to cater for the varying tastes of all golfers. The added option of the BOA lacing system and a variety of classic and modern colour options complete what will undoubtedly be one of the most popular new product launches within the market-leader's diverse 2014 footwear collection.
To celebrate the unveiling of the FJ HydroLite footwear family, the company is offering each golfer who purchases a new pair of FJ HydroLite or HydroLite SL a free FJ #1 Shoe in Golf Poker Chip ball-marker along with its own unique number. Each chip will then be entered in to a draw that will take place on the 31st March 2014 to announce one lucky golfer who will win the once-in-a-lifetime opportunity to tee-it-up alongside one of FJ' Brand Ambassadors in the 2014 BMW PGA Championship Pro-Am at Wentworth on May 21st. Additional prize winners from the draw will also receive a variety of other FJ 2014 product, including FJ HydroLite Rainwear. Winners will need to reply to [email protected] sharing an image of them with their ball marker to confirm entry for prizes.
This brand new performance category from FJ represents a new expansion within the brand's popular mid-price point golf shoe category, which continue to be hugely popular around the world.
Standout features and benefits of the new FJ HydroLite include; technologically-advanced lightweight, full grain leather uppers for the very best in waterproof protection alongside superior comfort and fit synonymous with all products that bear the FJ mark. A new low profile outsole also provides increased flexibility and stability through each stage of the swing, with the addition of the P.I.N.S (Performance Insert System) cleat system. Just like the spiked version, HydroLite SL offers lightweight, low-profile, waterproof construction for 'all year round' play as well as on and off-course versatility.
FootJoy HydroLite specifications, availabilty and pricing
FJ HydroLite is available in a wide range of sizes and the following colour options; White/White Tumbled, White/Taupe Tumbled, Black/Black Tumbled, White/Red and White/Black. FJ HydroLite is also available with the innovative BOA Lacing system in White/Silver or Black/Black. RRP: £87.50 (£99.95 BOA)
The HydroLite SL is available in White/Black, White/Lime and White/White colour options and the widest range of sizes in the market. RRP: £79.95
Availability: On sale now
---
Related Articles
FootJoy introduce D.N.A technology
FootJoy brings casual element to iconic DryJoys
---
Tags: Footjoy
---