FootJoy introduce D.N.A. technology
---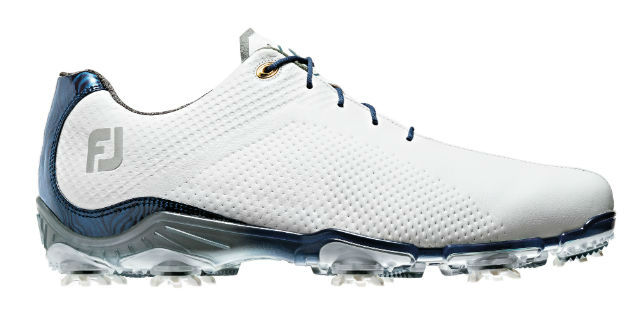 FootJoy has announced the development a range of new features bring major new benefits to their shoes - D.N.A. (DryJoys Next Advancement). Featuring the most comprehensive feature package ever delivered by FJ, D.N.A. footwear represents the most proven elements of the world-renowned DryJoys footwear family with all-new, cutting-edge componentry and construction methodology for the very best in performance.
"To create the most feature-laden golf shoe in our history, we needed to explore the anatomy, or DNA, of our premium footwear products and then scrutinise each and every aspect throughout the design and development process," commented Doug Robinson, Vice President of Design and Development Worldwide. "Each material and component was carefully considered in order to deliver a shoe with lightweight stability, a custom-like fit, superior feel and ultimate performance."
FootJoy D.N.A key features and benefits
•
The 3D FoamCollar™ for COMFORT - The 3D FoamCollar moulds to your ankle for ideal comfort, fit and support. Locking your ankle in place eliminates any movement of the foot – a situation that can lead to discomfort and power-reduction during the swing.
•
SnugFit Tongue for FIT - The SnugFit tongue is engineered utilising thin, soft, and breathable materials - including MicroVent™ technology- in order to properly conform to the top of your foot providing superb fit and an incredibly comfortable in-shoe environment.
•
NitroThin™ TPU Outsole for STABILITY - The all-new NitroThin TPU outsole has been in development for several years, undergoing numerous rounds of testing and technical modifications. The result is a super thin-yet-strong outsole that frames the soft, FTF internal midsole to deliver the perfect combination of stability and flexibility for maximum on-course performance.
•
Xtra-Thick FTF™ FitBed® for Cushioning - In order to achieve the sleek, low-profile look of D.N.A., the midsole was moved inside the shoe. FTF™ (Fine-Tuned Foam), a new proprietary cushioning material, is used throughout the interior FitBed midsole. In order to achieve in-shoe stability as well as premium cushioning, two densities of FTF were utilised - a firmer density for stability around the perimeter of the FitBed and a softer density in the heel and forefoot providing industry-leading in-shoe comfort.
•
ChromoSkin™ Leather System by Pittards - D.N.A. also features the all-new ChromoSkin Leather System by Pittards® of England, one of the premiere suppliers of high performance leather in the world. This unique full grain leather system is lightweight, durable and supple with superior waterproof performance. By using this premium leather, the wearer will experience tremendous breathability and will find the upper will conform to their feet for an incredible custom fit.
Played on Tour
D.N.A. has already seen validation at the highest level, as FJ brand Ambassadors Adam Scott, Webb Simpson and Jordan Spieth immediately put the performance D.N.A. golf shoe in play before the Presidents Cup.
Adam Scott has worn D.N.A. golf shoes exclusively since September, including while competing at the 2013 Presidents Cup and during his three recent wins in Australia.
"D.N.A. is the most technologically advanced shoe FJ has ever produced and it embodies everything I am looking for in a golf shoe," commented the world's #2 ranked player. "They actually activate my feet, giving me great balance throughout my swing."
Webb Simpson has also been wearing D.N.A. shoes since the Presidents Cup.
"You want a golf shoe that is comfortable and stable, and this gives you both. The new technology in the tongue and heel collar allows the shoe to mold to your foot, giving the golfer everything they will need on the course."
Jordan Spieth also received the shoes at the Presidents Cup and wore them throughout the competition, including while recording an ace in the practice round.
"I was drawn to the shoes first because they looked awesome. But then the comfort and stability was great too, so it was an easy decision to put them in play. It actually feels like I'm playing without shoes on because they are formed so well to my feet."
The launch of D.N.A. DryJoys Next Advancement will be supported by broadcast, print and digital advertising featuring several Tour players and an "inside" look at what makes the new D.N.A. shoe from FootJoy so unique.
RRP: £150/£165 BOA
AVAILABILITY: March 2014
COLOUR OPTIONS: White/Liquid White; White/Liquid Red; White/Liquid Navy; Light Grey/Liquid Orange; Black/Liquid Black and White/Liquid Silver featuring the BOA Lacing System.
---
Tags: Footjoy
---