Srixon AD333 - Golfshake Member Test
---
Srixon Golf has enjoyed great success in recent years and is now one of the worlds leading golf ball manufacturers, so when some brand new Srixon AD333 balls arrived at Golfshake HQ we sent some on to Golfshaker Andy Pilcher (17 hdcp) to review....
Adrian's Review:
I tested the Srixon AD333 for the first time yesterday. I've always used a 'feel' ball in the summer and a 'distance' ball in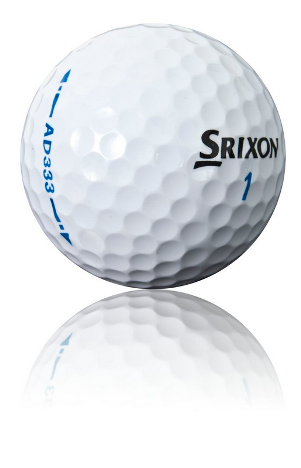 the winter. So to use a ball that claims both, I was a little skeptical. However after a friend recommended them, I thought I'd give them a try. A pack of 12 for £16 makes these a mid range priced ball.
Srixon AD333 Technical Specs
A two Piece golf ball with 333 dimple design. Includes a 'large growth' core.
Looks
The ball is typical Srixon, clean and smart with no un-necessary graphics on the ball. The 'line' on the ball could do with being slightly longer but that can be rectified with a sharpie and a steady hand.
Feel
The feel of this golf ball is excellent. It spins extremely well around the greens and rolls true if struck well when being putted. The balls feels great off the face of an iron no matter what shot type is being played.
Performance
The distance this ball offers i feel is a little bit of a mis-claim. It doesn't carry as far as i'd expect a true distance ball to fly but then it is trying to offer both feel and distance. Perhaps a truer description would be that the ball offers the same feel & spin as a true 'feel' ball with little distance sacrificed. But then that probably wouldn't sell quite as many balls.
Pros
An impressive spin rate and feel in and around the greens mark this ball above most mid price ranged balls i have played.
Cons
A face that marks or scuffs easily if mis-hit and no real explosive distance mark this ball down slightly as I feel it doesn't deliver on the 'distance' claims made
The Bottom Line
The pricing of this ball is spot on. A great mid budget ball for those weekend golfers who want a decent ball that won't break the bank. If you want control around the greens while sacrificing minimal distance then this is the ball for you. Just don't expect to make any massive distance gains over other soft feel golf balls.
Adrian's Rating - 8/10
Srixon AD333 pricing
The new AD333 has an RRP £28.99 per dozen and is available from leading Golf Retailers and Professionals.
To find out more please visit the Srixon website: www.srixon.co.uk
---
Related Articles
---
Tags: srixon
---
PLAY MORE PLAY BETTER - LATEST TUITION TIPS
---