Founder of Adams addresses industry issues
---
Barney Adams the Founder and former CEO of Adam's Golf has addressed some issues facing the golf industry in an open letter. Here are some of his thoughts on changes and inprovements that could be made. He invites anyone interested in the story to contact him via email - [email protected]
---
I need to start with some general comments. There are lots of issues to be addressed in the industry, I'm a huge fan of junior programs, caddies, family friendly courses initiatives, at the local level too numerous to mention. I am zeroing in on one specific aspect of participation because if we ignore that, if we keep doing the same things we've done in the past the prognostication for the future is very unhealthy. I have no illusions about the difficulty involved to bring about this change.
"The golf industry should pay very close attention to Barney's ideas", said Tom Fazio, renowned golf course architect. "The game should be fun, not a struggle."
Good business practices teach us to be very focused in our marketing efforts. The golf industry has data that identifies the target market but somehow the message of focused marketing gets lost. "Come play our magnificent 7200 yard (famous designer) layout." At 7200 yards you are marketing to maybe 2% of your potential customers. When golfers do arrive they are not allowed to play from 7200 yards but moved forward as if they aren't worthy. So we've accomplished two things: spending advertising dollars ineffectively and creating a negative environment once customers get on property.
And here's the odd part: I don't fault the owners/operators for this. They are responding to a culture developed over the years that emphasizes course length not shots into the green.
To start let me be clear, you cannot put golf in a defined box. One of the great joys of the game is its inconsistency; you can have two 360 yard par 4 holes that play completely different. Fairway slopes, prevailing winds, types of grass hazards to avoid and I could go on. So analyze in golf terms, the way holes play, not in absolute yardages.
No better example exists than the recent U.S. Open at Merion. I loved watching the best players in the world trying to hit short par 4 greens from the rough or, even the fairway, and you know what? Sometimes they didn't !
I use men's data simply because it's more familiar and easier for me to write about; I have women's data as well.
Fig 1 shows a classic long par 4, 460 yards, with a trap protecting the right side of the green. This is pretty basic architecture. Data from the PGA Tour's Shotlink system on 35,000 drives shows that Tour players will hit 6 or 7 irons into the green 26% of the time, an 8 iron 36% of the time and 9 irons or wedges 22% of the time. There will be roughly 40 yards between the longest and shortest drives. This is why 7200 yards is no problem for Tour players, who constitute .08% of those who play. Please allow me to emphasize: the .08% are great talents who play a game that is television entertainment. Somehow the folks who are protecting the game get them mixed up with the other 99.92% -us.

For amateurs, who cares?! Using data from 1.8 million handicaps, fewer than 10% of players will get home to the aforementioned green in two shots using any club; stick a creek in front of the green, making it a forced carry, and the GIR figure drops to less than 6%.
Aha! A poor example, you say, because amateurs don't often play 460 yd par 4 holes. I'll agree, but even under Tee It Forward they will play 405 yard par 4's. From that distance all of the Tour players, if they hit driver or three wood off the tee, will hit 9 iron or wedge into the green on their second shots, in while the number of amateurs getting home in two on a 405-yard par 4 leaps all the way to 24%, and to 15% with that damn creek to carry. That carefully sculpted trap on the right might work better as a grass bunker because even in that at 24%, many are rolling the ball onto the green, not hitting a soft shot to a protected pin.
So it isn't about forward tees, it's about where you play approach shots from. On Tour the average iron into a par 4 hole is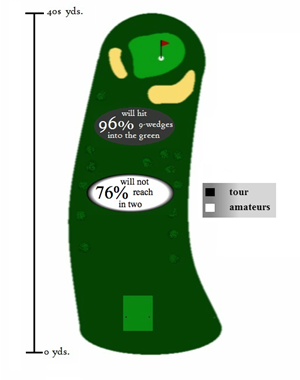 an 8 iron and that's good enough for me. (I mean my 8 iron, which goes 135 not theirs, which go 164 yards on average) Do you get it; how can I correctly emphasize this ; not one hole but 8 irons or less for most second shots. Play the same type of shots into the green that the best players in the world do; most golfers play the equivalent of a 12' basket.
When I bring up the subject when visiting clubs, I see furtive glances, folks wondering who those "other guys" who don't hit 8 irons are. Yeah, right! Many decades ago I cleaned clubs and it stuck with me that the long irons were seldom used, a thought that ultimately led to the design of a fairway wood. Cleaning clubs today and I'd see used hybrids and relatively clean 6-9 irons!
Install me as Grand Czar and all courses would be required to have markers measured 135 yards from the green. They could be painted sprinkler heads, small plaques (I will have some official Czar discs available with my likeness), trees like the old 150 bushes. My army of golf police will inspect and certify them.
The markers are reminders. It's like having a great Scottish caddy standing in the fairway, "Aye, Laddie play from here. It's just like the professionals only adjusted for you." He will explain there is a 40 yard spread-plus or minus 20 yards-from the markers and playing within that spread is to play the same shots Tour players do. Over a relatively short period, the question of what tees to play will become evident. The back tees don't disappear; they just get used by the few that really belong there.
Originally I had this grand idea of official markers sanctioned by the PGA of America and the USGA. The regional PGA of America staff would verify them as they visited courses. This would allow certified facilities to advertise that they featured the chance to play Tour-type shots into the greens, have fun, and enjoy the game.
I even invented a sponsor who would host a three-year amateur event played from the correct distances. I called the event "The Tour Test" as a way of incenting folks to play from the relevant areas. Like a lot of my grand schemes, reality intervened. The USGA and PGA of America have their own programs.
Truth is I harbor a dream of a large corporation with ties to golf contacting me about wanting to be associated with an event that so strongly supports amateur golf. Oh Golf Channel and a partner, can you hear me, televised regionals, finals; this would be a game changer. Nope, not looking for work here...just trying to help.
I think this concept has a near zero chance of becoming adapted. Tour golf produces a state of 'television euphoria' and a commentary that the game isn't doing well is not well received. The PGA of America will continue efforts to bring in new players and there will be some references to 'more fun' and 'playing faster'. Yes, I see the Jack Nicklaus spot on moving to forward tees. This is the closest to getting those who have cut back to start playing more but at the course level this gets interpreted as an application for senior players and is not becoming widely accepted.
There are two factors conspicuous by their absence in this article. The first is the issue of slow play; very simply, if golfers learn to play from the correct approach area play will speed up. I realize slow play is a study unto itself, but this movement is definitely on the right side of the equation. The second is cost; I believe in value. Once you get courses playing correctly, you've increased value. The marketplace will determine actual cost far beyond any words by me.
As an added thought, turn off the water. Two reasons: it will make the course play faster, and pretty soon you're not going to be able to afford it anyway. Educate the golfing market that soft green fairways are unhealthy; a light tan means a deeper, stronger root structure.
There is actually a part 3, discussing this philosophy in relative detail for par 3, 4 and 5 holes and how a Tour Test course can "stretch" to 6400 yards. It includes a list of FAQs assembled over the last two years. I'm happy to share these with those interested,
[email protected]
---
Tags: adams
---
PLAY MORE PLAY BETTER - LATEST TUITION TIPS
---