SkyCaddie Watch Review - SkyCaddie Member Test
---
GPS units have made some giant leaps forward over the past few years from their early inception through to todays units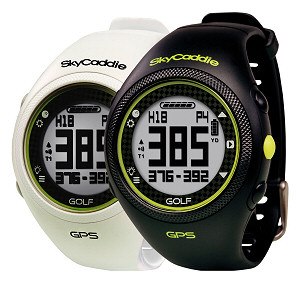 which are the most accurate ever and a 'must have' for all serious golfers. One type of unit that has gained huge popularity is the GPS wrist watch.
SkyCaddie are one of the world's leading Golf GPS providers. Earlier this year they launched their brand new Sports Series of units which included the SkyCaddie Watch.
We sent Golfshaker Kamal Lakhani out onto the course with the new SkyCaddie GPS Watch and asked him to put it through it's paces:
What SkyCaddie say:
The SkyCaddie Watch isn't just another golf GPS watch! It's an attractive, lightweight, flexible and comfortable everyday sport watch that just happens to provide superior performance on the golf course. Powered by Core Golfer Technology and golf's only ground-verified course maps; start playing better golf and having more fun with the new SkyCaddie Watch from the highest-rated and most-trusted rangefinder in golf.
12 months free membership in the UK upon registration.
SkyCaddie Watch Technical Specifications
•High precision ground-corrected course maps*
•Over 30,000 Updatable Preloaded, ready-to-play updatable course maps**
•Big, easy-to-read front, center and back of green distances
•Measure any shot and learn how far you hit each of your clubs
•Enter your scores for each round
•Track distance, time, speed of any run, walk or bike ride
Kamal's Review
Looks
I tested the White version which looks smart &, sleek & modern. My only concern was that it may get dirtier than the black version but only a long term test will tell us that. The screen was bright and clear enough even in bright July sunlight and the numbers looked large enough for most people to read.
Feel
Felt comfortable enough to wear and after a few holes I was not even conscious of it on my arm. The strap comes with many possible loops so it looks like one size can fit all and you can have it as tight or loose as you prefer.
Performance
Very accurate as I verified by comparing to my laser range finder and I also stood right in the middle of one of the large greens on the course and was impressed that it showed me zero yards to the centre! The signal did take quite a few minutes to find the course so make sure you switch it on at least 10 minutes before you tee off!
Battery life was very good - on just a short charge in the clubhouse during lunch before teeing off it easily did 18 holes!
Pros
Ease of use - quick glance at arm gives you basic info that most people would find useful.
Comes preloaded with over 30,000 courses so no need to download anything - can use straight out of the box
No annual fees! Meaning that once you purchase your watch that is all you will ever pay!
Cons
Only gives basic green info ie front, middle & back - better golfers & those wanting to see the full hole layout will be better off with lasers or full size GPS units
The Bottom Line
Quite simple to use and very convenient & but would suit someone who just wants basic info with a quick glance at their arm rather than the all the extra info that other GPS Units provide
Kamal's Rating - 7/10
For more information on the SkyCaddie watch and other SkyCaddie GPS units please visit www.skygolf.com
* SkyCaddie WATCH owners have access to Front-Middle-Back yardages for all preloaded SkyCaddie global courses, for no extra fees
* Users must Register the device within 30 days of first usage
---
Related Articles
SkyCaddie launch new Sport Series
---
---
PLAY MORE PLAY BETTER - LATEST TUITION TIPS
---