John Letters TR47 Review - Golfshake Member Test
---
We take a look at the brand new John Letters TR47 range. Golfshakers Matt Holbrook and Kamal Lakhani joined us at Direct Golf Cambridge to put the new range through it's paces.
---
John Letters recently launched a brand new range of drivers, fairways, hybrids and Irons - The TR47 range, which will replace the hugely popular T9+ series.
The new TR47 pays homage to the past and the present - with tradition meeting technology. '47' recognises the glorious Open Championship victory for Fred Daly in 1947 using John Letters equipment and 'TR' , short for Trilogy, refers to the famous John Letters design of three different clubs styles in the TR47 range.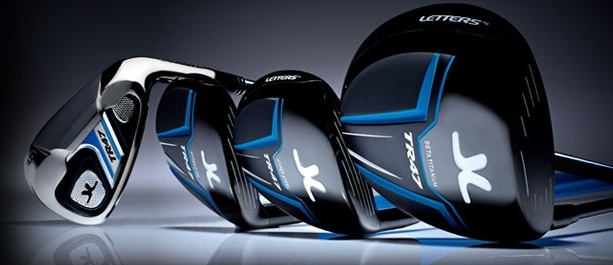 John Letters have continued with their design philosophy - classic head shapes meet the latest material innovations. John letters have utilised technology and precision engineering to create their most advanced range of products in their recent history. Letters are so confident in the performance of their latest product range that they are offering a 47 Yard Challenge, gain 47 yards against your current clubs or your money back!
What John Letters say:
Driver: Maximum distance and power comes from the four-piece cup face, which allows the ball to fly effortlessly from the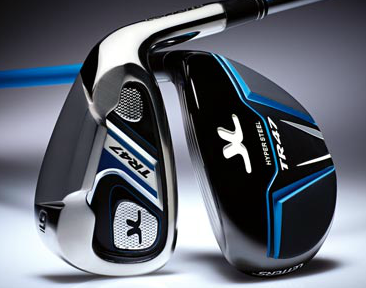 club face with the perfect trajectory and precision, thanks to the premium 15-3-3-3 titanium face.
Fairway Wood and hybrid: Featuring a similar traditional design to the driver, the TR47 Fairway Woods offers maximum distance and power from the two-piece cup face, which allows the ball to fly effortlessly from the club face with the perfect trajectory, thanks to the stainless steel face.
The hybrid has a neat, compact and traditional head design that offers maximum distance and power from a two-piece cup face.
Irons: The irons feature Thin Face technology to help increase distance. After significant cannon testing during the production process the specific 2.2mm thick face was chosen as that is the thinnest face achievable under extreme testing.
Golfshake Member Testing
In order to review the new range we selected two active Golfshake members - Matty 'Boom Boom' Holbrook a 23 handicapper and Kamal Lakhani a 12 handicapper to join us at the TR47 product launch at Direct Golf Cambridgeshire to hit the new range.
Here are their thoughts on the John Letters TR47 range:
Looks
Matt: The Irons are very easy on the eye. The thin face of the clubs make them look very thin at address and not bulky and clumpy like others on the market.
The black finish on the Driver/Fairway and Hybrid contribute to a very sleek looking design which adds extra confidence.
Kamal: The irons look like semi-blades - not too thick a topline & I like that when I look down on them. There is some forgiveness but the JL engineers have cleverly hidden the extra help by giving part of the topline a shiny finish which makes them look smaller! The grips look really impressive as well as the Rifle project X steel shafts which make this look like an impressive premium package.
Feel
Matt: Not too heavy. The grips on the clubs gave peace of mind that you will be able to deliver the club face at the required angle without them slipping.
Kamal: Beautiful soft feel from all clubs probably due to the thin face and rubber compound cell behind the face. Solid penetrating ball flight with pretty much the same distance as my current clubs. The sound from all clubs was also quite pleasing and not off putting like some can be!
Performance
Matt: After looking at the averages of my current 7 Iron and the TR47 the difference was very pleasing. My current 7 Iron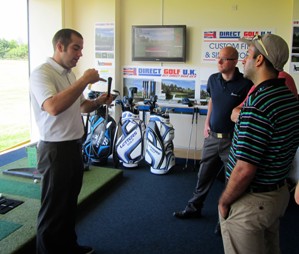 achieved a 165 Yard carry (average of 3 shots) where as the TR47 7 Iron 180 Yard carry (average of 3 shots).
Kamal: Launch monitor stats showed I was getting some good smash factors with all the clubs I tried (7-iron, 4-hybrid, 3W & Driver) with good spin rates, carry distance & roll. Compared to my current set these seemed to be on a par and as a result I could probably put them into the bag seamlessly. Due to the offset on the woods & driver I did find a few of my shots ending up left and would probably prefer a more neutral or open face as my right to left ball flight would be accentuated by these clubs, however this was very slightly noticeable & for the majority of club golfers would be beneficial.
Pros
Matt: Extra distance, slimline look at address, forgiving off the face, great price point. and the all round quality of the club that is made by historic manufacturer.
Kamal: Very solid feel and ball flight across the range & quite easy to hit. Smart, traditional yet modern looks and the inclusion of a premium grip & shaft which resulted in strong performance"
Cons
Matt: With each club being 2 degrees less in loft I feel with this iron set I would have to find room to put an additional wedge in my bag.
Kamal: Offset in woods & driver may not be to everyone's taste. Maybe a tad expensive for some people to justify, also the traditional looks may not appeal to those looking for a more eye catchy look eg white heads or brighter colours.
Verdict
Matt: A great all round affordable product with additional distance. Would recommend these club to a higher handicapped golfer looking to improve.
Matt's rating - 8/10
Kamal: Solid set of clubs which look, feel & perform like the leading brands! Probably suited to mid to high handicappers who want something which is easy to hit yet & fills them with confidence.
Kamal's rating 8/10
For in-depth technical information on materials and the technology used in the TR47 series please - click here
More information on RRP's, fitting and stockist can be found by visiting - www.johnletters.com
---
Related Articles
John Letters launch all new TR47 family of clubs
Adams IDEA CMB irons - Feature Review
---
What do you think? leave your comments below (Comments)
---
---
PLAY MORE PLAY BETTER - LATEST TUITION TIPS
---
Leave your comments below
comments powered by

Disqus