The Little One - Golf Training Aid
---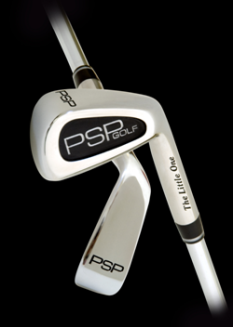 Golf's first golf club designed to help improve your ball striking, increase your distance, elevate your concentration and improve your confidence.
The Little One is a warm up/training aid club that is comprised of a seven-iron with the standard grip and shaft of a regulation sized 7 iron with a club head the size of a golf ball or the "sweet spot" of a 7 iron. The reduced club head is slightly wider and higher than a golf ball so importance is placed on hitting the sweet spot each and every time.
When practicing on the range or around the greens with a smaller pure target, the brain becomes more focused on the task at hand at a much higher level. Transitioning back to a standard club with a much larger sweet spot builds confidence, more consistency and better accuracy, resulting in lower scores.
Sean Foley prominent golf instructor to many of the games biggest stars like Hunter Mayhan, Justin Rose and Matt Kuchar to name but a few, is the lead endorser of The Little One and quotes "this is one of the best warm up clubs I have ever seen".
---
---
PLAY MORE PLAY BETTER - LATEST TUITION TIPS
---