Callaway Golf launch XHOT 3Deep Fairway Wood
---
Callaway Golf is excited have announced the launch of the X HOT 3Deep Fairway Wood, which made its official Tour debut at the Shell Houston Open in both Phil Mickelson's and Ryo Ishikawa's bag.
The X Hot 3Deep was designed for the Tour's big hitters and for players seeking a very low-spinning 3-wood. It provides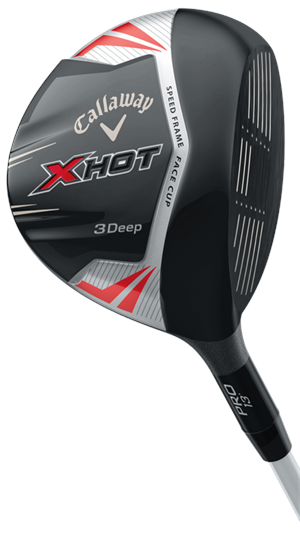 an excellent option on holes where taking a driver may lead to trouble, or on short par 4's where playing for position is key. It features a noticeably deeper face making it 25cc larger than the more shallow-faced X Hot Pro model.
Luke Williams, senior director of global woods and irons for Callaway, commented: "With 3 woods, there are two different camps. There are players that hit their 3 woods primarily off the tee and others who use it mostly off the fairway. The longer hitters use it mostly off the tee, because they very rarely are far enough out on a par 5 to need it."
Derived from Tour players' desire for a deeper faced 3-wood, the X Hot 3Deep is available in one loft - 13° for left-handers, and two lofts for right - 13° and 14.5°. The 13° model has a 185 cc head size, whilst the 14.5° version is 180cc.
The Forged Face Cup with the Speed Frame Face increases ball speeds across the face, and the deeper face and lower CG are designed to reduce spin and provide a stronger ball flight. This 3-wood will provide both long hitting amateur and professional golfers a great option that can be controlled from the tee, while still providing the necessary distance to play aggressively.
Neil Howie, President and Managing Director of Callaway EMEA, said: "This new X Hot 3Deep has already given Phil and other Tour players another option to attack courses with. Whilst testing with Phil, our guys in the US noted that he tends to hit it higher on the face, so the clubface on the 3Deep is roughly 10% higher.
"This design change will allow better players to create higher ball speeds, optimal spin rates, generate a little more distance but still have a club in the bag that is 'workable' off the tee, and manageable from the fairway."
Callaway X HOT 3Deep Fairway Wood Features
Deep Face Design
The deeper face is a preferred look by Tour players and produces a penetrating flight for more distance from everywhere.
Forged Speed Frame™ Face Cup
Increases ball speeds across the face for longer, more consistent distance from everywhere.
Internal Standing Wave
Lowers the CG of the head to create a lower spinning trajectory and increase distance.
Modern Warbird Sole
This updated design builds off one of the most versatile fairway woods ever produced to provide increased versatility.
Lightweight Project X Velocity Shaft
This premium lightweight shaft further enhances speed and distance. Shaft is 43.5".
The Callaway X HOT 3Deep Fairway Wood will be available (PAR April 19) for the following EU recommended retail price:
GBP 189
EUR IRE 239
EUR 229
For further details on the X Hot 3Deep Fairway Wood and other products in the Callaway range, please visit:
www.callawaygolf.com
---
Tags: callaway
---
PLAY MORE PLAY BETTER - LATEST TUITION TIPS
---