Callaway Golf announce custom fitting revolution - udesign
---
Callaway Golf have announced the beginning of a new era in custom fitting and personalisation with the launch of its enhanced online udesig configurator, allowing golfers to create one of 64 possible colour combinations of its award-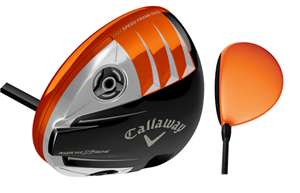 winning RAZR Fit Xtreme Driver.
Callaway say the easy-to-use online configurator will allow customers to select a stock or after-market shaft, its flex, length, grip model and wraps of tape under the grip giving advanced players a truly bespoke, personal fitting service.
By logging onto Callaway's innovative online interface www.callawaygolf.com/myxtreme, golfers can now custom-build a RAZR Fit Xtreme Driver from scratch, uniquely personalising every aspect of the club including head and sole colour and, in an industry first, laser etching a message onto the sole of the club.
With a choice of eight different crown and sole colours, golfers have the option to now use udesign™ to customise their driver in the colours of their favourite football team or even their national flag, taking hardware personalisation further than any other manufacturer.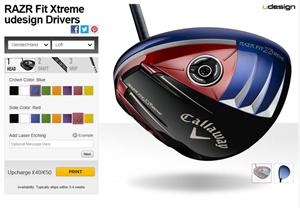 udesign by Callaway takes place in 'real time', with each selection modifying an on-screen image of the RAZR Fit Xtreme Driver to embody every design choice made.
When the driver configuration is complete, a customer can then print their selection and place an order with a Callaway Preferred Retailer. Product delivery is expected to take three weeks.
Neil Howie, Managing Director and President of Callaway Europe, Middle East and Africa, said: "udesign™ is for golfers that take club customisation seriously and recognise the performance benefits associated with extreme personalisation."
"By allowing golfers the opportunity to enhance the look and feel of the RAZR Fit Xtreme Driver, Callaway's longest ever, we are opening the public's eyes to what is possible with golf club configuration, and raising our own high standards in custom-fit to a completely new, fully interactive level."
The udesign™ by Callaway personalisation and customisation features an additional fee of £40/€50 (or equivalent local currency). Upcharge covers custom Head, Headcover and Grip only. Certain after market shaft and grip choices may entail additional costs.
For more information about the RAZR Fit Xtreme and udesign™, please visit www.callawaygolf.com/myXtreme.
---
Tags: callaway
---
PLAY MORE PLAY BETTER - LATEST TUITION TIPS
---