FootJoy launch 'Augusta' Inspired range
---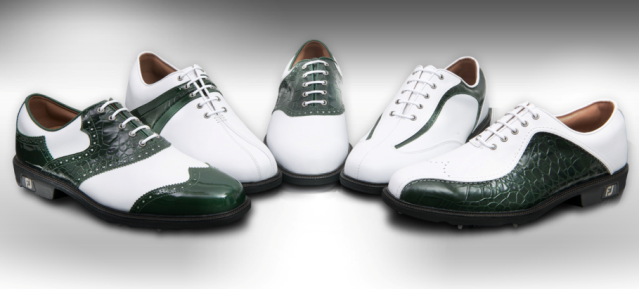 FootJoy are celebrating the season's first Major Championship by introducing a brand-new, "Augusta-inspired", limited-edition green colourway to its innovative MyJoys programme. From April 8th, FJ enthusiasts who stand in awe at the stunning golf course that lies beyond Magnolia Lane can design their own unique pair of FJ MyJoys golf shoes using striking dark green tortoise and patent printed leather, reminiscent of the famed fairways of Augusta National.
The new hand-crafted leather is being offered on all the Men's & Women's golf shoes available on the MyJoys website, including such
popular styles
as FJ ICON™, DryJoys Tour™, Contour Series™, Women's FJ Sport™, Women's DryJoys™ and Women's LoPro™. So why not get yourself into the spirit of the Majors and follow in the footsteps of defending champion and FJ Ambassador, Bubba Watson who is a big fan of customising his own footwear. Who could forget the charismatic long-hitter curling the ball round the trees and striding up the 10th hole in his white/pink FJ ICON Wave, en-route to a dramatic first
Major Championship victory
. The custom offering is available at
www.myjoys.co.uk
and from authorised FootJoy retailers.
"Our MyJoys programme continues to captivate the imagination and inspire the creative juices of golfers all around the world," commented Russell Lawes, European Marketing Manager, FootJoy. "We are always looking to introduce original patterns, colours and leathers into the mix and felt the first Major of the year represented the ideal opportunity to unveil this inspired colour option."
---
Tags: Footjoy
---