PING launch Scottsdale TR putters
---
The Scottsdale TR putters feature two industry-first innovations – an insert with variable-depth grooves, and the option of an adjustable-length shaft in all traditional-length models.
PING say that the variable-depth grooves in the insert greatly improve ball-speed consistency whether the ball is struck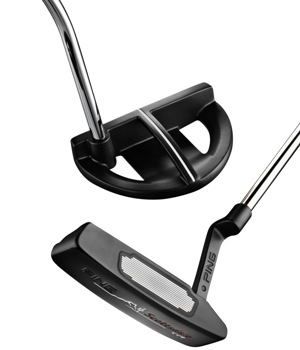 on the center, heel or toe. The grooves are deepest in the center and get shallower toward the perimeter. "We've engineered a putter insert with forgiveness," Solheim said. "Regardless of where the ball impacts the insert, the variable-depth grooves produce nearly identical ball speeds. The distance control is the best we've ever seen when compared to inserts of all types."
Traditional-length models can be ordered with a USGA/R&A-conforming shaft that adjusts from 31" to 38" to give golfers the option of varying the length of their putter prior to a round of golf. "PING has always been a leader in custom fitting, and enabling golfers to personalize the fit and comfort for optimizing performance before a round of golf makes perfect sense," Solheim added. "Our studies show that golfers are much more accurate and consistent with putters fit to the correct length. With the adjustable-length shaft in the Scottsdale TR, golfers can now properly adjust their putter themselves to the ideal length."
Scottsdale TR (True Roll) Adjustable-Length Putters - Manufacturers Specifications
Variable-depth grooves in the insert are deepest in the centre and get gradually shallower to the perimeter to provide nearly identical ball speeds across the putter face for more consistent distance control. PING studies show an increase in ball-speed consistency, measured at nine points on the face, of nearly 50%. The insert is made from a lightweight 6061 aerospace-grade aluminum that provides a solid feel and sound. The finish is a non-glare black PVD, and all models feature white sight lines that aid in alignment. A mid-size full-cord PING Black PP58 grip is standard on all traditional-length models.
Adjustable-length, USGA/R&A-conforming shaft adjusts 31" to 38" in standard models (optional); belly models 37.5" to 46.5"; long models 44.5" to 55.5".
12 Fit For Stroke™ models. Slight arc models = Anser® 2, B60, Shea®, Tomcat S®, Anser® 2 B (adjustable belly). Strong arc models = ZB S®, Shea® H. Straight models = Piper® C, Tatum™, Carefree® L (adjustable long). All stroke types available = Grayhawk™, Senita®
RRP £149 Adjustable Shaft (Anser 2, B60,Tomcat S, ZB S, Shea, Shea H, Piper C, Tatum)
RRP £129 Non-Adjustable Shaft (Anser 2, B60,Tomcat S, ZB S, Shea, Shea H, Piper C, Tatum)
RRP £169 Adjustable Shaft (Grayhawk, Senita).
RRP £149 Non-Adjustable Shaft (Grayhawk, Senita).
RRP £209 Adjustable Shaft (Anser B, Carefree L)
---
---
PLAY MORE PLAY BETTER - LATEST TUITION TIPS
---