The Shire hosts special day for disabled golf
---
One of London's most prominent golf clubs has announced a series of measures to attract more golfers with disabilities, after a demonstration event in which able-bodied golfers competed equally against golfers with both physical and intellectual disabilities.
On Monday 8th October, 140 Hertfordshire schoolchildren and members of The Shire London joined golfers representing Special Olympics GB and the Disabled Golf Society, for a unique nine-hole golf event.
While the children played SNAG Golf on The Shire's beginner-level Ballesteros Challenge Course, a 40-person, 10-team golf tournament took place on the back nine of the championship-quality Ballesteros Masters Course. In each team were golfers with a variety of disabilities representing SOGB and DGS, as well as able-bodied golf club members.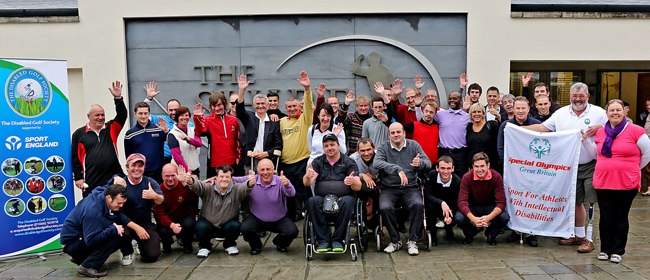 "We wanted to bring together some of the inspirational people involved in disabled golf in the UK" said event organiser Cae Menai Davis, a professional golfer based at The Shire London who has set up The Golf Trust as a vehicle to promote inclusivity in the sport.
"We created The Golf Trust Unity Day, hosted by The Shire London, to get these key people together," he said. "There are a lot of shared objectives across the organisations involved in UK disabled golf, and it was good to see our guests on the day find areas of common ground which they can work on together. We hope that this will inspire other UK golf clubs to run similar all-ability events in the future."
The Shire London has subsequently announced a package of measures to encourage golfers with disabilities to play its Seve Ballesteros-designed golf course, including:
Over 40% off 7-Day Membership for registered disabled golfers, until June 1st 2013
33% off ½-hour golf lessons with Shire London PGA professional Chris Whitelegg
And Member Guest Rates for green fee paying disabled golfers
The event was won by a team headed by Disabled Golf Society campaigner Stan Bembenek, who lost a leg to cancer. "The Special Olympics GB athletes and The Shire London members and staff were all ultra-cooperative, and joined in with the inclusive spirit of the day. We hope to establish a London Disabled Open golf tournament in 2013, and The Shire would be the perfect venue." Bembenek, a 21-handicap golfer who balances on one leg to swing the club, also won the individual event with 22 points for the nine holes. His organisation the Disabled Golf Society runs dozens of events each year across the UK events for golfers with all types of disability.
The global Special Olympics golf programme began in 1988, with the assistance of the PGA of America and the USGA, and golf has been a featured sport within Special Olympics GB for over a decade. The programme, which offers five levels of play for athletes with different golf abilities, is for both children and adults with intellectual disabilities. It has grown to include over 30,000 athletes in 25 international programmes.
"It was a great day for Special Olympics Great Britain athletes," said Emily Onley, Sport and Services Manager at Special Olympics GB. "Not only did they have the chance to play on such a prestigious golf course, but they were also welcomed into the golf club community with open arms. We made many new contacts at this event and we hope that, moving forward, we can build on the ideas and continue to develop more golfing opportunities for individuals with an intellectual disability within Special Olympics GB."
Bobbie Wright, a Special Olympics GB golfer who played in the winning team, said: "I enjoyed all of it! It was great, the golf course was lovely, the views were nice and the people in general were all really friendly and we had a good laugh."
"The day reminded me to appreciate some of the little things in life," said Shire London member Floyd Johnson. "From playing with golfers with disabilities today, I can see that the right attitude and focus can enable you to overcome most situations and challenges if you really want to. The experience was humbling and educational, and something I will treasure always."
ComGolf founder and The Golf Trust co-founder Frank Harrington also represents entry-level golf training scheme SNAG (Start New At Golf). He said: "Today was a superb celebration of the often forgotten inclusive values of golf, at the most welcoming course we've ever worked with. Coaching 140 kids on one fairway of the Ballesteros Challenge Course should show others the potential of SNAG as a tool for growing the game, and hopefully The Shire London's enthusiastic support of community outreach will encourage other courses to do the same – and to get more people into golf."
---
What do you think? leave your comments below (Comments)
---
---
PLAY MORE PLAY BETTER - LATEST TUITION TIPS
---
Leave your comments below
comments powered by

Disqus