Birkdale Goblet - Lost balls and living the dream
---
My anticipation grows from the moment the entry form is slotted into the post box, it is then that I realise I am off to play one of the all-time greats, an Open venue, scene of triumph and disaster of some of the World's best players and maybe a little of both for myself.
Having been lucky enough to play a large amount of golf courses it is rare to feel a sense of excitement that you get when you play a course with as much history and class as Royal Birkdale, but every so often I enter a scratch event at Birkdale called the Birkdale Goblet and that feeling of schoolboy excitement returns.
Driving up the M6 with three fellow County players from Cambridgeshire there are war stories swapped of our time on Birkdale's links. A few birdies and plenty of triples bogeys are mentioned and as you enter Lancashire you realise that you are in some serious golfing country. Names such as Ainsdale, Formby and West Lancs come thick and fast....we have arrived in some of the greatest links land in the world!
A double booking at the hotel causes a minor problem, but a 300yard walk and hotel upgrade sees us in good spirits.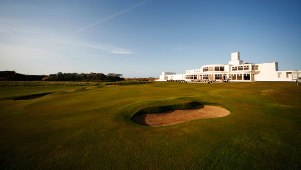 Birkdale itself is around 3 miles from Southport, where we are staying. The town is vibrant with a lively stretch of bars and pubs. A couple of beers are sunk, but not too many as we have early tee times the following day.
The morning arrives with only a 10mph wind and no rain, all so far so good. My tee time is 8.10 off the 10th, we are due to play 36 holes scratch medal off the competition tees. A few swipes in the net and i am good to go! My previous visit to Birkdale resulted in a pair of 80's, so my target is a pair of rounds in the 70's.
Cards are swapped and balls are marked, a driver off the tee and a flick with a wedge sets up an opening birdie! Under par for the tournament! However, two bogeys follow quickly at the 11th and 12th and then Birkdale shows it's teeth. My second shot to 13 misses the green by a yard and I realise just how thick the rough is. I have an air shot with the chip and a resulting in disastrous double bogey. With my head spinning I double two more on my front nine and turn in 9 over!
So this is not going to plan, I resolve to play the next nine better and a bogey birdie start settles my swing down, all goes well for the next few holes with a steady run of pars, until I reach the tricky par 4 8th, One tee shot in rough and a lost ball leads to 3 off the tee and then an argument with a green side bunker and I have a 9 on the card. I finish the 9th with a par and an opening 88.
The other Cambridgeshire boys did not fair any better with an 84, 89 and 91! We have been well and truly humbled by Birkdale's links. Over lunch we all realise just how good the top boys are when playing in the Open as anything around par right now looks a long way off! It is not often that 4 players off scratch or better have to buy more balls in the proshop at lunch - we had lost 20 balls between us in the first round alone!
Still there is another 18 holes to go and revenge will be sweet! Teeing off the first is an experience in itself with thick rough and a dune to the left and out of bounds down the right, you can see why it is one of the hardest opening holes in major golf, so a bogey to start is not too big a deal. Another bogey follows and then a birdie at the par 5 6th and I am out in a much improved 1 over.
I start the back nine with another birdie at the 10th my second birdie of the day on that hole, can I play that one all day I think to myself as i enter the toughest stretch of the course. The 12th,13th and 14th are a brutal combination where rounds are made or lost. I go bogey bogey par and and I am quite pleased. However a double follows at the 16th. A greedy shot to a tight pin sees me in the back edge of the bunker - no shot from there and i have slipped to 4 over.
I manage a birdie on 17 and a par on the last to close with a 75, 3 over par, my lowest round at Birkdale. How did the other boys go? Well, they had a 75 , 81 and second 91! Although the scores are high we all discuss just how good the course is and what a privilege it is to play from the competition tees under tournament conditions. Birkdale has beaten us yet again, but we are not down and we will be back next year still dreaming of a round under par and that elusive story to tell - that we followed in Arnie's, Nicklaus's, Wood's or Harrington's footsteps.
Birkdale Goblet - Results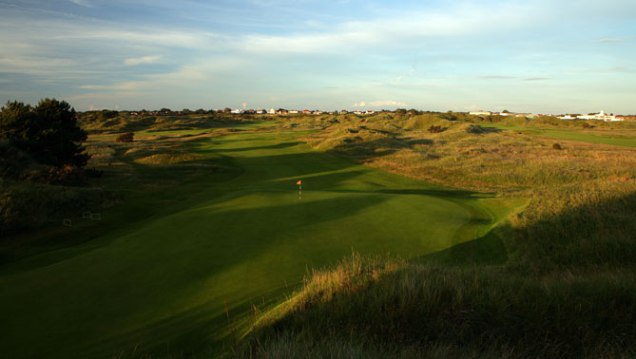 ---
---
PLAY MORE PLAY BETTER - LATEST TUITION TIPS
---