Golfshake Exclusive - Jon Gidney Interview
By: Adam Smith | Tue 16 Nov 2010 |
Comments
---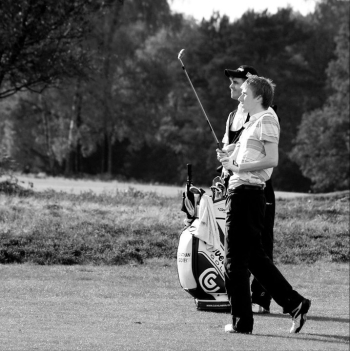 Going into his second full year as professional, Jon Gidney really does have the golfing world at his feet.
At 23-years-old it is amazing to see and hear how down to earth and calm Gidney is. His slogan and motto of 'Good Times' is a reflection on the man himself. Knowing when to be serious is important especially on the golf course but some would argue that finding the balance and knowing when to laugh and smile is equally important as the serious side:
"It's just a reminder to me not to take things too seriously and to try and have a good time when playing golf."Said Gidney.
"It was something my new brand management company, Fleming Steele said would be good for me and I like it, it sums me up pretty good and I hope other people relate to it as well.
"Off the course I'm quite laid back and as a lad I like to have a good time, so when things aren't going great on the golf course or I hit a bad shot I try and think of those times and smile. It has worked for me so far."
Having joined the social networking revolution of Twitter, Jon found the opportunity to get the Gidney brand out into the known circles too good to be true:
"I've been on there quite a while ago now and it really is awesome"
"It all started out as a bit of fun but everything I have now, as in management and sponsors has come through Twitter and people re-tweeting what I put on there. I put a tweet out just when I turned pro and within a week I got loads of replies and had all-sorts of offers.
"Right now I'm looking for more backing leading up to the new season next year so I will look to Twitter to help and see what I can get."
Even for someone still relatively young, Gidney had a long and glittering amateur career which started when he won his first title aged 14.
He started to learn the game when he was 12 and by the time he was 14 he was already off single figures.
The Shropshire and Herefordshire under 14's Champion in 2000 by a clear six shots would start a long list of achievements for someone who didn't really take golf seriously until a few years later. Like any other teenage boy other things were of interest:
"I did enjoy golf and I wanted to keep improving after my first win but it was never the first thing on my mind, I wasn't the type of kid who went straight to the course after school to get in a couple of hours practice I enjoyed other things as well.
"I played football and badminton but when I got to around 18 I felt that I had to make a choice. I was on the brink of getting in the England boys squad at the time, but didn't make it because they told me my swing wasn't good enough, even though my results were. That was a kick in the teeth for me but I look back now, laugh and think maybe it was for the best because I kept working on my game and playing a lot and eventually got in the A squad a few years later which was great experience.
"I wanted to turn pro earlier, when I turned 21 I thought I was ready but I had just broken into the England squad after the earlier rejection so I felt I should have this experience first plus it's better if you finish your amateur career on a high to put you in good stead for your pro career. My parents said there was no rush as well."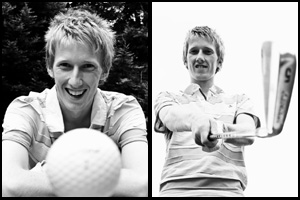 You can see why he is the way he is. A great backing from friends and a loving and supportive upbringing from family helps to keep his feet on the ground. You can also look at Church Stretton Golf Club of where Gidney has been a member at ever since he started. His name graces the walls several times in the club house and they have been very supportive of his rise through the ranks.
In the continuous argument of which side of the Atlantic a Tour player should be based, there is no doubt In Gidney's mind of where he sees himself in five years time.
"Personally right now the main goal is to get on the European Tour and if that happens then why would I want to move? I couldn't see myself living over in the States. The problem is a lot of the big tournaments are over there and the money is bigger but I'd definitely base myself in Europe.
"I had the chance to go to college out there when I was 19 but I didn't fancy it, just moving over there and living full time didn't appeal to me. The standard of golf in the U.K is really good and I can get all the experience I need playing on the Europro and Challenge Tours and work my way up.
One incredible feat for someone still so young is that Gidney has reached the final qualifying stages for the Open Championship every year he has entered which is over five years now and it's something that is very close to his heart.
"I really want to play in the Open and most people don't realise how much. Last year proved just how important it is to me when I had the final qualifying event on the Monday but I was still in Morocco on the Sunday night after my second Challenge Tour event. My flight was at 9pm and I arrived back in England at around 1am. After a few hours travelling home I finally got to bed about 4ish and I was up, ready and first on the tee for my 9.15am start. The more incredible thing was I eagled the first hole as well.
I just haven't made it over the finishing line yet but I'm determined I will soon."
The goals he sets for himself are very achievable and it wouldn't surprise me if you see him on the European Tour even sooner than he expects:
"I want to be in the top-five of the Europro Tour this year to get onto the Challenge tour, but I'm not going to be too hard on myself. This year has been crazy what with the club changes and one thing or another but I feel my game is there, so next year I will look to push on, but you never know what will happen, If you say I'm going to be on the European Tour in 5 years and have to wait 4 years to get there then I will, but you never know. I could make it into the Open next year and get a load of sponsorship off the back of that so who knows."
One thing's for sure though, Gidney will no doubt have a smile on his face and he will most certainly have a 'good time' whilst chasing his dream.
Club Gidney
Jon is offering you the chance to be part of 'Club Gidney' which is a golfing initiative unique to golfers of all levels. For a very small membership fee you will gain access to a range of one-of-a-kind benefits and be in an exclusive club dedicated to helping your game. See www.jonathangidney.com and click on 'Club Gidney' for more details.
---

Be part of the action with a selection of unique golf tournament experiences, from playing in a pro-am with the stars to watching the action at golf's most illustrious events. Whether it's the Masters or The Open, The Ryder Cup or WM Phoenix Open, build your own bespoke package with the experts at Golfbreaks.com.
---
What do you think? leave your comments below (Comments)
---
Tags: interview
---
PLAY MORE PLAY BETTER - LATEST TUITION TIPS
---
Leave your comments below
comments powered by

Disqus