How to Maintain Your Golf Trolley Battery During Winter
By: Golfshake Editor | Thu 09 Nov 2023 |
Comments
---
During winter, many of us will play golf less frequently, meaning that we can easily forget to properly maintain our equipment, including the Lithium batteries used by users of powered trolleys.
Helpfully, leading brand Motocaddy has put together six top tips for batteries to ensure their safety, performance and longevity over the colder months.
Following various high profile general Lithium battery incidents seen in the media, the world's top-selling powered trolley brand is keen to stress the importance of adhering to recommended battery charging and storage advice to avoid problems, particularly over prolonged periods of inactivity and the colder winter months. Therefore, it has issued the following advice for owners of its Lithium batteries ahead of the forthcoming period when less golf is played:
Battery hibernation - If the battery is not going to be used for lengthy periods, the battery should be fully charged and then disconnect the charger. Before using again, it should be recharged (topped up) prior to use. Leaving batteries uncharged for extended periods may reduce capacity.
Avoid low temperatures - Batteries should be stored at room temperature and never at low temperatures (under 10°C) when disconnected from the trolley or battery charger. The battery must not be left in an uncharged state in temperatures below 5°C, as this could pose a significant safety risk that could result in a fire when charged.
Regular recharging - The battery must not be left for longer than two consecutive months without charging or being checked.
Avoid overcharging - Once a battery has been fully charged (the green light turns on), it should be disconnected. It should not be left connected to the charger unattended overnight or indefinitely.
Charging location - The battery must be stored and charged on a dry, hard, non-carpeted surface.
Extended range batteries - These should always be recharged as soon after use as possible - ideally within 12 hours. They shouldn't be used over consecutive days without being charged.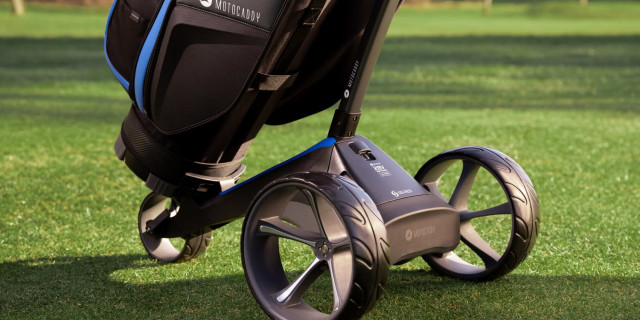 "Our batteries are state-of-the-art and incorporate a comprehensive Battery Management System (BMS) that helps to protect the Lithium cells if charging advice is followed correctly," said Motocaddy CEO, John Helas. "Although incidents are extremely rare and batteries of the size and type used on golf trolleys are proven to be very safe and long-lasting, there can be issues if they're not cared for properly, especially if second-hand batteries are involved.
"We're actively reminding Motocaddy owners of the guidelines, plus providing in-depth instructions, hints and tips on our website. Generally, our batteries perform so well that it's easy for golfers to overlook the important care factors. But the fundamentals should never be ignored and we'll do everything we can to ensure that these important messages are communicated to the wider golf community.
"At Motocaddy, we prioritise safety above all else, and we take great pride in the rigorous measures we implement to ensure the safety, quality and reliability of all our products," he added.
Motocaddy will continue to communicate its battery safety information and care tips via dedicated emails and through its social media platforms.
For further advice, a 'How to care for your Motocaddy Lithium battery' page can be found on the brand's website along with in-depth Instruction manuals and a FAQ section.
---
Related Content
Essential Tips For Playing Golf in Winter
How to Get Ready For Golf This Winter
How to Protect Your Golf Course This Winter
How to Get The Most From Your Golf This Winter
---
What do you think? leave your comments below (Comments)
---
Tags: winter golf Trolleys motocaddy Golf Trolleys gear equipment
---
comments powered by

Disqus