Highlights From The 2023 World Golf Awards
---
The 2023 World Golf Awards ceremony took place recently, with a selection of fine establishments enjoying their time in the limelight.
It was created to celebrate and reward the most excellent golf destinations in the world, with a plethora of categories being recognised.
Since starting ten years ago, the World Golf Awards is an event to look forward to for those working within the golf industry.
There were over 20 awards issued during the evening, but we have selected a few that should pique the interest of ardent golfers.
World's Best Golf Venue – Costa Navarino (Greece)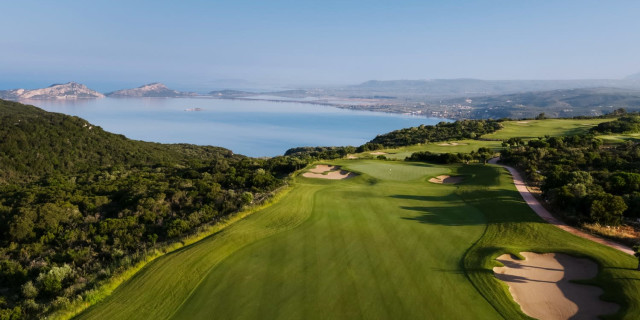 Costa Navarino is an impressive golf destination that boasts fantastic facilities, so it's little surprise to see this front-runner awarded greatly. In total, there are four first-class golf courses located on-site, with The Dunes Golf Course acting as the premium layout. Designed by Bernard Langer, this outstanding links routing is not only home to amazing views, but also provides a fantastic test of golf. Accompanying the main event is the Bay Course – which was designed by the esteemed Robert Trent Jones II – The Hills Course and The International Olympic Academy Course. Visiting have a variety of accomodation choices incuding The Romanos, Costa Navarino Residences and Costa Navarino Westin Resort which comprises of 445 deluxe rooms and suites, with 123 containing their own infinity pool.
World's Best Emerging Golf Destination – Sicily, Italy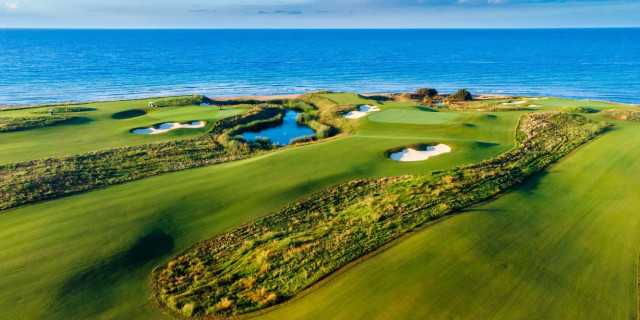 If you have read our Golf Guide to Italy, then you'll understand how the European country is attracting golfers in their masses. Nestled inside the guide is a section on Sicily, which boasts the best climate throughout the country. Although only four golf courses are dotted around the island, they all provide a wonderful challenge, whilst the stunning environment only strengthens the region's appeal for golfers. Verdura Golf & Spa Resort is the standout venue for golf in Sicily, but we highly recommend generating your trip into a full tour of the area, which will enable you to explore its magnificence.
World's Best Golf Course – Sentosa Golf Club, Serapong Course, Singapore
The world's best golf course was always going to be remarkable, but the Serapong Course at the stunning Sentosa Golf Club is truly another level of excellence. First and foremost, the most serene environment awaits any golfer as the 360-degree views are extraordinary. The golf course is consistently ranked among the world's best and it has hosted the Singapore Open since 2005. Boasting a par of 72 and measuring close to 7,400 yards, this is a golf course that is worthy of being called the best in the world!
World's Best Halfway House – The Lighthouse @ Trump Turnberry, Scotland
It was always expected that one of the most renowned courses in the world would also possess the greatest halfway house, but Trump Turnberry is undoubtedly a worthy winner of this category. The Lighthouse has graced the coastline with its beautiful presence since 1873, but it wasn't until 2016 where The Lighthouse embarked on its new service. Having generated the archaic building into a halfway house, Trump Turnberry can finally say that they have been judged to own the world's best! Featuring spectacular views and scrumptious snacks, The Lighthouse elevates this terrific golf course even further – who would have thought that was possible?
World's Best Golfing Destination – Portugal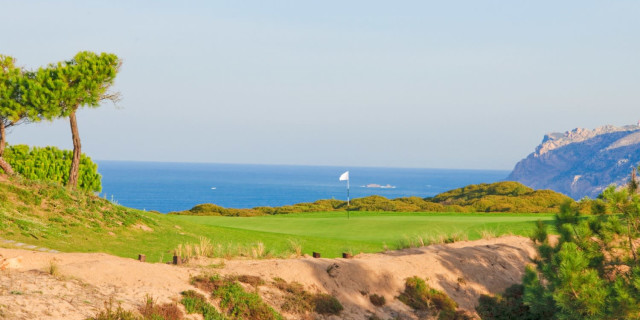 I'm sure European golfers will be disappointed that Singapore is so far away, as we all want to state that we've played the 'best golf course in the world'. However, the country of Portugal was awarded the World's Best Golfing Destination, which would be corroborated by any golfer who has been fortunate to visit the region. Portugal is a haven for golfers and there are so many golf courses for travellers to enjoy. Not only is the golf supreme, but the food and local entertainment emulates the glory of the golf. If we also consider the enticing climate and world-class resorts, and we have a very special place to golf. Read our Golf Guide to Portugal for more information on the beautiful country.
Scotland's Best Golf Hotel - Dundonald Links
Thanks to a hefty investment, Dundonald Links is quickly becoming one of the most excitable golfing facilities throughout Scotland. Although they have only been opened for a short while, the Dundonald Links Lodges have been majorly popular with travelling golfers. Each lodge contains a luxurious living space in addition to all the amenities you would expect from a first-class offering. A putting green is situated closely to all the lodges, which provides endless amounts of entertainment during the evening or even after your round of golf.
Europe's Best Golf Course/Europe's Best Golf Venue – Quinta do Lago, Portugal
It's unsurprising to see Quinta do Lago walk away with numerous awards; the Portuguese resort is a fantastic place to visit. The 5* hotel exudes the quality you would expect from a lavish establishment, whilst the range of golf on offer is truly phenomenal. There are more than 140 bedrooms for renting, all of which have been designed in a luxurious manner. Diners will be spoiled for choice when it comes to eating, as there are two brilliant restaurants and a bar for guests to unwind in. Three golf courses await any lucky visitor, and whether you tackle the North, South or Laranjal, you are guaranteed a day of golfing delight.
World's Best New Golf Course/Europe's Best New Golf Course – The Dunas Course, Terras da Comporta, Portugal
Lots of golf courses are unveiled every year but occasionally one springs up that leaves you completely breathless. That one is The Dunas Course, found at Terras da Comporta in Portugal. Situated 80 minutes away from Lisbon Airport, the secluded coastal setting is the perfect environment for a memorable round of golf. David McLay-Kidd is responsible for the stupendous design, which is also his first links-style layout in mainland Europe. Measuring more than 7,000 yards from the tips, the challenge is mighty and the experience pure – will you play the world's greatest new golf course?
The World Golf Awards highlights some of the most amazing achievements in golf, whilst also shining a light on some of the most revered locations throughout the world.
If you would like to peruse the full list of winners, then you can do so here: worldgolfawards.com/winners/2023
Have you ever played an award-winning golf course? Let us know in the comments!
---
What do you think? leave your comments below (Comments)
---
Tags: World Golf Awards golf travel
---
comments powered by

Disqus