The Dunas Course at Terras da Comporta Review
By: Andy Waple | Wed 05 Jul 2023 |
Comments
---
A buzz of excitement among the UK travelling golf community inevitably follows news of a new golf course opening in Portugal.
The noise that has followed the June launch of the Dunas Course at Terras da Comporta is as loud as that which followed the unveiling of West Cliffs on the Silver Coast in 2008.
Situated about 90 minutes' drive south of Lisbon, the par 71 layout has been created over 84 hectares of pine forest on natural, sandy terrain on the coast in a secluded setting on the edge of the Sado Estuary Nature Reserve.
Just weeks after its opening, it's already shortlisted by the golf travel media for the accolade of the World's Best New Golf Course.
Yet its arrival almost never happened.
The project was conceived in 2008 when architect David McLay-Kidd was appointed as course designer. Yet soon after the first nine holes had been laid across the rolling sand dunes the entire scheme hit stony ground amid a financial crisis.
Work was halted and the Scottish designer who was looking forward to creating the first links style course in Southern Europe was laid off. All looked doomed until 2019 when Vanguard Properties took over the development and approached McLay-Kidd to complete his dream.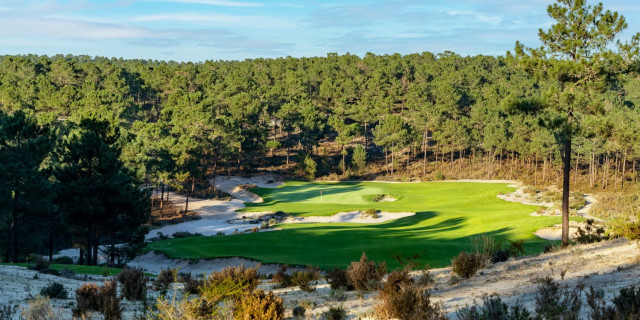 (Image by James Hogg)
It has opened to the public this summer and early indications suggest it will soon become known as one of the best courses in Portugal and among the finest in continental Europe as a whole.
The Dunas Course at Terras da Comporta
McLay-Kidd is very enthusiastic about his first design in mainland Europe and forecasts it will mature into a real classic.
It really is visually stunning in every respect, from the huge practice area which mimics one of the holes, to the view off the 18th fairway which many players rate of one of their favourites.
It measures 6,555 from its back tees but in keeping with modern design has a range of teeing options to suit players of all standards.
The use of fescue grasses throughout aims to provide a true links quality to play, allowing for the typical bump-and-runs and Texas wedge type shots to the large, rolling greens.
McLay-Kidd believes it's a true links course in keeping with some of the finest. He says: "I've been asked how I would characterise the course and I would say it's easy to categorise, it's a links course. It's not links-style, it's not links-like, it's a links course. You're playing as close to the beach as you can get in Portugal, you're in pure sand, you're playing on fescue grass with a golf course that wants you to read the ground, bounce the ball and run it around, using the contours to your advantage, so I don't know if there's anything out there that wouldn't tick the box as a links course as a definition that a Scotsman would give you."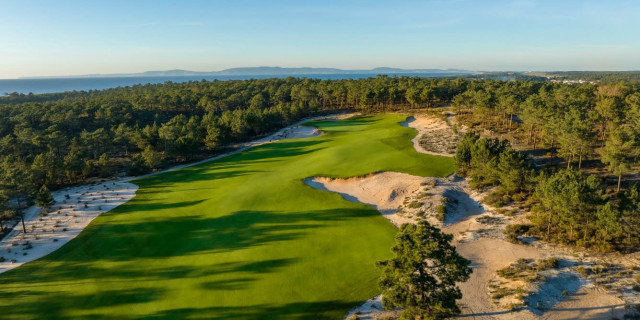 (Image by James Hogg)
It isn't typical links in appearance, however. While the ocean is only a short distance away, you can't see the sea from anywhere on the course. Fairways are very wide and the rough is virtually non-existent. Instead, vast sandy waste bunkers line almost every hole. While that might seem intimidating from the tee, it isn't difficult to find the fairway and if you miss left or right you are in the sandy wastes so at least you won't lose a ball.
The course is cleverly designed to provide alternative tee shot options on each hole. Better players may be tempted by the tiger lines which flirt with the waste bunkers yet take greenside bunkers out of play. Players of more modest ability may choose a less perilous line from the tee, knowing that they might have to lay up on par fours.
This course is stunning and an absolute joy to play. It is difficult to find any fault other than the fact that as a brand new course it needs time to settle to reach its full potential.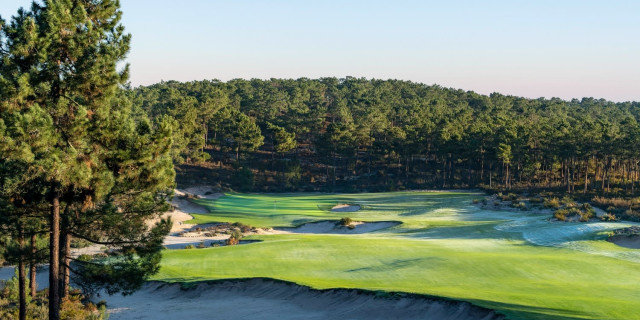 (Image by James Hogg)
Terras da Comporta
Vanguard Properties have big plans for their flagship development, based on two separate plots. Both will eventually feature hotels, residences and a host of sports facilities, but for now, the vast area is largely undeveloped.
A second course designed by Jose Maria Olazabal and Sergio Garcia, known as the Torre Course, will open soon to complement its sister course, the Dunas.
Comporta
Comporta is a lovely, sleepy beachside town, the centre of the small Portuguese rice growing industry. It attracts celebrities who want to get away from it all, some great restaurants including the Comporta Cafe on the beach, and Flavours, a traditional Portuguese restaurant in the town itself. The chic boutique hotel AlmaLusa Comporta with just 22 rooms and a cool rooftop bar is a perfect base.
Just a 15 minute drive along the narrow sand spit is the excellent Troia Golf, which is well worth visiting. We reviewed it here in 2019.
Also in the area is the high end residential project, CostaTerra Golf and Ocean Club, but its Tom Fazio course is open to residents only. Nearby at Melides, another course Herdade do Pinheirinho Golf, will open soon after a series of long delays.
Verdict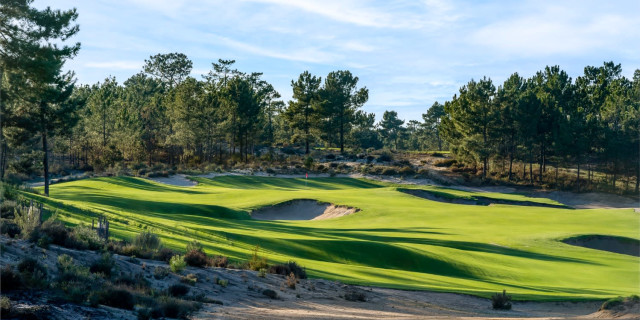 (Image by James Hogg)
David McLay-Kidd's creation at Dunas da Comporta is a true masterpiece that will soon cement its place at the pinnacle of Portuguese golf courses. Although new and needs to fully settle in, it really is a must-play despite its relative geographic remoteness. Golfers who enjoy a challenge in fabulous, unspoiled surroundings away from it all will love this course. Paired with its upcoming sister the Torre Course and the nearby Troia Golf, the Comporta region really should be on all golfers' radar.
Getting There
There are regular flights into Lisbon, situated about 90 minutes drive to the north of Comporta. Contact our travel partner Golfbreaks for booking information.
Holiday Extras
Holiday Extras is a market leader in UK airport parking, hotels, lounges, and transfers. Booking Airport Parking in advance means you can enjoy more holiday with less hassle and save money. Plus with Flextras, if you need to cancel or amend you can - without charge. An example charge Manchester Airport Meet and Greet, £96.29, from July 5 for 7 days. To book, visit HolidayExtras.com or call 0800 316 5678.
---
Related Content: travel Portugal golfshake golfbreaks Golf Courses Destinations Courses
What do you think? leave your comments below (Comments)
---
Leave your comments below
comments powered by

Disqus
Plan Your Next Round
Ardglass Golf Club
County Down
from £22.00
Save 50%
Castlerock Golf Club
County Londonderry
Galgorm Castle Golf Club
County Antrim
from £13.00
Save 23%
More Golf Course & Travel Features
Plan your next golf break with Golfbreaks.com