Lessons From Playing 1000 Rounds of Golf
---
If you could look back to your earliest days on the golf course, what would you see? Mbachi Nkana is a long-standing and valued member of the Golfshake Community who was in a reflective mood after recently tracking his 1,000th round on our popular Score Tracker.
With 20 years of statistics and numbers to analyse, Mbachi has taken the opportunity to study his journey through the game, which is a personal story that has been immortalised on Golfshake.
"I started playing golf in 2000, although I didn't play too much initially as I was still involved in football. In 2003, I discovered the Golfshake website and signed up because I was interested in tracking my statistics. I can be quite nerdy and enjoy working with numbers," Mbachi told us.
"Initially, I used the site solely for recording my numbers without any analysis. However, in 2008, after joining Elton Furze, I obtained my first handicap and immediately aimed to improve it. With the help of Golfshake, I started to identify the holes where I performed well and those where I struggled. The site kept track of the number of fairways and greens I hit in regulation, as well as the number of putts. Armed with this information, I began adjusting my strategy for certain challenging holes, leading to an improvement in my handicap.
"Over the years, Golfshake has enhanced its functionality, and the iOS/Android app is fantastic as it allows me to update my stats right after a round."
Like every golfer who tracks their stats on Golfshake, Mbachi has benefited from being able to assess his own performance and to discover where he frequently makes mistakes.
"The most important thing about the stats I learned was; you can identify which holes on your course are the highest scoring and that allowed me to think about what my approach off the tee was. An example was, when I used to play Thorpe Wood regularly, I played the second hole over par and it's around 320 yards. Instead of pulling driver every time, I started to hit an iron off the tee and my average score on the hole dropped from over 5 to under 4.5."
"I can see a couple of holes at my club Elton Furze where I need to improve as it highlights that I average under 20 percent GIR on the 12th and 17th holes. If I change that number to around 40 percent, I will almost certainly lose two or more shots off my averages."

Mbachi's passion for golf has only been enhanced after his wife, Dawn, took up the sport herself.
"She started playing in 2015 and we are now members at Elton Furze, which is one of the few clubs in the area that allows both men and women to participate in events simultaneously. Considering it's 2023, this was a surprise to us, and we believe it's because golf clubs expect women to primarily play during weekdays.
"Both of us playing allows us the opportunity to travel and play on new courses. In the past few years, we have played in Spain, Portugal, Scotland, and we even managed to fit in a round during our honeymoon in Maui. We also plan to explore more courses within England, as there are many hidden gems."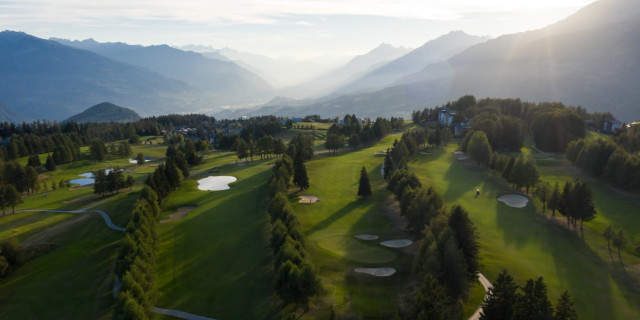 Throughout his 1,000 rounds, Mbachi has played 137 courses (tracked on https://whereiplay.golf/), including several of the most spectacularly scenic on the planet.
"Crans in Switzerland which we went to after the European Masters in 2019 is a standout. The views from the mountain are exceptional and it's definitely a course I would return to.
"Samanah in Marrakech, Morocco is another favourite. We had a trip there in 2014 and the course was beautifully manicured and all of our group enjoyed it. There were hardly any other players on the course so it felt like millionaire's golf.
"And finally; Kapalua Bay Course which my wife and I played on our honeymoon in Maui in 2019. The Plantation Course was closed for 2019 so we hired clubs and played the second course at Kapalua and had an excellent day with views of the ocean on so many holes."
Now having reached this significant milestone, Mbachi has already outlined what he hopes to accomplish in the future.
"My target in the next 1,000 rounds is to get my handicap down to scratch at least once. There are no courses that I desperately want to play. I'm usually keen on keeping my costs down and would prefer to play two rounds at a good course over playing one at a top course that is over £150 per round.
"For example, we loved playing Pitlochry Golf Club as the views were fantastic and we both enjoyed playing Dunstanburgh Castle which was a bargain at £30 and one of the best courses for value I have ever played.
"I absolutely love playing golf and consider myself fortunate to be able to squeeze in many rounds during the week. My Golfshake membership has been invaluable, and it's nice to be able to look back through the years and reflect on my progress. There is so much more I can do with the site - I need to pay closer attention to the analysis and set up my targets again. It's a valuable resource, and I look forward to continuing to update my stats and, hopefully, reaching the next 1,000."
Indeed. We couldn't have put it better ourselves. Here's to the next 1,000!
---
---
What do you think? leave your comments below (Comments)
---
Tags: GOLFERS Golf daily picks
---
comments powered by

Disqus