Which Football Clubs Do Pro Golfers Support
---
The relentless schedule of a professional golfer may make it seem like they have no time for anything else in their life.
That is a misconception and, like other sportspeople, golfers enjoy the excitement of other sports - notably football.
We have selected ten renowned golfers who have a secret passion for the sport of football and we provide information on the beloved teams they support.
Billy Horschel - West Ham
Whilst it may be unusual to support a team that doesn't derive from your country, Billy Horschel has very good reason as to why he so passionately calls himself a hammer. After watching the film Green Street - a football hooligan film - he fell in love with West Ham, whose firm were known as the 'Green Street Elite'. In 2006, Horschel felt what all football fans feel: an unwavering love for their chosen club. Horschel will decorate his bag in West Ham printing when he plays the BMW Championship at Wentworth, which was also present at the 2021 Open Championship.
Matthew Fitzpatrick - Sheffield United
Matthew Fitzpatrick was born and raised in Sheffield, so it's unsurprising that one of their teams would own the love of his heart. The golfer is vocal on social media and can rarely contain himself when it comes to winding up the fans of Sheffield Wednesday. His caddie, Billy Foster, is a big Leeds fan, so there is plenty of rivalry within the Fitzpatrick team!
Ian Poulter - Arsenal
Ian Poulter is a massive Arsenal fan, which influenced Darren Clarke to give him an interesting birthday present back in 2016. The Northern Irishman presented Poulter with a Tottenham shirt, and the Englishman didn't take too kindly to that North London colour. Throughout his career, he has often caught the support of fellow Arsenal fans - and he'll be hoping that continues through the twilight stages of his playing days.
Tommy Fleetwood - Everton
Tommy Fleetwood grew up in Southport with two footballing powerhouses just around the corner: Liverpool and Everton. Fleetwood's love of football drew him to Everton, where he has seemingly been miserable ever since(!). The greatest thing about Fleetwood's love for his club is that it is shared by his caddie, Ian Finnis - who is commonly letting off steam on social media after a poor performance. One thing is for sure, he's a fan of Sean Dyche!
Jon Rahm - Athletic Club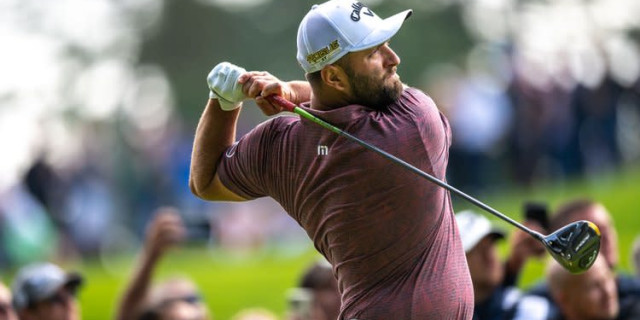 (Image Credit: Kevin Diss Photography)
As well as being one of the best golfers to ever grace the sport, Jon Rahm is a football fan of Athletic Club (Bilbao) and he acted as a guest of honour at a game recently. The Spaniard was a keen footballer during his youth and grew up wanting to be a goalkeeper - he even saved a last-minute penalty during a youth tournament to win the match for his team. He, like many other people, cannot shake the footballing bug.
Justin Rose - Chelsea
Justin Rose is beyond a classy golfer, he's an exceptional person. His close friendship with Harry Kane once prompted the England international to declare that Rose supports the wrong team in London! The golfer has been a lifelong fan of Chelsea and he even urged Eden Hazard to remain at the club back in 2018.
Tyrrell Hatton - Liverpool
Despite growing up in Buckinghamshire, Tyrrell Hatton is a huge Liverpool fan who has managed to develop a good relationship with an ex-Red. Hatton often accompanies James Milner to the golf course and the two will squeeze a game in whenever their schedules are free. He was once quoted on the prospect of playing with a footballer who represents Liverpool: "For me, it's quite cool to know a player from the team I support!"
Lee Westwood - Nottingham Forest
Being from Worksop, the majority of children pledge their allegiance to either Sheffield team, with Leeds earning a few fans in the process. What enticed Westwood to Forest was the image of seeing them arrive at the airport with the majestic European Cup grasped tightly in their hands. Brian Clough is responsible for deepening that love and since those early years, Lee Westwood has remained an ardent Nottingham Forest fan.
Rory McIlroy - Manchester United
Rory McIlroy is a gigantic Manchester United fan and due to his status in the sport of golf, he has had several opportunities to play with the club's stars. He often catches as many United games as possible and when he won the Open Championship in 2014, he was invited to parade the trophy during the half-time interval at Old Trafford. McIlroy's favourite player is Wayne Rooney and his love for the red side of Manchester shows no signs of letting up.
Sergio Garcia - Real Madrid
Not only is Sergio Garcia a massive Real Madrid fan, his love for the sport in general is evident. He was issued the opportunity to take an honorary kick-off for Real Madrid, but that isn't the extent of his football involvement. He also acts as the chairman of his hometown team, Club de Futbol Borriol, who are based in Castellon and compete regularly. There might be a new career path for Garcia once he's finished with his golf clubs.
---
Related Content
The Footballers Who Tried Their Hand at Golf
---

Be part of the action with a selection of unique golf tournament experiences, from playing in a pro-am with the stars to watching the action at golf's most illustrious events. Whether it's the Masters or The Open, The Ryder Cup or WM Phoenix Open, build your own bespoke package with the experts at Golfbreaks.com.
---
What do you think? leave your comments below (Comments)
---
Tags: PGA Tour LIV Golf FedEx Cup european tour dp world tour daily picks
---
comments powered by

Disqus