The Footballers Who Tried Their Hand at Golf
---
JON RAHM has been singing the praises of former Wales and Real Madrid footballing superstar Gareth Bale's golfing ability.
Bale, who recently announced his retirement from football, is a fanatical golfer who had a par three built at his home in Madrid and was criticised by his teammates and Madrid fans for the amount of time he spent on the golf course.
According to Rahm, who played with Bale in the pro-am at the 2023 Farmers Insurance Open, the ex-footballer's time on the golf course was well spent.
Rahm said: "I told Gareth, 'You can't be so good at professional football and golf at the same time, it just doesn't seem fair'.
"Can't be dedicated to one thing and have this much talent for golf, it's not fair in the slightest."
Bale isn't the first professional footballer to have a gift for golf. They do have a lot of time on their hands after all.
Here we look at a few others….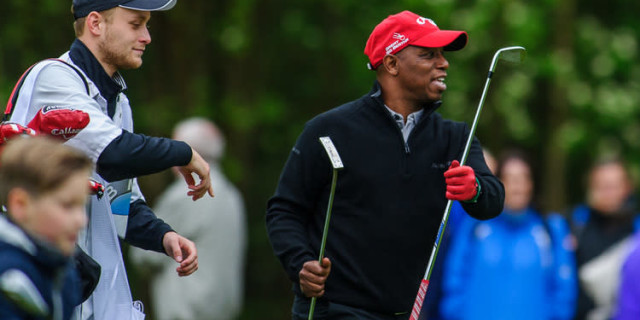 (Former Arsenal Striker, Ian Wright, a Keen Golfer - Image Credit Kevin Diss Photography)
Julian Dicks
After his playing career was ended by injury, Dicks decided to have a crack as a professional golfer. But there were two obstacles in his way - the knee injury that ended his football career and the fact that, by his own admission, he simply wasn't a good enough golfer.
This is what he had to say: "I retired from golf because of my knee. I played in tournaments in Spain, which were over three rounds and after the first round it was impossible for me to play the second and third rounds.
"On top of that I wasn't good enough anyway so the decision was made for me. I played off scratch and was up against kids who were playing off plus two or three and while I was shooting one or two under par, they were firing six or seven under. I knew after a couple of tournaments I wasn't good enough."
Jimmy Bullard
Bullard is one of life's great characters. And the former Wigan, Fulham, Hull City and Ipswich midfielder was another who thought he was good enough try his hand at professional golf. He was a scratch player and he tried his hand on the EuroPro Tour but failed to make a single cut and gave up. He is now making his living raising plenty of laughs as a co-presenter on Soccer AM.
Andriy Shevchenko
What a footballer he was. Sadly, his golf game wasn't in quite the same class. After retiring from football in 2012, the former Champions League and Ballon D'or winner played in a Challenge Tour event, the Kharkov Superior Cup, in 2013. He missed the cut after shooting rounds of 84 and 86 to finish 26-over-par in the Kharkov Superior Cup. Suffice to say that his dalliance with competitive golf did not last terribly long!
Alan Hansen, Gary Gillespie & Kenny Dalglish
Hansen was an elegant defender for Liverpool and Scotland. He has also been a quite superb golfer, getting down to scratch or thereabouts at Hillside Golf Club near Southport. He possesses a beautiful golf swing and is a terrific ball striker. His only weakness was on the greens. He regularly played with former Liverpool teammates Kenny Dalglish and Gary Gillespie, also members at Hillside. Dalgish established something of a reputation for himself as being a bit of a bandit.
Roy Wegerle
American Wegerle, who played for Chelsea, Coventry City, Queen's Park Rangers and Luton Town switched the pitch for the green upon retiring from football. He turned professional in 2001 and qualified for the 2002 Dunhill Championships, competing alongside the likes of Ernie Els and Retief Goosen. He finished last.
Stephen Grant
Grant played for Shamrock Rovers but was forced to retire aged just 26. He decided to try his hand at golf, turned professional and enjoyed moderate success on the EuroPro Tour. He also played on the Challenge Tour in 2012 and in January 2023 was ranked 1,320th in the world.
Lee Sharpe
Former Manchester United and England footballer Sharpe was a keen golfer in his spare time. His manager, Sir Alex Ferguson, was not a fan. But that didn't stop Sharpe. And he eventually took the plunge and turned professional in 2020. He even managed to finished 23rd at the Ian Woosnam Invitational Day, tied with none other than Woosnam.
Dwight Yorke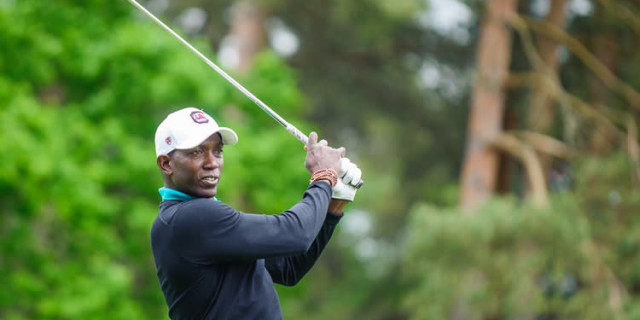 (Former Manchester United Forward, Dwight Yorke - Image Credit: Kevin Diss Photography)
Yorke was a prolific goalscorer for Manchester United, best known for his partnership with Andy Cole during United treble-winning season. He also spent a great deal of time playing golf. Unlike some of the others here, Yorke resisted the temptation to turn professional. But with a handicap of plus three at one time, perhaps he should have done!
---
Related Content
---
What do you think? leave your comments below (Comments)
---
Tags: PGA Tour FedEx Cup european tour dp world tour daily picks
---
comments powered by

Disqus